Mulvaney Admits He Has No Idea What Trump Is Talking About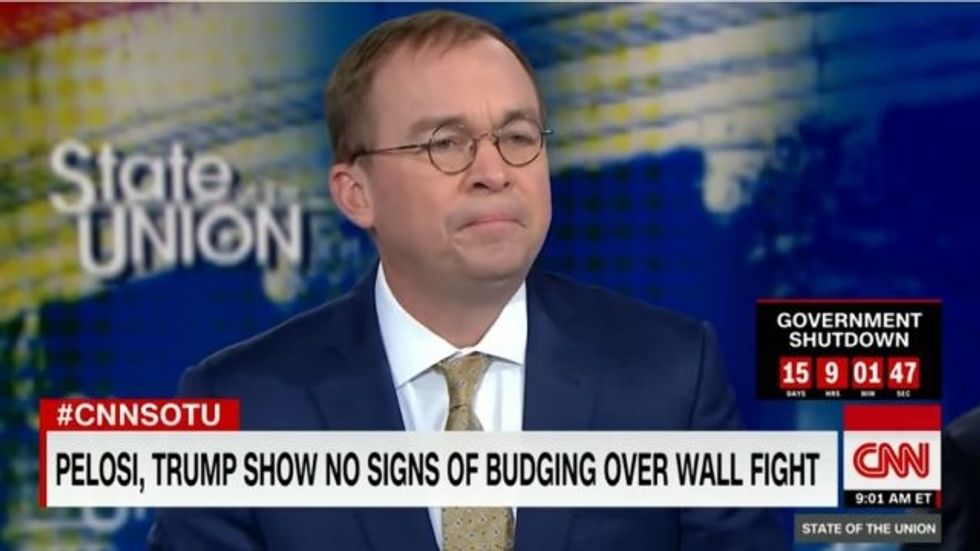 Reprinted with permission from AlterNet.
Acting White House Chief of Staff Mick Mulvaney on Sunday admitted he doesn't know which president allegedly told Donald Trump they support a wall along the U.S./Mexico border after spokespeople for George W. Bush and Bill Clinton said those former presidents did not express support for Trump's signature campaign promise.
CNN's Jake Tapper cornered Mulvaney over Trump's claim that former presidents "have told me that we should've done it," noting that in addition to Bush and Clinton, Barack Obama and Jimmy Carter have never endorsed a border wall.
Speaking with CNN's Jake Tapper, Mulvaney argued Trump's assertion "boils down to semantic difficulties [the White House] had with Senate Minority leader Chuck Schumer (D-NY) just yesterday."
"Mr. Schumer kept saying you don't have money for a wall now," Mulvaney claimed. "You don't have money for a wall now, and we're showing pictures of what we're building on the border with the money we received last year. It's a very similar style to what the president wants to build in the future."
"You don't know what president it was?" Tapper asked.
"I don't know what the presidents mean when they say they weren't supporting a wall," Mulvaney claimed. "George Bush was president in 2006 when they signed a Secure Fence Act which is what we're using to build the wall."
"Which presidents told him?" Tapper asked.
"I have no idea," Mulvaney admitted. "I haven't asked the president that question."
Watch the video below: