MAGA Isn't Just A Cult -- It Has Become A Murder Cult
@ChandraBozelko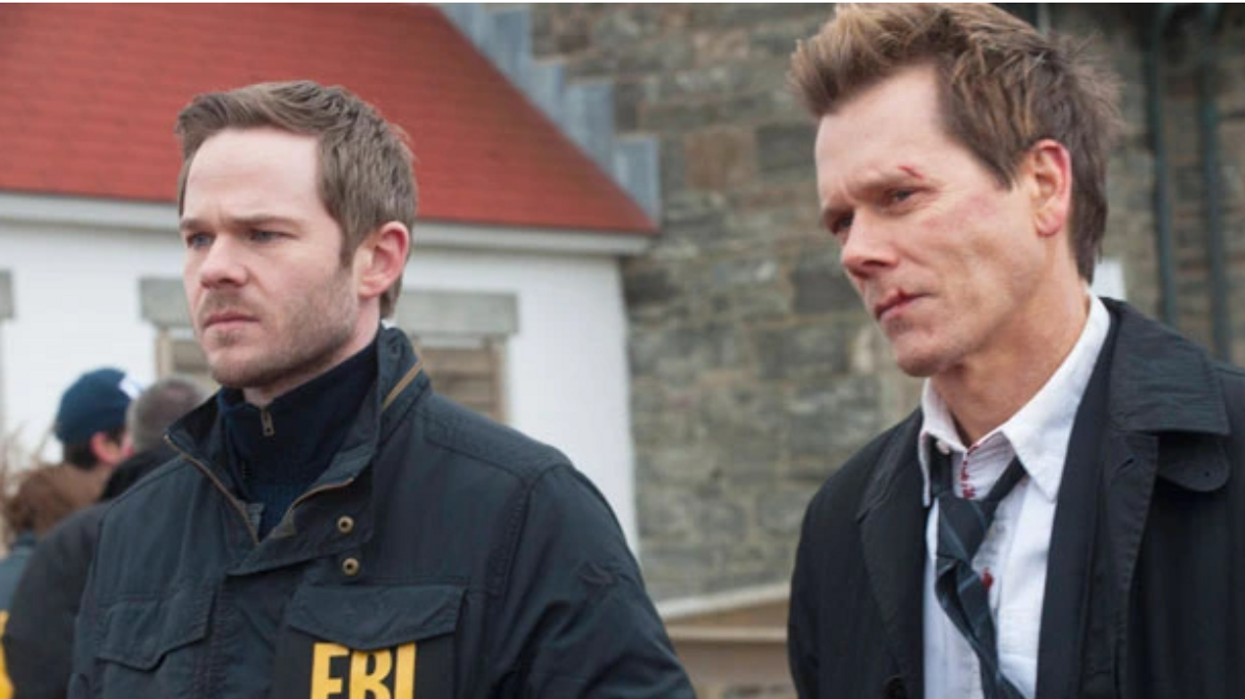 The aftermath of the August 8, 2022 search of the Mar-a-Lago club, former President Donald Trump's Florida home, isn't the first showdown between the FBI and a cult leader.
The Following, a 2013 Fox Pictures series, played out in similar fashion. Three seasons was enough for the producers and it's been nine years since our introduction to Joe Carroll, English professor-novelist-serial killer, so there's a spoiler risk -- but not enough to prevent the comparison.
Carroll (played by actor James Purefoy) breaks out of prison and meets up with his "followers" — so named because they follow him and also stalk one of Carroll's enemies. They're basically, disaffected outsiders, obsessed fans who are willing to commit any act of violence to clear Carroll's path - which seems directed toward reuniting with his ex-wife, Claire Matthews (played by actress Natalie Zea) and his young son — as well as establishing dominion over everyone else and indoctrinating them into his church of latter-day psychos and first-degree homicide.
After two episodes, the audience's trust in introduced characters is limited because no one knows if the new face is a member of the cult or not. Local sheriffs, housewives, nurses, medical students, correction officers, ex-military have all enrolled in Carroll's Following.
The man who caught Carroll the first time, retired FBI Agent Ryan Harding (played by Kevin Bacon), comes out of retirement to hunt Carroll again, somewhat ineffectively since the first season needs to last 15 episodes.
The compelling part of the show is the pre-planned nature of these attacks. The Following is organized; they wait for signals from Carroll and execute his designs pretty deftly.
His appellate lawyer, whose fingers have been cut off to persuade her to represent Carroll again, reads a poem in a press conference to incite the abduction of his wife.
In another scene, one Follower raises both of his arms and his colleagues cut the lights and start slitting people's throats.
When Carroll's ex, Claire, won't engage with him, his acolytes start killing other women with the same name. One gets pushed out a high rise window. Another one gets spear gunned in her stomach in a diner booth.
Murder cultists work in concert to protect Carroll from the FBI and impress him with their slaughters, but as the show reveals some characters' backstories, the audience learns that most have been killing all along; no one ever apprehended them. Their credo is: "In death there is life. In death there is love. In death there is everything."
I watched it during my last year in prison and all the violence — the setting of unsuspecting people on fire, the slicing of security guards' livers, the gouging of eyes — scared me more than usual. All I could think was: A few women in here don't need any new ideas.
Since 2016, I've flashed back to various episodes. It's often said that Trump supporters are a cult. That label needs to leap forward to reflect reality. MAGA is now a murder cult. It seems like no one's come out and said this yet. There's no firm definition of a murder cult. The phrase seems just to be a cult qualifier. The difference between a murder cult and a regular cult is their daily activities; murder cultists kill people while others work or chant or pray or study or get sexually abused by their leaders.
U.S. Rep. Jackie Speier (D-CA) came the closest to calling Trumpism what it is when she compared Trump to Jim Jones, the cult leader who led the mass suicide at Jonestown, Guyana. Speier would know: she was shot five times when she traveled in a congressional delegation to investigate Jonestown. She made the comparison during an appearance on Brian Selter's Reliable Sources show on CNN last August.
"The only difference between Jim Jones and Donald Trump is the fact that we now have social media, so all these people can find themselves in ways that they couldn't find themselves before … both of them merchants of deceit," Speier said.
A writer for The Federalist freaked out and accused Spier of defaming Trump in a 2021 article titled "CNN's Brian Stelter Lets Congresswoman Compare Trump To Murder Cult Leader." Madeline Osburn's indignant rejoinder is the first and only instance of putting Trump and 'murder cult' in the same sentence. She accurately pointed out that "Trump did not lead his supporters to feed 287 children a potion of Kool-Aid and cyanide, leaving them foaming at the mouth, convulsing, and then dead." But Trump led his supporters to do other things to kill people, or at least die trying.
One Trumper is a literal murder cultist. "Blacks for Trump" founder Maurice Symonette, a.k.a. "Michael the Black Man," the Black man positioned behind Trump at his rallies, was in a real-life murder cult following a man named Hulon Mitchell, Jr. who called himself Yahweh Ben Yahweh. Interestingly, Mitchell a.k.a. Yahweh was also a hotelier and real estate developer and lived in Florida. He exhorted his followers to slay at least 14 people, "white devils," who were usually homeless people, unlucky well before they ran across one of Yahweh Ben Yahweh's dispatched killers. There's no allegation that Symonette was involved in any of the attacks.
In terms of murder, there's the January 6, 2021 attack on the Capitol that ended six lives. And MAGA megafan Cesar Sayoc and his pipe bombs; luckily, no one died. The bombs planted at Democratic National Committee and the Republican National Committee could have taken out thousands of employees. One Trump supporter tried to cut the throat of a six year old Asian boy in a Texas Costco. A Penn State student threatened to put a bullet in an Indian student. Three men in Kansas plotted to bomb a building that housed many Somalis.
And there's "Hang Mike Pence." Because, at least on January 6, 2021, in Pence's anticipated assassination, there was everything.
These are just a few examples. I suspect the death count from bloodthirsty Trump supporters was supposed to be higher. They're not as competent as the Followers who have a writing room in West Hollywood to tie up the ends of their stories.
After the search of Mar-A-Lago, violent rhetoric surged again online. It could be tough talk or it could be terrorism, not to defend Trump but to indulge the violent, homicidal nature of some of his supporters.
About halfway through the first season, Claire asks her Follower, Charlie Mead (played by Tom Lipinski): "What is Joe doing? Why do you listen to him? What is this all about?"
"He's teaching me to feel my life," Charlie says.
It isn't about the Deep State. It isn't about stopping another witch hunt. It isn't because of the search warrant executed at Mar-A-Lago. This is only about white supremacy because that it's a simple way to identify targets for violence. How many of the Trump cultists are just murderers who found their justification in — and coalesced around —Donald J. Trump?
Chandra Bozelko did time in a maximum-security facility in Connecticut. While inside she became the first incarcerated person with a regular byline in a publication outside of the facility. Her "Prison Diaries" column ran in The New Haven Independent, and she later established a blog under the same name that earned several professional awards. Her columns now appear regularly in The National Memo.