Meet The Muslim Military Father Who Headlined With The Clintons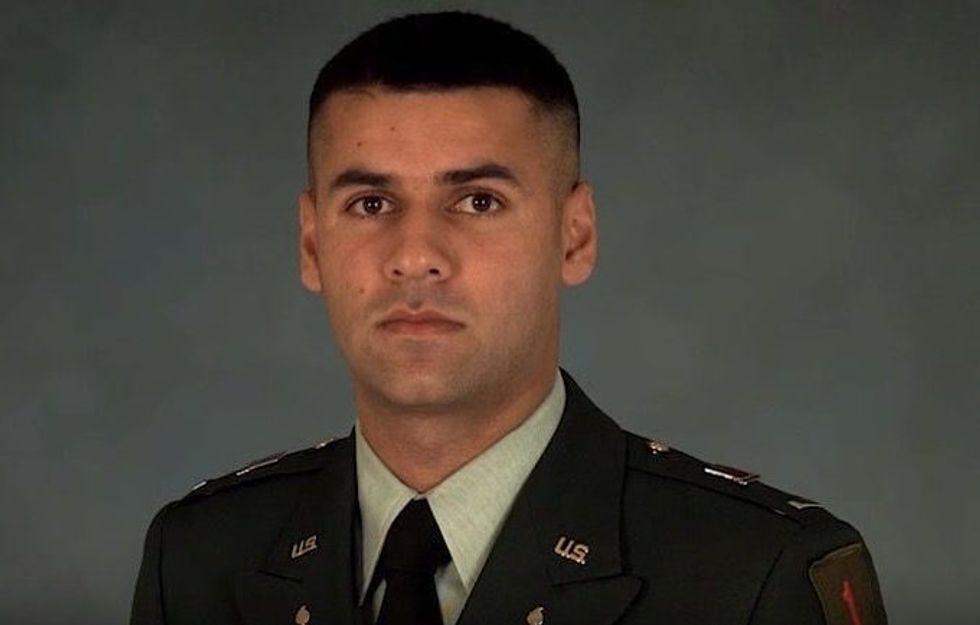 In 2004, Humayun S.M. Khan took ten steps that killed him.
A 27-year-old army captain serving in the Iraq War, Khan was inspecting the front gates of his military camp with his infantry unit when an unfamiliar vehicle sped towards him. As he approached and signaled for the car to stop, it exploded, taking his life but sparing the soldiers in his command that he'd instructed to stay back.
Khan, who was posthumously awarded a Bronze Star for his heroism, was memorialized on a national stage on Thursday: His father, Khizr, spoke during a prime-time slot at the final night of the Democratic National Convention, right before Chelsea and Hillary Clinton.
"We still wonder what made him take those 10 steps," Khan told Vocativ in an interview about his son last fall. "Maybe that's the point where all the values, all the service to country, all the things he learned in this country kicked in. It was those values that made him take those 10 steps. Those 10 steps told us we did not make [a] mistake in moving to this country."
Following an election cycle filled with calls from Donald Trump to ban all Muslims from entering the country, Khan—a Muslim who brought his family to the U.S. in 1980—highlighted one of the largest rifts between the Democratic and Republican candidates this year.
"This is our country too," Khan, who works as a legal consultant in Virginia, told the San Francisco Chronicle ahead of his speech. "This is not only Donald Trump's country. He is an ignorant, divisive manipulator, and through my message I wish to convey to him and to all Muslim Americans: This is our country too."
The Pakistan-born Khan and his family moved from the United Arab Emirates to Boston so he could attend Harvard Law School, before they eventually settled in Maryland. Decades later, Humayun enrolled in the army after studying psychology at the University of Virginia and participating in ROTC.
A driven young man who quickly climbed the army ranks and planned to attend law school, he would become one of 14 American Muslims killed in combat during the Iraq War in the 10 years following the attack.
Humayun's story also serves as a potent and poignant counterpoint to Trump's Islamophobia: Contrary to the GOP nominee's claim that Islam poses a threat to the U.S., Khan gave his life for his country that accepted and honored his valiant service.
Indeed, Clinton told Khan's story during a speech at the University of Minnesota in December, in which she called him an example of "the best of America."
To contrast with the divisive rhetoric of the Trump campaign—as well as the rise in Islamophobic attitudes and hate crimes since Trump has announced his run for the presidency—Khan is expected to instead deliver a message of unity and tolerance.
For his part, though, he said he was honored and humbled to be speaking at the Democratic convention to begin with.
"Nowhere but in the United States is it possible that an immigrant who came to the country empty-handed only a few years ago gets to stand in front of patriots and in front of a major political party," he said in the Chronicle interview. "It is my small share to show the world, by standing there, the goodness of America."
Photo: Humayun Khan / Screenshot via YouTube