N.J. Employees Who Worked On Christie Image Got Raises Averaging 23 Percent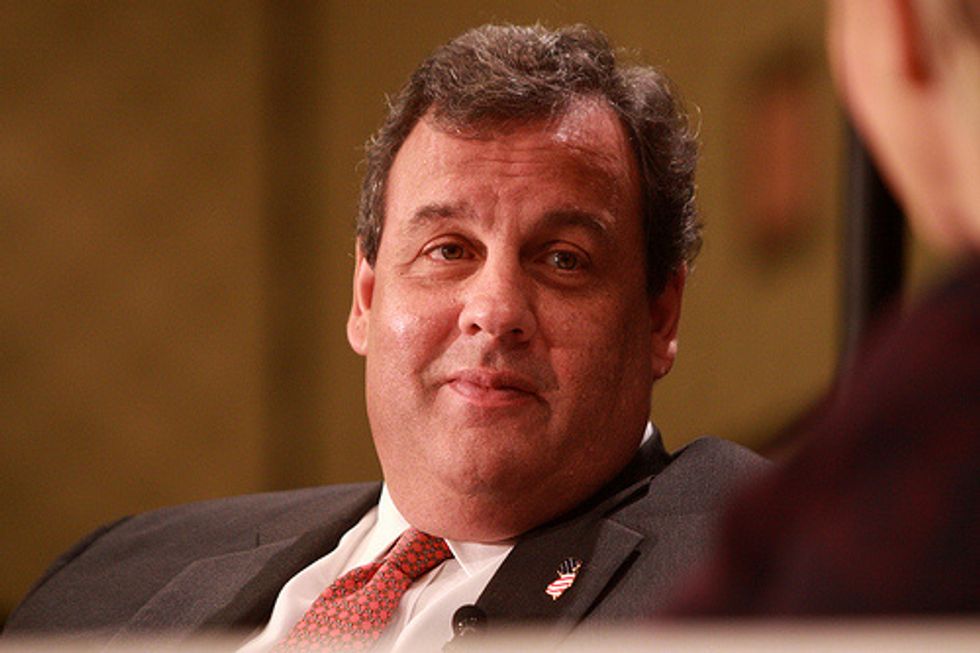 By Melissa Hayes, The Record (Hackensack, N.J.)
TRENTON, N.J.—Nearly all of the state employees responsible for helping New Jersey Gov. Chris Christie craft and promote his image — from his press secretary to the staff that set up his town-hall events and put video clips of his appearances online — got raises in recent months that averaged 23 percent.
Some of those who received the biggest boosts temporarily left state government to work on Christie's re-election campaign last year, then returned with new titles and higher salaries. A deputy press secretary in the governor's office who earned $75,000 last year before he left to serve as press secretary for the campaign, for example, now makes $110,000 as a deputy communications |director.
The raises come as Christie is withholding more than $2.4 billion in payments to the state pension fund because of revenue shortfalls. And Christie has delayed a property-tax relief program that averages about $500 for seniors and some families.
And the raises to the governor's staff appear to have happened around the same time Christie vetoed the minutes of the commission that oversees the Pinelands after its members voted to increase the budget for its staff by 5 percent. Christie castigated the commissioners and said the decision was a "conscious disregard of the fiscal realities."
The governor's office did not answer specific questions about the raises on Thursday, including questions about when they were awarded and whether other non-union employees were given pay increases.
"Changes in salary in the main reflect changes in position, promotions or expanded job responsibilities for these staff members," Christie spokesman Michael Drewniak said Thursday.
The Record sought the salary information in two Open Public Records Act requests. The first, filed in February, was denied and The Record was referred to the web site yourmoney.nj.gov, which the state bills as New Jersey government's "transparency center." But at the time only salaries for 2012 and 2013 were listed.
The Record filed a second request in March and was again denied. The state provided information only after The Record filed a lawsuit.
New Jersey's public-records law includes a section that specifically covers public employee salary data and says "immediate access" should be given to such information.
The salary information posted on yourmoney.nj.gov does not match the information that was provided to The Record last week.
Of the 148 employees in the governor's office, 27 received raises this year and all but four work in communications, scheduling or on the advance and briefing teams.
Only six people in those departments didn't get raises — five employees who have worked for Christie for less than a year and his top communications strategist, a deputy chief of staff whose salary is $140,000. State law fixes the chief of staff and Cabinet-level salaries at $141,000. By law, Christie's salary is $175,000.
Some of the employees who received the biggest raises left state government to work on Christie's re-election campaign last year and returned to the public payroll with new titles and higher salaries.
Kevin Roberts worked as a deputy press secretary in the governor's office with an annual salary of $75,000. He was press secretary on the Christie campaign and returned to the state payroll in January as a deputy communications director with a $90,000 salary. Roberts then received another raise, boosting his salary to $110,000 — a nearly 47 percent increase over what he made in 2013 before Christie's re-election. Roberts' latest increase came after Colin Reed, hired as a deputy communications director in March 2013, resigned to take a campaign manager job in New Hampshire. Reed was paid $110,000.
Dwight Foster Morss had a salary of $90,000 when he was deputy communications director for research in 2013. After working on Christie's campaign, Morss returned to that job in December, but with a salary of $120,000 — a raise of more than 30 percent.
Wells Winegar, a member of Christie's advance team — the staff that prepares for Christie's public appearances — left his $42,000-a-year job to join the campaign. Winegar returned in December as deputy director of advance with a $60,000 salary.
Every member of Christie's advance and briefings team, with the exception of an employee hired this year, received a pay raise.
Every member of Christie's scheduling team also saw raises. Ryan Brophy, a senior scheduler, had the largest increase — 50 percent — with his salary jumping from $40,000 to $60,000.
Dan Robles, the governor's director of planning who follows Christie around New Jersey and out of state on political trips, saw his salary rise from $80,000 to $115,000 this year, a nearly 44 percent increase.
In the communications office, deputy press secretary Sarah Dolan's salary went from $45,000 to $60,000, an increase of 33 percent. Dolan's raise came as part of her promotion from research analyst to deputy press secretary.
Drewniak, Christie's press secretary, got the smallest increase in that office — just under 4 percent — putting his salary at $134,000 this year, up from $129,000 in 2013.
Christie also hired his campaign photographer and videographer, Mykwain Gainey, at an $85,000 salary. State House photographer Tim Larsen, who also worked for Democratic Gov. Jon Corzine, had not received a raise on his $66,550 salary in recent years until an increase to $85,000 this year.
Jeanne Ashmore, who has run the Office of Constituent Relations, received a $25,000 raise bringing her salary to $115,000. Ashmore took on the added responsibility of managing legislative and intergovernmental affairs in January after Bridget Anne Kelly, the deputy chief of staff who oversaw that section, was fired.
Kelly is at the heart of the George Washington Bridge lane-closure scandal. She was fired Jan. 8, the day The Record first reported that she sent the e-mail, "Time for some traffic problems in Fort Lee," to a Christie appointee at the Port Authority.
Kelly oversaw the Office of Legislative and Intergovernmental Affairs, where staff were assigned to work with mayors. That office was eliminated after the team of lawyers Christie hired to investigate his office said it should be closed.
Kelly was paid $140,000 and Christie has not named a new deputy chief of staff.
The governor's office has seen 24 employees leave this year. Six of those employees worked in intergovernmental affairs, including Kelly. Christina Genovese Renna, who was called before the legislative panel investigating the lane closures, left in January. Renna was the director of intergovernmental affairs with a salary of $81,000.
The issue of executive branch raises came up during a town-hall event the governor held in South River in March. A non-unionized state worker, who did not give his name, told Christie he makes less than $45,000 and had gone five to six years without a raise. The question was prompted by reports that lawmakers were pushing a bill that would allow Christie to increase salaries of Cabinet members from $141,000 to as much as $175,000.
Before the man could finish his question, Christie interjected that Cabinet salaries would not be increasing.
"They're not, by the way," Christie said of those proposed salary hikes.
The governor then said it's unfair that union workers get guaranteed raises through negotiated contracts, but discretionary employees — particularly those in the Attorney General's Office — have gone years without an increase. He blamed "three entitlements" — public employee pensions, health benefits and debt service payments — for eating up 94 cents of every new dollar in revenue the state brings in. Christie said that leaves only 6 cents to address the salaries of non-union workers and other areas of the budget that need more funding.
"We are looking at that, but I can't make you any guarantees until the budget negotiations with the Legislature are over about whether or not we're going to be able to do something or we're not," Christie said of non-union employee raises. "I'm looking at it and I'm sensitive to it and I'd like to try to help."
Christie didn't mention plans to give staff in his office pay raises this spring.
Photo: Gage Skidmore via Flickr