NASCAR Stewart Probe Shows 'No Criminal Behavior': Police
@AFP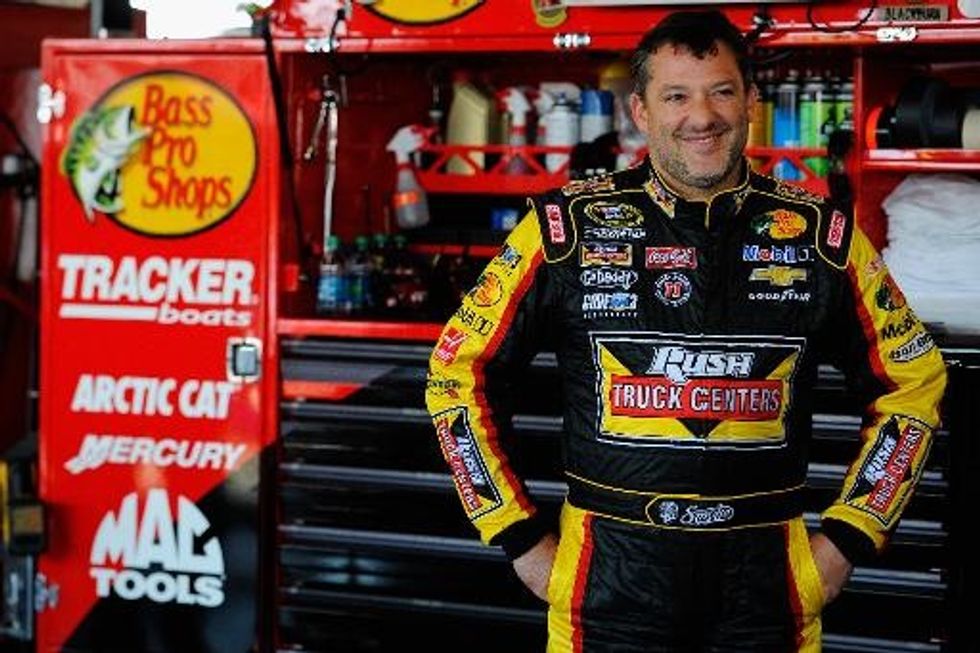 New York (AFP) — U.S. police have found "no criminal behavior" on racing driver Tony Stewart's part but will continue their probe into the bizarre incident in which he struck and killed an up-and-coming driver.
Stewart, one of the most popular drivers in America's NASCAR stock car circuit, plowed into 20-year-old Kevin Ward Jr. during a non-NASCAR race on a dirt track Saturday night at Canandaigua Motorsports Park.
"At this time there are no facts that exist that support any criminal behavior or conduct or that any probable cause of a criminal act in this investigation," Ontario County Sheriff spokesman Philip Povero told reporters on Monday.
Povero said they have interviewed Stewart and several others who witnessed the incident and they say Stewart, who was unhurt, has been cooperative.
Povero told reporters they are looking for more video footage of the crash as part of their ongoing investigation. He said they already have two videos of the incident.
"We are seeking persons outside that are familiar with racing that can help us review and analyze these tapes to hopefully fully understand the crash," he said.
Meanwhile, the 43-year-old American, who missed Sunday's NASCAR Sprint Cup Series race at the Watkins Glen International track, has withdrawn from a second non-NASCAR race Saturday in Plymouth, Indiana.
"We at Plymouth Speedway extend our deepest condolences and prayers to the family of Kevin Ward, Jr. and thoughts and prayers to Tony Stewart and his family. Tony Stewart will NOT be racing at Plymouth Speedway this Saturday," race officials said.
There is no word yet from Stewart's team, Stewart-Haas Racing, on whether Stewart will compete in a NASCAR race at the Michigan International Speedway on Sunday.
Saturday's incident happened near turn two at the halfway point of a 25-lap Lucas Oil Super Sprint Features dirt race.
Stewart first bumped Ward's car and knocked it out of the race. On his next lap Stewart's vehicle collided with Ward, who had climbed out of his car and was walking down the track pointing his finger in the direction of Stewart.
– Dragging him along the track –
As the car passed by Ward it appeared to rev and then fishtail, hitting Ward and dragging him along the track for several meters.
An autopsy was performed on the body which showed Ward died of massive blunt force trauma.
Ward, of Port Leyden, New York, began competing in Go Kart racing at the age four in 1998. He began sprint car racing in 2010 and won his first career sprint car feature in June 2011.
Stewart, who is a multi-millionaire, is part owner of Stewart-Haas Racing, whose drivers include Danica Patrick.
Despite his success, he continues to compete in non-NASCAR races on small and dirt tracks across America against drivers of varying talent levels and ages, including some in their teens.
The hard-headed Stewart has a history of dust-ups with other drivers. Two years ago after a crash he walked onto a track at Bristol Motor Speedway in Tennessee and threw his helmet at Matt Kenseth's car.
When Stewart competed in an event at Canandaigua in July 2013, he caused a crash that involved 15 drivers.
In Fontana, California last year, Stewart stormed down pit road and got into a fist fight with Joey Logano, whom he accused of trying to block him.
AFP Photo/Jared C. Tilton
Interested in sports news? Sign up for our daily email newsletter!