NBC Does A Victory Lap, Showcases New Season At Upfront Presentation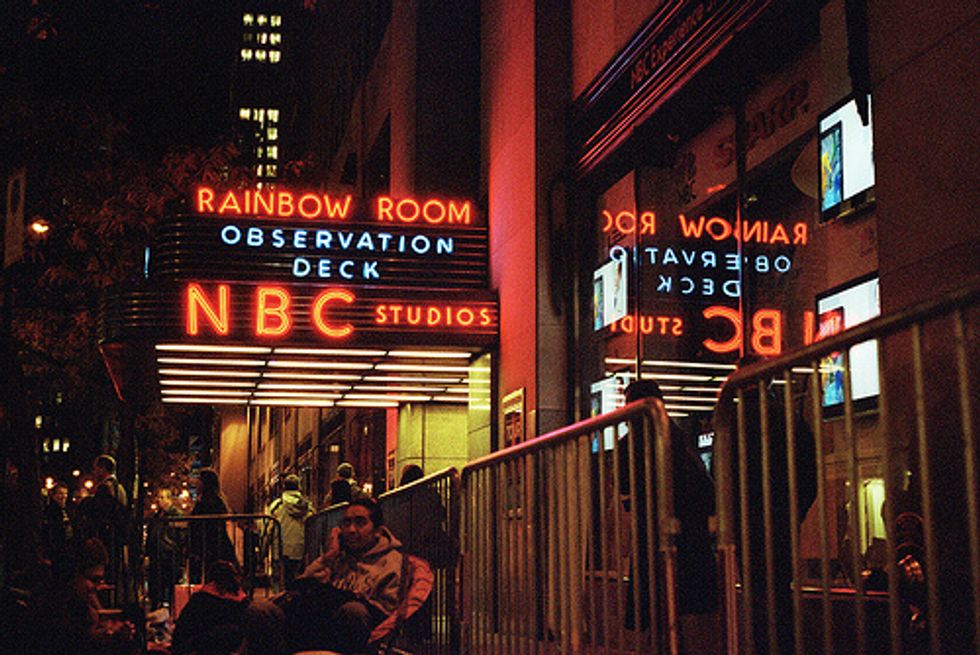 By Meredith Blake, Los Angeles Times
NEW YORK — After a season in which it's poised to finish No. 1 in the advertiser-coveted 18-to-49-year-old demographic for the first time since the end of Friends 10 years ago, NBC ran a triumphant victory lap at its annual upfront presentation before an audience of advertisers and journalists Monday in New York City.
The network boasted of triumphs including freshman hit The Blacklist, The Sound of Music Live!, the Sochi Winter Olympics and Jimmy Fallon's successful takeover of The Tonight Show, and attempted to build enthusiasm for a 2014-15 season that's heavy on romantic sitcoms and spy dramas.
Courtesy of Seth Meyers, the new host of Late Night, there were a few self-deprecating jokes about the network's less successful efforts this season, like the Blair Underwood remake of Ironside, but otherwise NBC Entertainment Chairman Bob Greenblatt focused on the positive.
He highlighted the network's 21 percent growth in overall viewers, a strong enough improvement to put it in second place behind most-watched CBS. Ratings are up on five nights out of seven, with Thursday and Sunday the remaining weak spots. In terms of viewers under 50, NBC is tops this season, up 18 percent versus last year.
Key to the network's resurgence was the James Spader drama, The Blacklist, television's top-rated new series this season, which will be moving at midseason to Thursdays, after a post-Super Bowl airing, as part of NBC's ongoing effort to reclaim the must-see-TV mantle.
Also pivotal was the smooth handover of The Tonight Show from Jay Leno to Jimmy Fallon. As Greenblatt put it, "Jimmy is killing it" in his new time slot, with ratings in the demo up 82 percent after 12 weeks. According to NBC, Fallon also continues to beat combined averages of Late Show With David Letterman and Jimmy Kimmel Live with viewers under 50.
Greenblatt also touted Meyers' ratings performance. His Late Night is up 35 percent in the 18-to-49 demographic.
Looking ahead at the new season, Greenblatt noted that NBC's lineup would remain relatively stable in the fall, with The Blacklist in its current time slot at 10 p.m. and the debut of "noisy and sophisticated" shows, including relationship comedies Marry Me and A to Z, the lightly comedic Debra Messing police procedural The Mysteries of Laura, comic book adaptation Constantine and the Kate Walsh comedy Bad Judge.
Moving at midseason into coveted post-Voice time slot currently held by The Blacklist will be the Katherine Heigl drama State of Affairs, in which she stars as a Carrie Mathison-esque CIA analyst on the hunt for her fiance's killer — with help from his mother, the president.
The network "held back several of our best assets for midseason," said Greenblatt. These include space-age comedy Mission Control, conspiracy thriller Odyssey, the Craig Robinson comedy Mr. Robinson, the Ellen DeGeneres-produced One Big Happy, the Tina Fey-produced Ellie Kemper sitcom Unbreakable Kimmy Schmidt and the Russian spy drama Allegiance.
Also in the pipeline at NBC are a number of limited series and specials. The Biblical epic A.D., which producer Mark Burnett teased as Game of Thrones meets The Borgias meets The Bible will premiere on Easter Sunday.
NBC will also commemorate the 40th anniversary of Saturday Night Live with a three-hour retrospective on February 15. And in the wake of the resounding success of The Sound of Music Live!, NBC hopes to make a live broadcast musical an annual tradition.
"I know a lot of people were rolling their eyes about it, right until the numbers came in," Greenblatt said of the live musical starring Carrie Underwood, which became a surprise ratings smash and Twitter sensation.
On December 4, producers Neil Meron and Craig Zadan will be back with Peter Pan, and Greenblatt also announced plans to tackle The Music Man in the future.
"We are as well positioned for growth as we possibly could be," Greenblatt said.
Photo: AlexandraGalvis via Flickr
For more entertainment news, sign up for our daily email newsletter!