New House GOP Leader Made Caucus Smaller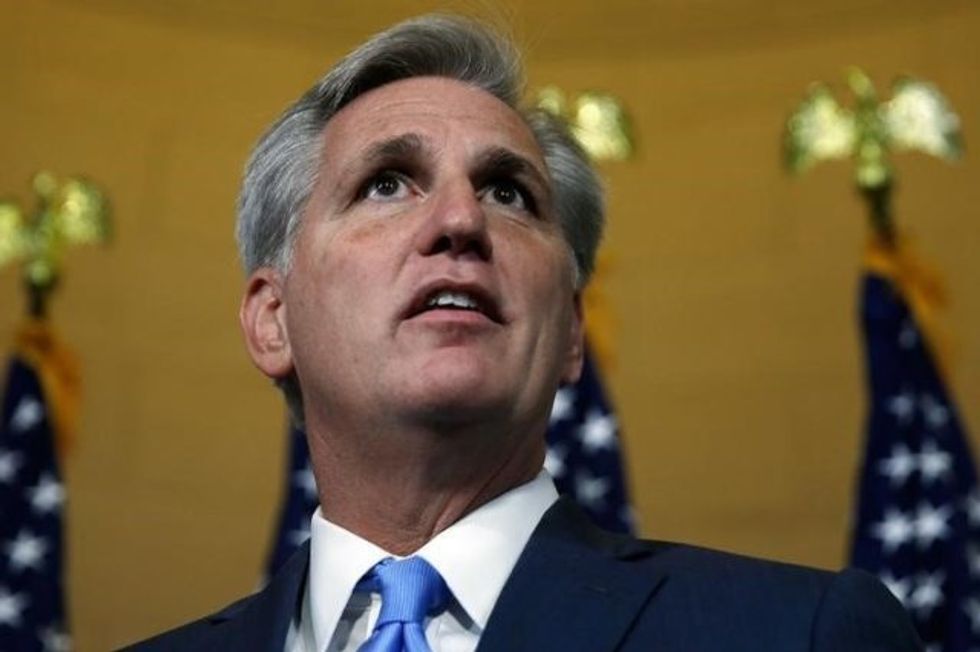 Reprinted with permission from Shareblue.
Democrats obliterated California Republicans in the 2018 midterms, ousting half of the state's GOP congressional delegation.
So it's pretty remarkable that Republicans picked as their new leader California Rep. Kevin McCarthy, who helped seven Republicans in his home state lose their seats this cycle.
"The GOP's losses, highlighting a terrible midterm election for long-suffering California Republicans, have caused some to question McCarthy's judgment," the L.A. Times reports.
McCarthy has prostrated himself before the altar of Trump, becoming such a sycophant that Trump regularly calls him "my Kevin."
While McCarthy himself is in a safe deep-red district, Trump has become increasingly unpopular in California. But McCarthy ignored these trends and cajoled fellow California Republicans to hop on the Trump bandwagon.
The L.A. Times notes that McCarthy "helped round up the votes to narrowly pass" the GOP's attempt to rip health care away from millions of families — including several California Republicans who faced tough re-election fights.
That vote, along with the decision of many California Republicans to support the massively unpopular GOP tax scam, proved pivotal in a year when Democrats focused the campaign on health care issues.
"His ability to command unwavering loyalty from his California colleagues on issues such as healthcare, gun control and an unpopular tax bill bolstered the Bakersfield Republican on Capitol Hill and raised his stock with Trump," the Times reports. "But it may have helped decimate his home-state delegation."
In California's 25th Congressional District, Democrat Katie Hill used her own personal experience with medical debt to hammer Republican Rep. Steve Knight, who obediently lined up behind McCarthy and Trump in voting to sabotage health care.
In Orange County, Democrat Katie Porter told the story of her own emergency appendectomy during the campaign to explain the dangers of Rep. Mimi Walters' vote to deny health care to millions of California families.
McCarthy had personally recruited Walters to run, according to the Times, only to see her ousted after two short terms. He even helped raise $5 million for his fellow California Republicans.
But in the end, California voters wanted representatives who looked out for their best interests — not Trump loyalists who would turn their back on their own constituents if McCarthy asked them to.
"The irony," the Times observed, "is that in securing his position as the top House Republican, McCarthy may have helped ensure there will be fewer from California to serve alongside him."
A defeated Republican Party will be led by a man who helped push them into the minority.
Published with permission of The American Independent.