New House Judiciary Chair: End GOP 'Nonsense' Investigations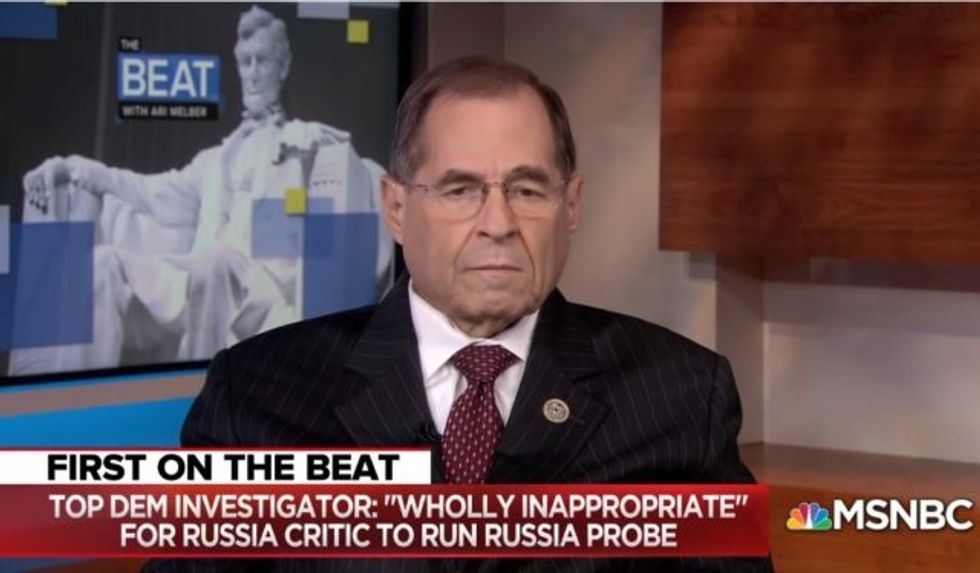 Reprinted with permission from Shareblue.
Rep. Jerry Nadler (D-NY) calls several GOP investigations "a waste of time" and said he'll stop them when he takes over as chair of the committee next year.
Nadler made the comments as he was walking into a closed-door GOP-led interrogation of former FBI director James Comey. Republicans, led by retiring Chairman Bob Goodlatte (R-VA), are still clinging to the notion that there is corruption within the Department of Justice and FBI in not charging Hillary Clinton over her use of emails.
Republicans also claim, with no evidence, that the DOJ was biased against Trump, and that this was the reason why the department opened investigations into his campaign's links to Russia.
"There is no evidence of bias at the FBI and this other nonsense they are talking about," Nadler said as he went to the hearing, according to the Hill. "The entire purpose of this investigation is to be a diversion of the real investigation, which is Mueller," he added.
Comey initially resisted the subpoena ordering him to appear, fearful that Republicans would selectively leak parts of his testimony to the media in an attempt to mischaracterize the conversation. Comey agreed to attend only if he would be free to speak to the media about his testimony, and a written transcript would be released.
Republicans relented, and moved forward with the lame-duck hearing, seeking to flex their power one last time before the new Democratic majority takes over, not only in the House Judiciary Committee, but in every House committee.
Republicans across the board have used their perch to nakedly shill for Trump without any pretext of holding legitimate investigations. No member better exemplifies the servile attitude of a co-equal branch of government to another better than Rep. Devin Nunes (R-CA), chair of the House intelligence committee. Nunes once secretly met with Trump to share information, and used his position as the chair of the committee to run a sham investigation into the Trump campaign's ties to Russia that were laughably partisan.
Rather than shill for a corrupt Trump administration or waste time on nonsense investigations, Democrats have a plan to both engage in substantive legislative efforts and actually hold the Trump administration accountable.
In other words, Democrats will try to restore Congress to a co-equal branch of government, not a lapdog willing to obey the whims of Trump and the White House.
Published with permission of The American Independent.