New National Poll Shows Trump Losing Badly To Biden, Sanders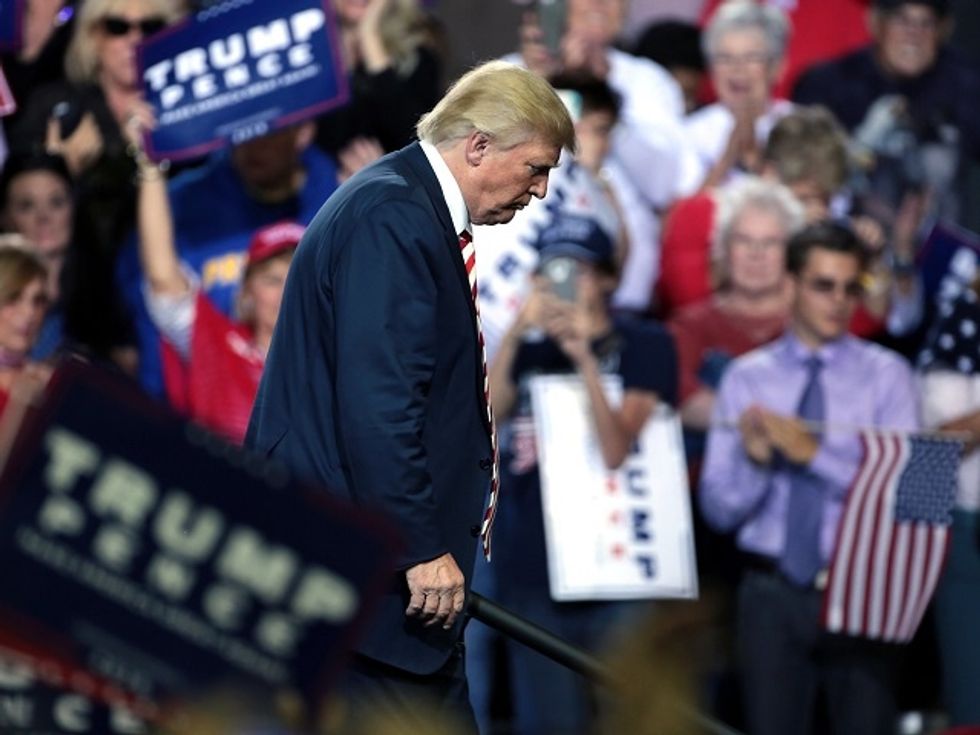 Trump can't get more than 44 percent support when facing top Democratic challengers in a new poll from NBC News and the Wall Street Journal.
Americans appear like they may be ready to reject Trump and replace him with Vice President Joe Biden, Sen. Kamala Harris (D-CA), Sen. Bernie Sanders (I-VT), or Sen. Elizabeth Warren (D-MA), according to an NBC News/Wall Street Journal poll released on Sunday.
In the nationwide poll, Trump never manages to get more than 44 percent of support, while each of the candidates listed would win the popular vote if it were held today.
Biden fares best against Trump, leading him by a 51 percent to 42 percent margin. Sanders also hits 50 percent support, besting Trump 50 percent to 43 percent.
Elizabeth Warren holds a 5-point edge over Trump (48 percent to 43 percent), while Harris bests Trump by 1 point (45 percent to 44 percent). The poll was released Sunday morning, meaning Americans were polled before Trump unleashed a racist Twitter tirade attacking four congresswomen.
While more than 20 Democrats are vying to take Trump on next year, the NBC/WSJ poll only measured head-to-head matchups between those four candidates and Trump. However, the poll showed Trump's approval rating hovering at 45 percent, with a clear majority (52 percent) disapproving.
At this time in 2011, President Obama was in a much better position, according to NBC News. In August 2011, Obama led eventual Republican nominee Mitt Romney by 1 point and went on to win the election by 4 points.
The poll mirrors the results of a June Quinnipiac University poll that also showed Trump losing to each of these candidates.
Trump's reelection troubles make sense in light of other polls showing Americans unhappy with the way he handles major issues like the economy, health care, and immigration.
In 2016, Trump lost the popular vote to Hillary Clinton by 3 million votes, eeking out a narrow victory in the electoral college. However, his approval rating in swing states like Wisconsin, Michigan, Pennsylvania, and Iowa has plummeted since he took office, falling by double-digits in some cases.
Biden, Harris, Sanders, Warren, and other Democrats vying to take Trump on held one debate at the end of June, and will hold another on July 30 and 31 in Detroit. A third debate has been scheduled for September 12 and 13 in Houston.
Published with permission of The American Independent.