New Polls Show Clinton Ahead, But The Race Is Tight In Battleground States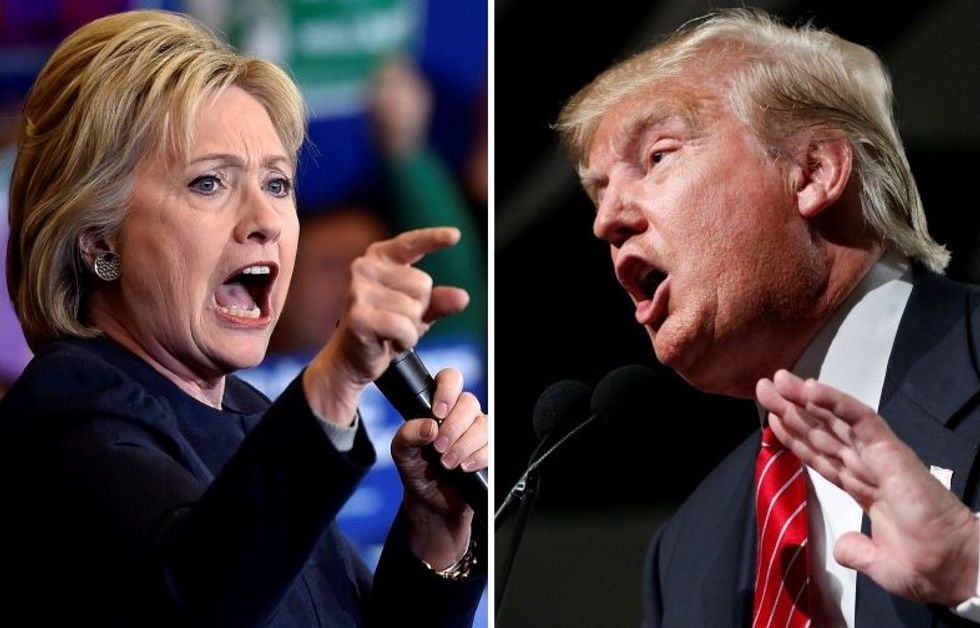 New polls conducted immediately after FBI director James Comey's recommendation that no charges be brought against Hillary Clinton over her private email server use still show the presumptive Democratic nominee ahead of Donald Trump. But the race has tightened.
While one poll released on Wednesday found Trump ahead in key swing states, three polls in the same swing states as well as national polls showed different results.
A Quinnipiac University poll released on Wednesday shows Trump leading Clinton in Florida and Ohio by three points and two points respectively, within the poll's margin of error. The same poll shows the two candidates tied in Pennsylvania at 41 percent each. The poll was conducted over an unusually long period of time, from June 30 to July 1.
The Quinnipiac's polling methods have drawn criticism in the past from Democrats, who argue that the racial composition and education level of those questioned in the samples work against Clinton. The pool of poll respondents in Florida is 29 percent Democrat.
Quinnipiac pollster Peter Brown pointed to the investigation into Clinton's use of a primate email server while Secretary of State as a possible reason for the poll's results.
"She has lost ground to Trump on questions which measure moral standards and honesty," said pollster Peter Brown.
But three new NBC News/Wall Street Journal/Marist polls have Clinton leading Trump with registered voters by three points in Iowa and by nine points in Pennsylvania. They show a tie in Ohio with each candidate at 39 percent. Clinton has a six point lead over Trump in Ohio in March.
The polls were conducted from July 5 to 10, after the FBI's decision not to recommend charging Clinton with a criminal offense.
National polls also show Clinton ahead of Trump. In this week's NBC News/ SurveyMonkey online tracking poll, Clinton is ahead by three points. This system "tracks voter preferences and attitudes on a weekly basis throughout the 2016 election cycle," polls from national sample of 7,869 registered voters, of which 2,059 are registered Republicans and 2,634 are registered Democrats.
"We know the battlegrounds are going to be close til the end. That's why we need to keep working so hard. Trump is a serious danger, folks." said Clinton spokesman Brian Fallon in a tweet responding to the polls.
Photo: Democratic presidential candidate Hillary Clinton (L) and Republican presidential candidate Donald Trump are seen in a combination of file photos taken in Henderson, Nevada, February 13, 2016 (L) and Phoenix, Arizona, July 11, 2015.  REUTERS/David Becker/Nancy Wiechec/Files