New Report: Trump Organization Minting Money On Ethically Dubious Deals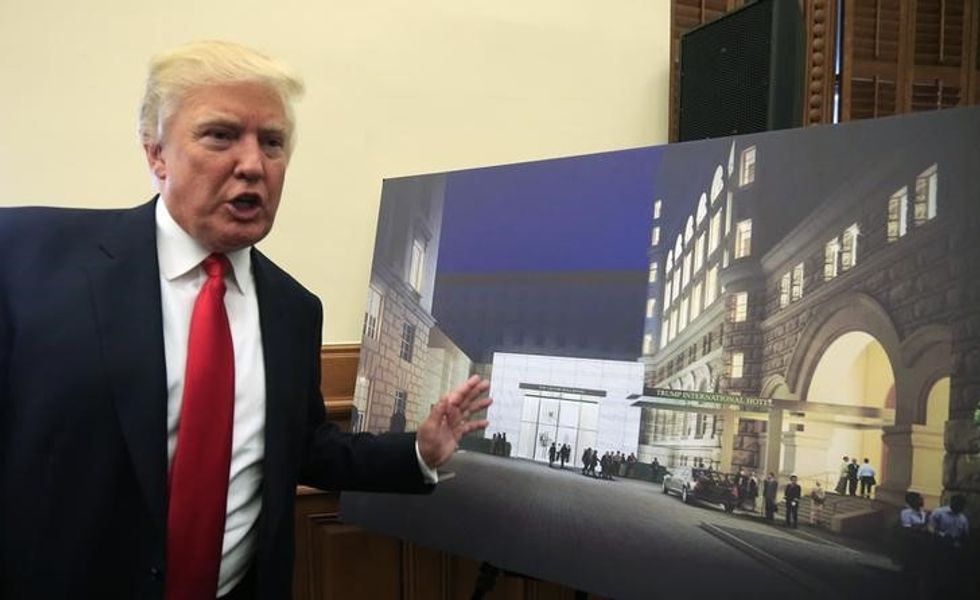 When not desperately auctioning off access to the president's family, the Trump Organization is still finding other ethically questionable ways to cash in on Donald Trump's presidency.
A new report by Public Citizen shows evidence of an "alarming … array of interest groups trying to cozy up to Trump by spending money at his properties."
While several of Trump's properties are losing business, including 
golf courses
 and hotels in 
New York
 and 
Toronto
, there are some properties that are seeing an influx of activity.
"Donald Trump entered office with the most blatant and potentially corrupting conflicts of interest in the history of American politics, and things only got worse from there," said Robert Weissman, president of Public Citizen.
"Business is booming at the Trump International Hotel in D.C., not because of the décor, but because corporations and foreign governments want to curry favor with the president."
Saudi Arabia, one of four foreign governments listed in the report, spent more than a quarter of a million dollars at Trump International Hotel — an amount that raises serious concerns about conflicts of interests.
On paper, Trump Jr., along with his brother Eric, are in charge of the Trump Organization. However, Donald Trump has refused to divest from or sell off his family businesses, and thus still profits from individuals and entities that visit Trump properties.
Foreign governments aren't the only groups spending money in the hopes of currying favor with Trump. Companies are getting in on the action as well.
The National Mining Association and Chamber of Commerce have plunked down bags of money at Trump properties, even though (or perhaps because) they have substantial policy interests that can be addressed by the executive branch.
One private prison company is already reaping rewards. According to the Washington Post, executives and wardens from GEO Group, which runs private prisons, "gathered for four days of meetings, dinner receptions and golf outings at the luxurious 800-acre Trump National Doral, [following] an intense effort by GEO Group to align itself with the president and his administration."
After that expenditure, GEO group — which also gave $225,000 to a pro-Trump super PAC and $250,000 to Trump's inaugural committee — "secured the administration's first contract for an immigration detention center, a deal worth tens of millions a year."
Members of Congress are also among those hoping to buy favorable treatment from Trump. More than 30 political candidates or political organizations are listed in Public Citizen's report.
California's Dana Rohrabacher says he raised more than $100,000 at the fundraiser he held at the Trump International Hotel. The congressman's staff insisted there were no unethical motivations, simply that Trump's "properties are set to a standard that is very elegant."
(Recent health inspection reports from Trump's Mar-a-Lago property in Florida found 15 health violations in the club's two main kitchens.)
Other members of Congress, including Senators Bob Corker (R-TN) and John Kennedy (R-LA), also spent campaign funds at Trump properties.
Not a single penny from Democrats was spent at any of Trump's businesses or properties.
In a chicken-and-egg type quandary, it is unclear whether Trump's rampant corruption is driving his unpopularity at home and abroad, or if his unpopularity is forcing him to turn to rampant corruption to make a buck. Whatever the case may be, Trump's conflicts of interest raise unprecedented ethical, legal, and national security concerns that must be addressed.
Donald Trump gestures next to an architectural rendering of The Trump Organization's $200 million redevelopment of the iconic Old Post Office building into a luxury hotel, in Washington September, 2013. REUTERS/Kevin Lamarque