New Study Finds Over 2000 Ethical Conflicts For Trump Since 2017
@alexvhenderson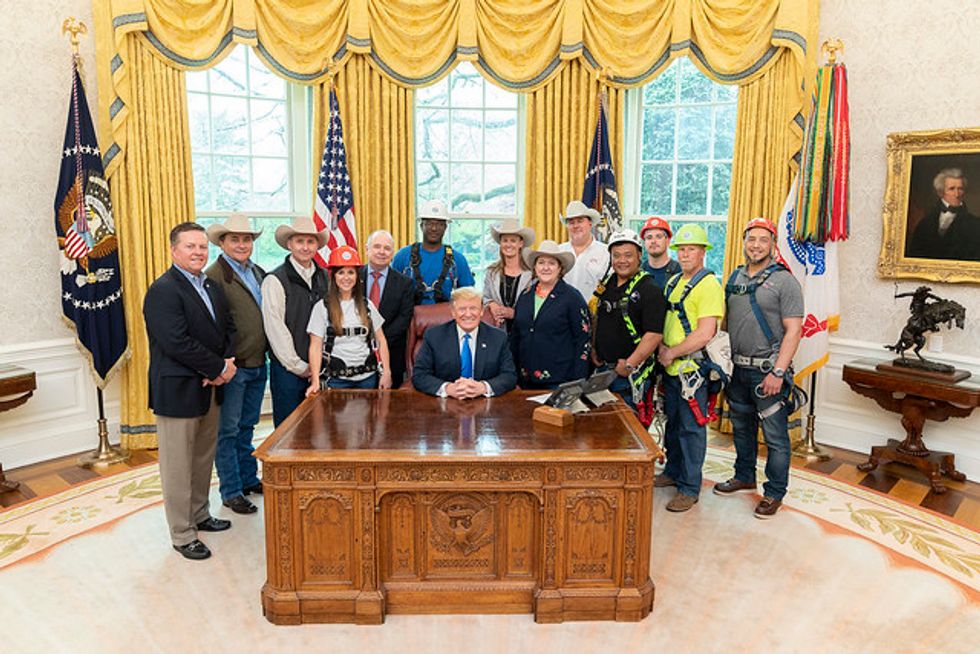 Reprinted with permission from Alternet
During his 2016 presidential campaign, Donald Trump vehemently railed against crony capitalism and conflicts of interest in Washington, D.C. — promising to "drain the swamp" if elected. But according to a newly released in-depth study by Citizens for Responsibility and Ethics in Washington (CREW), Trump has done just the opposite as president.
The number of conflicts of interest during Trump's presidency, according to CREW, is at least 2,310 "resulting from President Trump's decision to retain his business interests."
Trump, CREW reports, has "visited his properties 362 times at taxpayer expense" as president and has "used the presidency to provide free publicity for his properties." And the Trump Hotel in Washington, D.C., according to CREW, has "raked in $2.4 million in traceable political spending" during his presidency.
As president, CREW notes, Trump has "spent all or part of almost one-third of the days he's been president at one of his properties." Not surprisingly, Trump's Mar-a-Lago resort in South Florida, according to CREW, tops the list with 99 visits since he's been in office — and that is in addition to 64 visits to the Trump International Golf Club in West Palm Beach, Florida and 60 visits to the Trump National Golf Club in Potomac Falls, Virginia.
CREW spokesman Jordan Libowitz told Yahoo Finance that the number of conflicts of interest during Trump's presidency could be even higher than what CREW reports because the study only includes information CREW had access to.
Libowitz noted that previous presidents "from both parties" went out of their way to avoid the appearance of conflicts of interest. For example, Libowitz told Yahoo Finance, President Ronald Reagan and President George H.W. Bush put all of their assets in blind trusts so that "there was no way they could be influenced by what they owned business-wise."
Trump, however, created a "revocable and non-blind trust," Yahoo Finance's Kristin Myers notes, and can remove money from it with the permission of the person he has chosen as trustee: his son, Donald Trump, Jr. The president's son now serves as executive vice president of the Trump Organization.
In the past, Libowitz asserted, it was the "norm" for presidents to avoid even the appearance of a conflict of interest. However, "Now you have a president who doesn't," Libowitz told Yahoo Finance. "And it has become a major problem."