NFL And L.A. Doing Their Same Old Dance, But Is This Tune Different?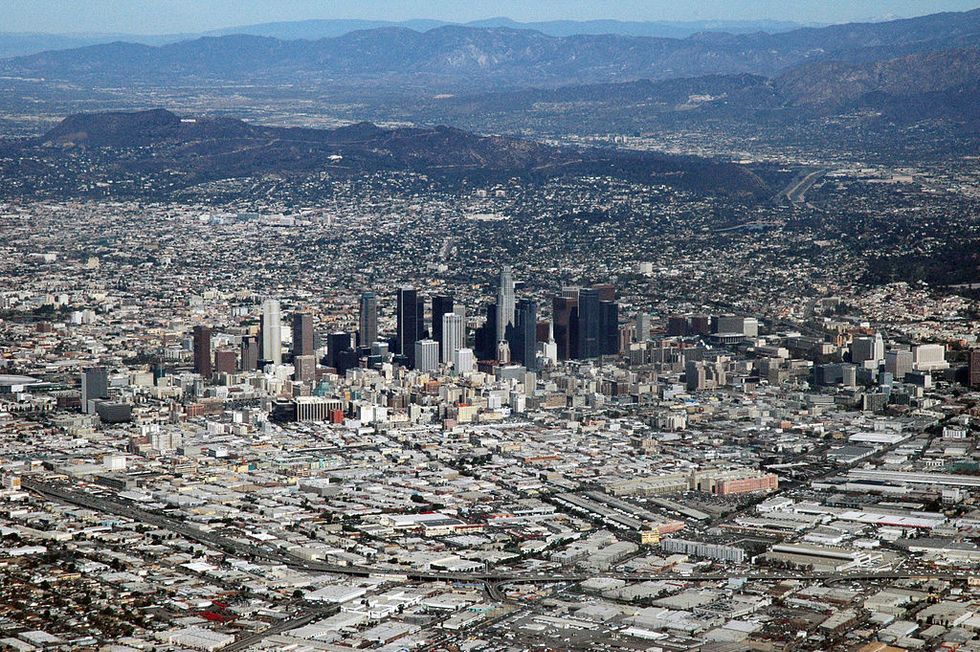 By Sam Farmer, Los Angeles Times
It is a bizarre anniversary, one that would have been crazy to predict.
Los Angeles has gone nearly two decades without an NFL franchise. The Rams and Raiders began their final season in Southern California 20 years ago. Since, the nation's No. 2 market has watched its No. 1 sport from afar.
In a nod to Roman numerals, we're fast approaching LAXX.
Dozens of ambitious plans — from billionaires to business leaders to blowhards — have been tossed on the scrap pile. In the meantime, the NFL has flourished without Los Angeles, and L.A. fans have grown comfortably accustomed to watching the NFL from their homes. Even with stadium proposals that gained momentum, there has been no cohesive, community-wide push for any particular concept. And there probably never will be. There's one general consensus that even the league has learned to live with: No public money for a stadium.
That said, this season is different. The St. Louis Rams, San Diego Chargers, and Oakland Raiders — all of whom previously played in L.A. — are eyeing the market. That's not new. What's different, though, is for the first time since this saga began, each team has what amounts to a year-to-year lease in its current venue.
It used to be that only the Chargers had an option to leave after each season, a considerable advantage over other NFL clubs weighing relocation. But now the Rams and Raiders have caught up, and all three teams are searching for stadium solutions.
With long-term TV and labor deals in place, and a proven willingness to experiment with a new way of doing things — witness changes to the Pro Bowl, draft, and scouting combine — there are indications the NFL is ready to make another run at L.A.
"We're excited about that," NFL Commissioner Roger Goodell said this week. "We're investing billions of dollars in new stadiums. We'd like to do that here. We think there's a great opportunity here. We think opportunities are starting to develop, maybe in part because we have that long-term planning in front of us."
In one sense, the league has already taken a step toward Southern California. L.A. and Chicago are the two finalists to play host to the 2015 NFL Draft. That event has been held in New York since 1965, but the league couldn't work out a deal with Radio City Music Hall to keep it there.
All this L.A. talk will set eyes rolling, of course, because of the rich history of all talk and no action. The threat of L.A. unquestionably has been used as leverage over the years to get deals done in other cities. Without that hammer, for instance, would there be new venues in Seattle or Indianapolis? Would Minnesota have a new stadium in the works? Absolutely not.
The fact that the iron is glowing hot doesn't guarantee a return to L.A. any time soon.
But league executives and owners insist the city is once again a bright blip on the radar screen.
"I think ownership is collectively very concerned that we don't have at least one team in downtown L.A.," New England Patriots owner Robert Kraft said. "We'd like to do everything [we] can to help facilitate that happening."
There is another difference about this year too. Last December, Rams owner Stan Kroenke quietly bought the 60-acre Inglewood parcel that sits between the Forum and Hollywood Park, land that's sufficient to accommodate a stadium but not all the parking that the league would want.
Kroenke has looked into buying the whole Hollywood Park property, which would give him all the land he'd need for a stadium, parking, and ancillary development. And seeing as the Rams and St. Louis are about $600 million apart on how much the city, county, and state should chip in for a new stadium, Kroenke's interest in L.A. should not be underestimated.
Buying that land was a shrewd move by Kroenke because he can keep it and potentially move forward with a stadium project, develop it in some other lucrative way, sell it (the owners of the Forum wanted it in the first place), and all the while hold smelling salts under the noses of negotiators in St. Louis.
As for the L.A.-area sites that are currently in play — and keep in mind these fall in and out of favor with the league and team owners — most of the inside chatter these days involves Hollywood Park, downtown, Carson, and Dodger Stadium. At this point, there is little talk about City of Industry.
The most viable of these is Hollywood Park, mainly because Kroenke owns those adjacent 60 acres and might not be able to find a solution in St. Louis.
The Raiders are scrambling to line up their own Southern California stadium options in case they feel compelled to leave Oakland, and they have said they're not interested in becoming a second tenant in the San Francisco 49ers' new stadium in Santa Clara.
O.co Coliseum in Oakland is the only venue shared by the NFL and Major League Baseball. But the Raiders and the Oakland Athletics don't share the same stadium vision. While the A's are working on a 10-year lease to stay at the site, the Raiders would like the city to demolish the stadium and build them a new place to play football. One or both of the teams could end up leaving.
There are indications that the Raiders would be willing to be the second team at Hollywood Park. Al Davis, late owner of the Raiders, wanted to build his own stadium at Hollywood Park, subsequently arguing in court that the NFL torpedoed his plans by insisting that his be a two-team venue.
The Chargers, too, are kicking the tires on L.A., just as they have for the last decade. During that span, the city of San Diego has seen seven mayors come and go. The franchise has never gotten much traction on a stadium solution.
The Chargers' most recent unsuccessful bid was made last fall when the club proposed combining a new stadium with the expansion of the Convention Center, similar to the Farmers Field concept in downtown L.A. That San Diego concept is now saddled with at least three pieces of litigation that could require years to resolve.
Sitting idle as another team moves into the L.A. market would be devastating to the Chargers, not only because a significant number of their premier customers (suite holders, local sponsors) are from Orange County and north, but also because they would lose what leverage they now have to get a deal done in San Diego. In other words, if another team is already in L.A., San Diego would be far less concerned about the Chargers' threatening to relocate.
So the Chargers are quietly on the lookout as well.
All this could just be more fantasy football. L.A. has been "at first and goal" so many times that even the most ardent NFL fans have lost hope, interest, or both. Still, there's no denying the dynamics have changed this season.
That could mean the stage is set for a solution. Or just another false start.
Photo via WikiCommons
Interested in sports news? Sign up for our daily email newsletter!