Trump's Plan To Renegotiate NAFTA Fails American Workers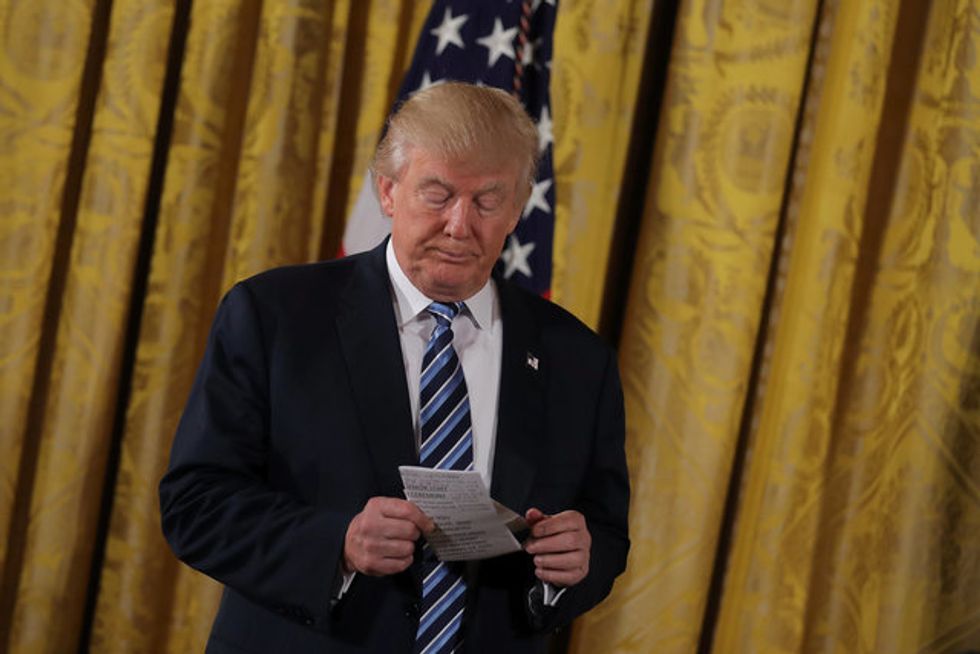 Reprinted with permission from AlterNet.
Promises were made.
And workers believed candidate Donald Trump when he pledged to stop corporations from exporting American factories. Workers cast votes based on Trump swearing he would end the trade cheating that kills American jobs.
This week, though, workers got bad news from Washington, D.C. President Trump proposed virtually eliminating funding for a Labor Department bureau that helps prevent U.S. workers from having to compete with forced and child labor overseas. In addition, the administration issued only vague objectives for renegotiating the job-killing North American Free Trade Agreement (NAFTA).
When NAFTA has cost at least 900,000 Americans their jobs, vague is unacceptable. Commerce Secretary Wilbur Ross said his first rule in negotiationsfor a new NAFTA would be to "do no harm." That's not good enough. That's the status quo, and promises were made. The first rule should be to "do substantial good."
Substantial good would start with clear, firm goals for renegotiating NAFTA. That would include returning those 900,000 jobs to the United States. That would include restoring the jobs the United States continues to lose, like the 350 that disappeared this year when Rexnord closed its Indianapolis ball bearing factory and moved production to Mexico. And like the 632 jobs at Carrier in Indianapolis that will begin vanishing this week when the first layoff notices are issued because the heating and air conditioning manufacturer shifted some production to Mexico.
In Monterrey, where both Rexnord and Carrier moved jobs, the minimum wage is $3.90 a day. Not an hour. It's $3.90 a day. There is no way for American workers to compete with that. What they were looking for from the NAFTA renegotiation goals is some help.
Instead, they got pabulum. Yes, there's a whole section on labor, and it says the labor provisions should be in the main document, not in a side agreement. But the fuzzy language doesn't provide much hope for workers like those who just lost their jobs at Carrier and Rexnord.
It says, for example, that NAFTA countries should have laws regarding minimum wage, hours of work and occupational health and safety. That's great. But Mexico has a minimum wage. It's one so low that, as former presidential candidate Ross Perot would say, it sucks American factories right across Rio Grande.
The NAFTA negotiation targets don't say that the minimum wage should be a living wage or specify how it would be policed to prevent forced and child labor.
Within the U.S. Department of Labor, there's a section called the Bureau of International Labor Affairs that monitors compliance with labor provisions in international trade agreements and pays for programs to reduce child and forced labor internationally. The intent is to prevent American manufacturing workers earning family-supporting wages from competing with third world children paid with bread and blankets.
The administration has, however, said it wants to gut that program, cutting its funding by 80 percent. In addition to workers, American food and clothing corporations have objected. Nate Herman, a senior vice president for the American Apparel and Footwear Association, told the Washington Post that without the bureau's efforts, "you're saying, basically, that it's okay for forced labor and child labor to run rampant, which undercuts our own labor force."
Without specific protections in NAFTA and without even the Bureau of International Labor Affairs programs, U.S. workers are subjected to a no-win competition with exploited foreign workers. The Americans end up unemployed, like those at Carrier and Rexnord. The foreign workers continue to be abused.
Promises were made to American workers. They need to be kept. Big league, not halfway.
For example, the solution to Carrier, owned by United Technologies, moving out of Indiana was a half measure.
United Technologies spared about 700 jobs at the Indianapolis Carrier plant only after Vice President Mike Pence, then governor of the state, handed the corporation $7 million. None of the 700 jobs at the other United Technologies plant in Indiana was saved. All of those went to Mexico.
That's not what Donald Trump promised on the campaign trail. At a rally in Indianapolis last spring, he pledged: "Here's what's going to happen. They're going to call me, and they are going to say, 'Mr. President, Carrier has decided to stay in Indiana . . . One hundred percent. It's not like we have an 80 percent chance of keeping them or a 95 percent. 100 percent."
But then, it was President-elect Trump who called Carrier. And it wasn't 100 percent. It wasn't even 80 percent. And, to make matters worse, United Technologies CEO Greg Hayes said that the millions he'd promised to invest in the plant would be spent on automation, further reducing jobs.
This is, according to the Trump administration, Made in America Week. It began at the White House Monday with a showcase of products produced in every American state, from fire trucks to door hinges. But to really revive American manufacturing, the administration must keep its campaign promises. And that means strong language in a renegotiated NAFTA and strong enforcement of other international trade deals and trade laws.
"No harm" is not enough for the administration that promised to cure the injury that international trade inflicted on workers.
Leo W. Gerard is president of the United Steelworkers union. President Barack Obama appointed him to the President's Advisory Committee on Trade Policy and Negotiations. Follow him on Twitter @USWBlogger.