No Information? No Freedom.
@DavidCayJ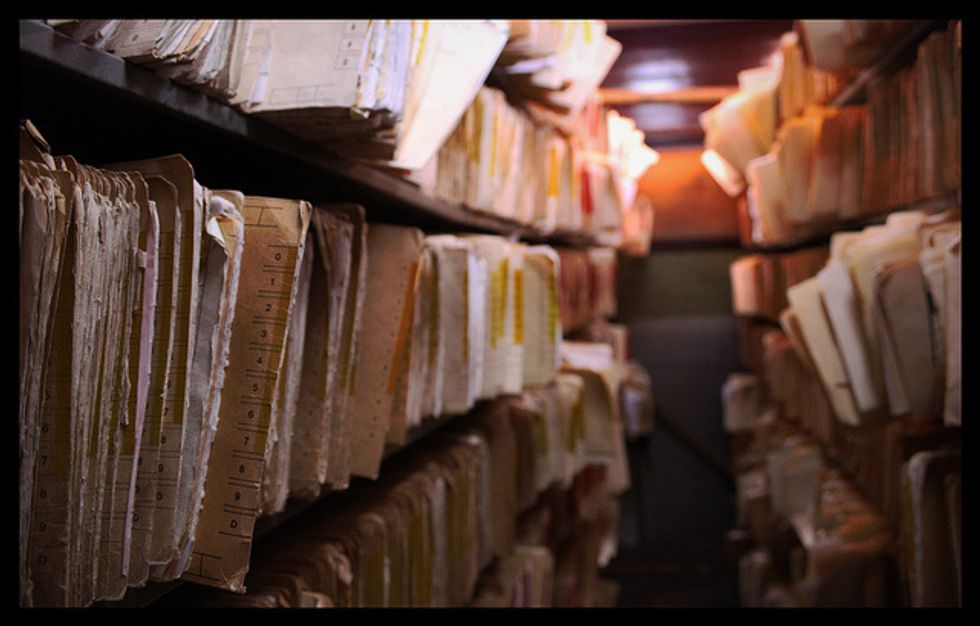 President Obama ran for office seven years ago promising the most open and transparent administration in history. But a clever test has revealed the chasm between that promise and reality.
Just seven of 21 federal agencies responded properly to a simple Freedom of Information Act request, while 10 of the remaining 14 agencies flouted the law. The Central Intelligence Agency responded by denying the request, but it turns out the CIA was playing games, as we shall see.
This lawlessness matters because government officials, regardless of party, like to hide information. They do this for myriad reasons, whether it's to genuflect to defense contractors with lucrative contracts, conceal whether airport body scanners are effective, or to cover up misleading official statements.
Our government derives its powers from the consent of the people. It must be held accountable if our liberties are to endure.
That's where a clever project by the Transactional Records Access Clearinghouse (TRAC) at Syracuse University comes in.
To comply with the Freedom of Information Act, federal agencies must create a unique number to track each request, noting when the request arrived and when the case was closed.
TRAC asked 21 agencies for this and similar tracking data covering every FOIA request filed from October 2012 to December 2014.
Why such arcane data, which does not identify the requester or the information sought? Management professor Sue Long, a TRAC co-director, said that data is needed to analyze how quickly agencies comply with the Act.
The agencies must maintain such data in order to compile mandatory annual reports that disclose the volume of FOIA requests and the backlog of unfilled requests. That backlog rose significantly last year, in part because congressional Republicans slashed budgets for data gathering, statistical analysis, and fulfilling FOIA requests. This all makes government smaller, but also makes it less useful and accountable.
While seven of the 21 agencies complied, nine ignored the FOIA request or stopped responding to follow-up requests. Four agencies indicated they are trying to comply, but missed statutory deadlines. And one, the CIA, denied the request altogether, citing what are clearly specious grounds.
The CIA game playing is instructive.
The agency claimed it would need to create an entirely new kind of record in order to comply with the request, and on those grounds denied said request. But if the requested information was not available, it indicates that the CIA fails to comply with the recordkeeping requirements of the FOIA.
Kali J. Caldwell, a CIA spokesperson, told me that "while the CIA does maintain certain statistical data as required by law, the requester sought a specific record in which that data is compiled. The CIA does not have such a document and, therefore, could not comply with the initial request. Nevertheless, CIA did offer to provide documents that contained some of the same information in a different format. That offer was declined."
Hello, Inspector General. May I suggest a timely subject for your gumshoes lies in the statement above, a classic of bureaucratic obfuscation — just because.
A History of Obstruction
Gregory J. Manno, a Syracuse assistant professor of journalism who devised the test, offered this nugget of Orwellian intrigue: One of the agencies that flouted the law was the Office of Information Policy at the Justice Department, the very outfit that is "responsible for encouraging agency compliance with the Freedom of Information Act."
Dealing with government agencies that try to avoid disclosing their records is a hot topic at the two annual conferences held by Investigative Reporters and Editors (IRE), a nonprofit that provides resources for investigative journalists, and has more than 5,400 members.
Mark Horvit, IRE executive director, says it's the general consensus of journalists he has spoken to that the Obama administration has been less open than the George W. Bush administration. I warned about exactly this nine days after Obama took office, and took flak from those who said my piece was premature.
Obama gets bad press in good part because his administration tends to treat journalists with contempt, in contrast to the way the George W. Bush administration courted many reporters. Journalists, being human, tend to be more sympathetic to those who smile rather than growl, as Nancy Pelosi's daughter showed in her documentary on the 2000 presidential campaign.
Dennis McDougal, formerly a Los Angeles Times reporter, sought records of a drug dealer who had extraordinary access to a Drug Enforcement Administration office. The Justice Department demanded McDougal pay research and photocopying fees, telling him the documents were only "to further your commercial interests." This would seem to disregard the FOIA law, which authorizes fee waivers specifically for journalists and authors.
The official who turned McDougal down agreed to talk to me, but that conversation was ultimately blocked by Justice Department flacks. Justice has never responded officially to requests to explain its lawless behavior.
(Disclosures: I teach at the Syracuse University College of Law and Whitman School of Management, but have no involvement with TRAC. I am the immediate past president of IRE. McDougal and I were colleagues in the 1980s.)
Injury to the Public Interest
When President Lyndon Johnson approved the original Freedom of Information Act 49 years ago, his signing statement set the tone that has hobbled those seeking information ever since. The last 10 words of the following sentence told the bureaucracy to craft loopholes: "No one should be able to pull curtains of secrecy around decisions which can be revealed without injury to the public interest."
The FOIA has been modified many times since. Two decades ago agencies asserted that digital records were confidential. President Clinton signed a 1996 law that specified the FOIA covers electronic records.
Obama has never come through on his promise of "transparency and open government." He did, however, include a lawyerly disclaimer to his Open Government Directive:
This memorandum is not intended to, and does not, create any right or benefit, substantive or procedural, enforceable at law or in equity by a party against the United States, its departments, agencies, or entities, its officers, employees, or agents, or any other person.
Let's expand our rights to know what our government does. Let's start by telling our federal lawmakers to strengthen and expand the FOIA. We could do that in many ways. For instance, Congress could insist that, in cases of non-commercial requests, missed time deadlines result in automatic payments to requesters. Making the penalties grow by the day until the request is fulfilled would be another powerful motivational tool. Specious denials could subject FOIA officers to individual liability, which they could escape only by showing they were doing as instructed by superiors, who would then themselves become liable. Other options abound.
This is the Digital Age. We should make our government embrace it and its power of transparency.
Photo: Marino González via Flickr