North Texas Students Petition For A Speaker Other Than Texas Governor Abbott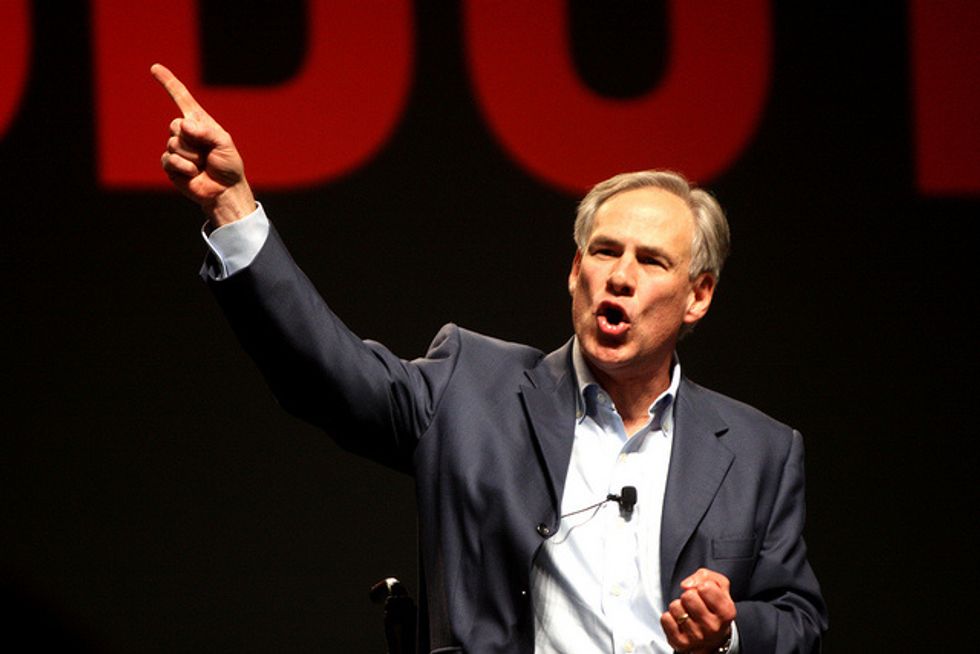 By Anna M. Tinsley, Fort Worth Star-Telegram (TNS)
Texas Governor Greg Abbott will speak at the University of North Texas graduation next month even though some students promise to boycott their own commencement ceremony if he gives the keynote address.
More than 2,000 students have signed an online petition asking UNT officials to choose a different speaker for their May ceremony.
"While Governor Abbott's story is inspirational, his views on inequality cannot be overshadowed by this," the petition states. "Our Mean Green Pride comes from being heard and respected. Which is why we ask University President Neal Smatresk to find a new keynote speaker for graduation."
Smatresk said he's not changing speakers and he's excited that the state's 48th governor will speak at the ceremony.
"He's a new governor, he's supportive of higher education," said Smatresk, who became UNT's president last year. "Why wouldn't we want to celebrate the success of our institution in its 125th year with him?
"I feel it's a great way to celebrate."
Despite the controversy swirling around his appearance — most via social media — Abbott, a Republican, plans to honor his commitment.
"Governor Abbott is honored to accept the invitation to address the University of North Texas' commencement, and he looks forward to recognizing the great work UNT is doing to elevate Texas' higher education system, as well as the contributions that the UNT Class of 2015 will make to build a better future for Texas," said Amelia Chasse, press secretary for the governor.
Students have said they oppose Abbott for reasons ranging from his opposition to gay marriage to his opposition to Denton's ban on hydraulic fracturing in city limits.
"College students are young adults with passion, and they often express it as a challenge to authority," said Jim Riddlesperger, a political science professor at Texas Christian University. "It isn't terribly surprising to see this come in Denton, where the anti-fracking ordinance has already galvanized feelings.
"And, of course, it shows in some ways the increasing partisan polarization in our society where elections seem never truly to be over."
The UNT graduation is scheduled for May 16 at Apogee Stadium.
Texas universities have been announcing their commencement speakers, with retired General Colin Powell speaking at Rice University; Ford Foundation President Darren Walker talking at the University of Texas, Austin; former President George W. Bush speaking at Southern Methodist University in Dallas; and actor Matthew McConaughey talking at the University of Houston.
Smatresk announced earlier this month that Abbott would deliver the address at UNT's first university-wide graduation ceremony, honoring students who completed their degrees at any point through the 2014-2015 school year.
"I would love to show him all the wonderful things that are going on at our incredibly diverse campus," Smatresk said. "When you engage the governor in a dialogue about higher education, higher education wins."
He said he's not surprised by the student reaction, which has been mostly negative on social media sites such as Facebook and Twitter, but he notes that he has personally heard from "quite a few" students who are excited Abbott is coming to campus.
"One of the things we are proud of is that we have truly engaged students," Smatresk said. "They are passionate, they care. Certainly we have students who want to make their opinions known.
"They are the future leaders of the world."
After the announcement, a new page on Facebook — Abbott Free UNT — was created, urging students upset about the governor's presence to protest by walking out of the ceremony once he takes the stage.
And a firestorm of comments have been posted on the UNT Facebook page, many opposed to Abbott being the speaker.
"You have failed your students, UNT," wrote Emily Eells, a member of the UNT College Democrats. "We hosted one of the largest college campus rally's for Wendy Davis in the fall. How on EARTH did you think Greg Abbott was an appropriate speaker for commencement?"
Abbott and Davis, a former Fort Worth state senator, went head-to-head in the November general election, each hoping to become the next governor of Texas. Abbott handily won, claiming 59 percent of the vote to Davis's nearly 39 percent.
"I'm sure I'm not alone in saying that I will not be attending my commencement ceremony this semester due to this poor choice in speaker," Eells said.
"As an alumni, this is a disappointing choice," wrote Scott Davis. "Instead of somebody that represents such a partisan and narrow world view, it would be better to have somebody that can speak to all of the students."
James Thomason said he won't attend the graduation.
"He's a more cunning evil than Perry ever was," he wrote. "God help Texas (if it isn't too late already)."
And John Barnes, a 1968 UNT graduate, said he is "disgusted" by the university's choice.
"You have insulted every minority, LGBT, poor, and physically challenged person within the UNT system. NTSU/UNT has a long, proud history of challenging the status quo. This choice reduces UNT to a tea party mouthpiece. How in the hell can you be proud of this choice? Shame on you."
Hailey Carlson is graduating in May but she wasn't planning on going to the ceremony until she learned about the petition.
Now she's going to show support for the governor.
"I think it's very disrespectful to petition or walk out," said Carlson, 22, who heads the Young Conservatives of Texas at UNT group and will graduate with a psychology degree. "I wasn't surprised though because our campus is primarily made up of liberal students.
"I know they do not like his views. They were all big supporters of Wendy Davis."
So she plans to show her support with her presence.
UNT alumni Ron Ellis believes college leaders made a good choice.
"Glad to see my old school occasionally has some good news," he wrote. "He has my full support. Thanks for having him!!!"
Smatresk said he appreciates the petition and the sentiment behind the protests, but they won't change his mind.
"We are not changing speakers," he said. "We have the governor and we are happy."
___
The online petition
"The University of North Texas' student body is made up of students from all walks of life. Therefore, it is pivotal that our keynote speaker be someone who reflects not only our student population but our views on equality and representation. Governor Abbott is an advocate for immigration reform, border patrol, and anti-equal marriage laws. This does not align the spirit of the University of North Texas which prides itself in providing equal opportunities for their students. While Governor Abbott's story is inspirational, his views on inequality cannot be overshadowed by this. Our Mean Green Pride comes from being heard and respected. Which is why we ask University President Neal Smatresk to find a new keynote speaker for graduation."
___
High-profile commencement speakers for 2015
In Texas
University of Houston: Matthew McConaughey
University of Texas, Austin: Darren Walker, president of the Ford Foundation
Rice: Colin Powell
SMU: George W. Bush
Nationwide
Wake Forest: Stephen Colbert
Dillard University (New Orleans): Denzel Washington
Princeton: Christopher Nolan, director
Pepperdine: Anthony Hopkins
University of Virginia: Ed Helms
Tulane: Maya Rudolph
University of Wisconsin, Madison: Katie Couric
University of Georgia: Amy Robach, news anchor for Good Morning America
Stanford: Richard Engel, chief foreign correspondent at NBC News
MIT: Megan Smith, chief technology officer of the U.S.
George Washington University: Tim Cook, CEO of Apple
Emory: Kenneth Cole and Sir Salman Rushdie
Harvard: Deval Patrick, former governor of Massachusetts
Tufts: Madeleine Albright, former U.S. Secretary of State
College of William and Mary: Condoleezza Rice
Xavier University: Magic Johnson and Attorney General Eric Holder
Photo: Gage Skidmore via Flickr