Northern California Fire Explodes; 24 Homes Lost, Thousands Threatened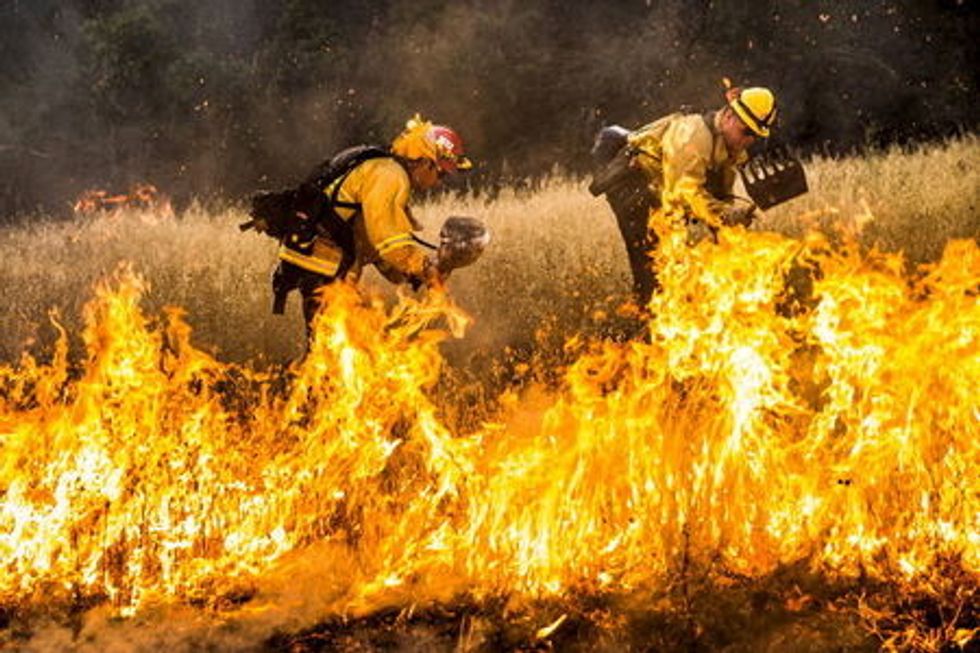 By Jack Dolan, Kurt Chirbas and Paige St. John, Los Angeles Times (TNS)
CLEARLAKE, Calif. — The Rocky Fire exploded overnight, burning 47,000 acres as of Sunday morning and threatening 6,000 structures in California's Lake, Yolo and Colusa counties.
The U.S. Forest Service said "fire activity dramatically progressed" late Saturday, forcing the closure of several state highways in the area. The fire was just 5 percent contained; about 12,000 people had been ordered to evacuate.
Nearly 2,000 firefighters were battling the blaze and more were coming into the area. The Rocky Fire was burning east of Clear Lake in a remote area roughly between Highways 29 and 16, south of Highway 20. The fire has been fueled by erratic winds and was burning in rugged areas that were difficult for firefighters to access. Smokes was also moving through the region.
"Firefighters continue to construct fire lines in an effort to achieve full perimeter control," the USFS said in a statement. "Damage assessment teams have begun initial assessments based on access through fire-affected areas."
The fire has destroyed 24 residences and 26 outbuildings, according to the USFS, and is the biggest of numerous fires burning in drought-plagued Northern California.
"Dry thunderstorms" — lightning and wind with very little rain — are the main cause of roughly two dozen large blazes that have led to one firefighter's death and prompted Gov. Jerry Brown to declare a state of emergency.
The doubling in size of the fire overnight was "unprecedented behavior," said Jody Traversaro, regional administrator for the California Office of Emergency Services.
Two state highways were closed, Highway 20 and Highway 16, which were serving as fire breaks where crews had started backfires.
Evacuation centers were set up at two schools.
"There are pretty widespread evacuations," said Brad Alexander, chief spokesman for the governor's emergency services office. "The big issue is this is an area that hasn't had burning in several decades.
"They've got chaparral that is over 6 feet tall," Alexander said. "When you have vegetation that big and dense in an area like that it is going to cause flames to race up and down canyon walls and hillsides.
"It can move as fast as the wind can carry it," faster sometimes than a person can run, Alexander said. "So when you have perfect conditions for an explosive fire it is critical folks are listening."
More than 12,000 people had been requested to leave the area, which includes campgrounds at the height of the vacation season.
The advancing fire forced Elizabeth Ormsbee, 14, to leave her home in Spring Valley three days ago. She could see flames on the opposing ridge. "I was crying, but a firefighter talked to me and he told me it would be OK," she said.
Ormsbee has been staying with her godmother, Cindy Burton, in Clear Lake since then. Ash and smoke have periodically descended on the small town, depending on the direction of the wind.
"We're all praying it gets put out soon," said Burton, who had helped organize a group to make signs to post at the county fairgrounds thanking firefighters for their efforts.
In addition to sending evacuation requests and orders over the radio, television and social networks, deputies from three counties traversed the back roads Saturday night and Sunday, going door to door.
Campers at a number of parks in Yolo County were roused in the middle of the night with a warning to leave, said a California Department of Forestry and Fire Protection spokesman.
Storms were expected to continue through the weekend, forcing nearly 9,000 firefighters engaged in the battle to keep an eye on the sky as they confront the burning ground around them.
"We've had lightning throughout the state," said Lynne Tomachoff, a spokeswoman for the California Department of Forestry and Fire Protection, "but Southern California has seen a little bit more precipitation, which helps."
In addition to the large blazes, thousands of lightning strikes on bone-dry landscape have sparked hundreds of smaller fires, Cal Fire officials say.
David Ruhl, 38, a U.S. Forest Service firefighter from South Dakota, was driving alone on Thursday, scouting ways to attack a fire burning in Modoc County, just south of the Oregon border. He became trapped and died after erratic winds whipped the blaze and it suddenly expanded, a Forest Service spokesman said.
The married father of two "left his home state to help protect one of California's majestic forests," Brown said. "We extend our deepest condolences to his family."
Though most of the fires have been sparked by lightning, weather has not been the only cause. A woman was arrested Thursday on suspicion of causing a 200-acre fire near Groveland, just outside Yosemite National Park. Her bail was set at $100,000.
A bit farther south, near Bass Lake, authorities say a boy playing with a lighter started a fire that led to the evacuation of roughly 200 homes. "We see this all too often," Tomachoff said. "Curious kids want to see what will happen, but they don't understand the consequences."
(c)2015 Los Angeles Times. Distributed by Tribune Content Agency, LLC.
Photo: Firefighters work to dig a fire line on the Rocky Fire in Lake County, California July 30, 2015. REUTERS/Max Whittaker