Note To The Last <em>Citizens United</em> Denier: It Really Did Change Money In Politics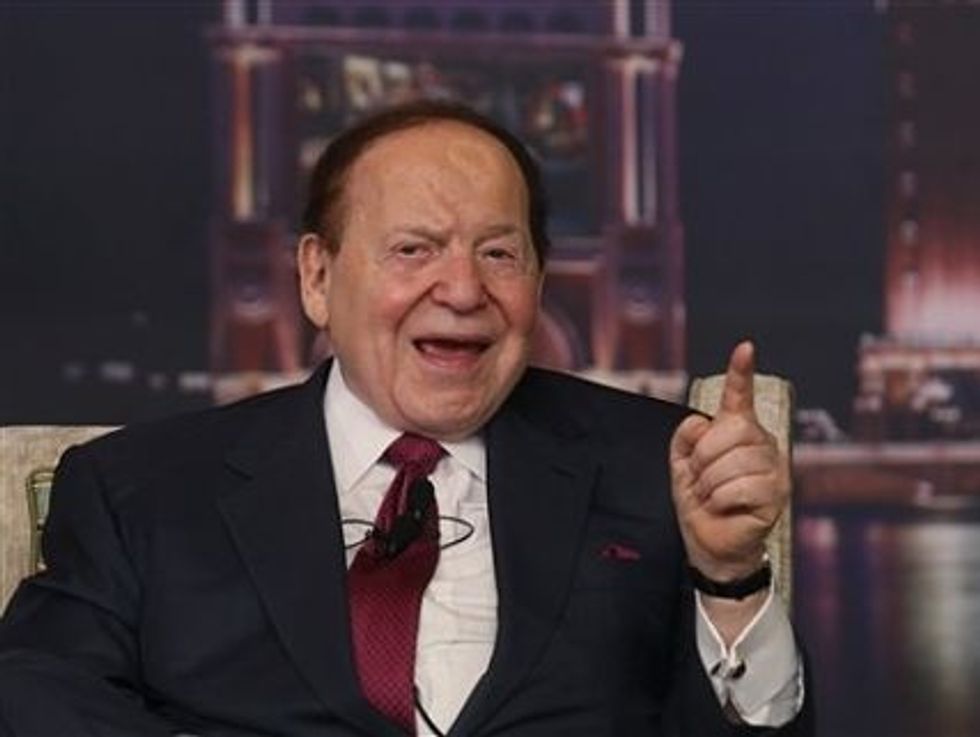 It'll take more than undoing Citizens United to reform money in politics, but there's no denying that it's had a huge impact on campaign spending.
Matt Bai argues in this coming Sunday's New York Times Magazine that the Supreme Court's 2010 decision in Citizens United didn't dramatically change the impact of money in politics. Claims that it did "are just plain wrong," he says.
Bai's stance is not as deliciously contrarian as he might think. It is more or less the position I took at the time of the Citizens United decision and one shared at the time by a number of legal scholars and political scientists. I called myself a "Citizens United minimalist."
And, taking things most literally, that view was not wrong. As Bai points out, Citizens United was an incremental decision in a series of moves by the Supreme Court and lower courts that weakened any efforts to control the influence of money in politics. Leaving aside the dicta in the decision (such as the majority's suggestion that only quid pro quo corruption, and maybe not even that, could justify regulation), it was not even the most significant of those incremental moves. The Wisconsin Right to Life case that preceded CU, which first weakened the limits on electioneering communications by independent groups, and the D.C. Circuit Court's SpeechNow decision later in 2010, which opened the door to Super PACs, are probably more consequential legally. Corporations, especially big publicly held ones, have never been the major players in outside political spending, and they aren't even now.
I still think some of the conclusions that are frequently drawn about Citizens United are overstated. I'm still dismayed to hear claims that we need to amend the Constitution or that the decision hinged on the idea that corporations are people. (It doesn't.)
But Bai's stale claim that Citizens United isn't largely responsible for the explosion of outside money in politics is no longer credible. I realized that in November of 2010, when I wrote a piece with the title "The Re-Education of a Citizens United Denier." At the most basic legal level, Citizens United formed the basis for the D.C. Circuit Court's decision in SpeechNow vs. FEC, and thus there is a direct path from CU to Super PACs.
But more importantly, Citizens United seems to have led to a huge shift in cultural norms and assumptions on the part of donors and money brokers. Why didn't political money brokers use "social welfare organizations" – non-profits incorporated under Section 501(c)4 of the tax code – to facilitate pure political spending when Karl Rove formed Crossroads GPS? They were subject to neither disclosure nor limits before 2010. The law governing them hasn't changed – it's just the willingness of Rove or others to test the IRS and the FEC. There's a sense now that you might as well try anything. The worst that happens is that eventually the IRS or the FEC will come back to life, or the courts will change their view.
Bai describes the view that Citizens United changed everything as "a useful story to tell, appealing to liberals and independent voters who aren't necessarily enthusiastic about the administration but who are concerned about societal inequality." That's not wrong, but what it overlooks is that it's also been a useful story for conservatives, lobbyists, and professional fundraisers and political operatives. Everything's changed, they tell their clients or potential donors. If you're not playing someone else is. And you've got to keep up.
Bai doubts (but does not link to) legal scholar Rick Hasen's article this March in Slate, "The Numbers Don't Lie," which used the rapid growth in outside spending since CU to measure its impact. Hasen's argument was that the combination of CU, SpeechNow, and the increased use of 501(c)4 non-profits (the social welfare organizations mentioned above) had unleashed a flood of outside money: $14 million in 2004, $37 million in 2008, and a projected $88 million in 2012. Non-presidential years show an even bigger jump in outside money: less than $1 million nationwide in 2002, $1.8 million in 2006 (this is less than total spending by a typical congressional candidate in a single competitive race), and then $16 million in 2010 post-Citizens United.
Bai doesn't challenge these numbers, but says "there's another way to interpret this data." Focusing only on the presidential years, he points out that outside spending rose by a greater percentage from 2004 to 2008 (both years before CU) than between 2008 and projected 2012. We don't know about and may never see much of the 2012 spending, however. Between 2004 and 2008, there was also a significant legal change, the Wisconsin Right to Life decision, which half-opened the door that Citizens United tore down.
More notably, Bai's "another way to interpret the data" isn't really an alternative interpretation at all. He's basically arguing that outside money increases, period, all the time, whatever you do. In concluding, he asks Democratic operative Carter Eskew how much it would cost to run a national campaign now, including both outside and campaign money. Eskew quotes him a total of $500 million. Bai accepts that number: "it's not clear that spending an extra $200 million or $500 million will really make all that much of a difference on Election Day." True. But why $500 million? Without some actual explanation as to why a campaign in 2012 should cost roughly five times what it cost eight years ago, it's not an interpretation, but just a restatement of Hasen's data. Is it the cost of television advertising? Unlikely. Is it the wider scope of the campaign? Unlikely, since many large states that were somewhat competitive in previous elections, such as Pennsylvania and even California, are now probably locks for one party. No, a national race costs $500 million (if it does) because Eskew thinks the other guy might have $500 million. And a far greater percentage of that money is going to come through Super PACs, (c)4's, and other outside money vehicles than ever before, which are available directly or indirectly because of Citizens United.
Simply undoing Citizens United won't suddenly bring us back to the comparatively innocent days of 2004 or 2006, of course. It will be difficult to put some of the changes in cultural attitudes about money in politics back in the bag. And the more heated political atmosphere overall may well result in some corporations or wealthy individuals, who previously hedged their bets between the parties and participated modestly, to jump in with millions on one side, as gambling moguls Sheldon Adelson and Steve Wynn have both done. But that's all the more reason to build a forward-looking alternative approach to campaign finance, one that incorporates public financing as well as changes to tax law to limit the abuse of political non-profits. It's not evidence that Citizens United didn't matter, a claim that was dubious when I made it in 2010 and is laughable now.
Mark Schmitt is a Senior Fellow at the Roosevelt Institute.
Cross-Posted From The Roosevelt Institute's Next New Deal Blog
The Roosevelt Institute is a non-profit organization devoted to carrying forward the legacy and values of Franklin and Eleanor Roosevelt.