A New Strategy: How Law Students Are Targeting The Gun Industry
@Matt_D_Cohen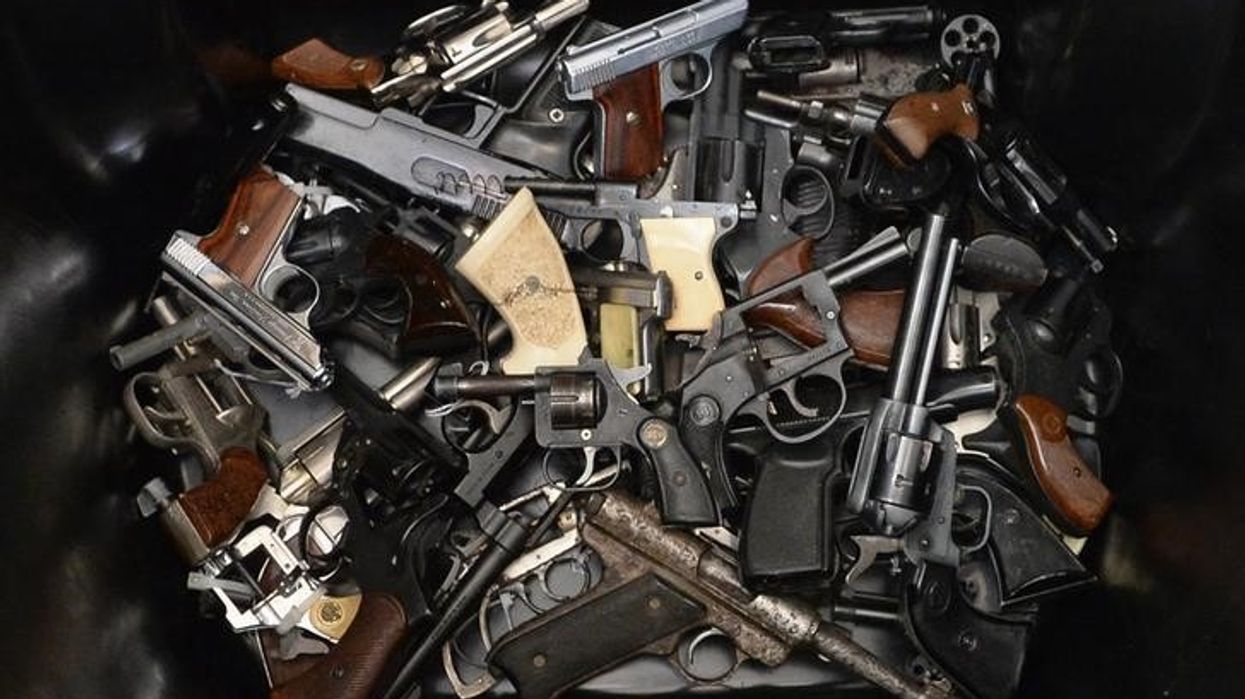 Gun violence is widely seen as an epidemic in the United States. According to the American Public Health Association, it is the leading cause of premature death in the country, resulting in nearly 40,000 deaths every year. While Congress struggles to pass laws to restrict access to firearms, two gun safety advocacy organizations, whose specialty is traditionally to lobby lawmakers to change gun laws, are trying a different approach to put the squeeze on the gun manufacturing industry.
Giffords, the group formed by former Arizona Rep. Gabby Giffords that works to stem gun violence, and March for Our Lives, the movement against gun violence created by young people in the aftermath of the mass shooting at a school in Parkland, Florida, have launched a new effort this month aimed at recruiting law students to sign a pledge that they won't represent the gun lobby.
The idea stems from the role that a handful of the biggest law firms in the country play in ongoing efforts to fight gun violence, according to David Pucino, Giffords' deputy chief counsel. Law firms Kirkland & Ellis, Foley & Lardner, McGuireWoods, and Hunton Andrews Kurth and the legal arm of the National Rifle Association, among others, have fought in court against the stricter regulation of guns and have represented gun manufacturers in lawsuits filed against them over their role in mass shootings.
"[The issue of gun violence is] something that I think is pretty important to a lot of folks, but they don't necessarily know how to action that, how to translate that into their work and their legal career," Pucino told the American Independent Foundation. "And at the same time, there are these law firms that really take advantage of that, that represent some really reprehensible companies that have done some horrible things."
Big law firms spend time and money recruiting law students to come work for them straight out of law school, often enticing them with glamorous perks, as an article on the website Balls and Strikes about law firms and the gun industry points out. They represent a wide variety of clients across all industries, but, as Pucino explained, they often omit their clients with ties to the gun lobby when recruiting law students, later assigning many of those young lawyers to represent those clients.
"There's certainly the case that the legal system allows for and encourages for everyone to have representation, of course," Pucino said. "But that fact doesn't mean that anyone is entitled to your representation. And if your view is that you don't want to support and aid and abet the gun violence epidemic, there needs to be an avenue for you to be able to express that and say that."
To roll out the initiative, Giffords and March for Our Lives held events on the campuses of some of the country's biggest law schools: UC Berkeley School of Law, Cardozo School of Law, CUNY School of Law, Vanderbilt Law School, and Yale Law School. But Pucino emphasized in an email to the American Independent Foundation that the event is "broad and national," and both groups plan to hold similar events at other law schools when students reconvene in the fall.
At these events, organizers provide students with tools and prompts to use when they're interviewing to work at law firms that may have ties to the gun industry, including asking whether they have gun industry clients or do any pro bono work representing the gun industry. If they do, prospective employees can make it clear that they have a personal conflict of interest representing such clients because of their opposition to gun violence.
"I think so much of what's caught up in these issues is questions of power," Pucino said. "If you're a young lawyer at a giant law firm, you have so little power. But the moment when you do have that power is before you sign on the dotted line, before you say, I'm going to commit to go work at this place."
Pucino said that the success of the effort will depend on convincing as many students as possible to sign the pledge. It's easy for a big law firm to ignore that kind of gun safety dialogue from one prospective employee, he said, but if more law students looking to enter the workforce engage with recruiters in this way, firms might think twice about the kinds of clients they take on.
"So it's not even necessarily, Don't go work at this firm, but ask before you sign on: Would you force me to work on a gun case? Would you force me to represent somebody whose irresponsible actions have led to a mass shooting or other violent events?"
Reprinted with permission from American Independent.