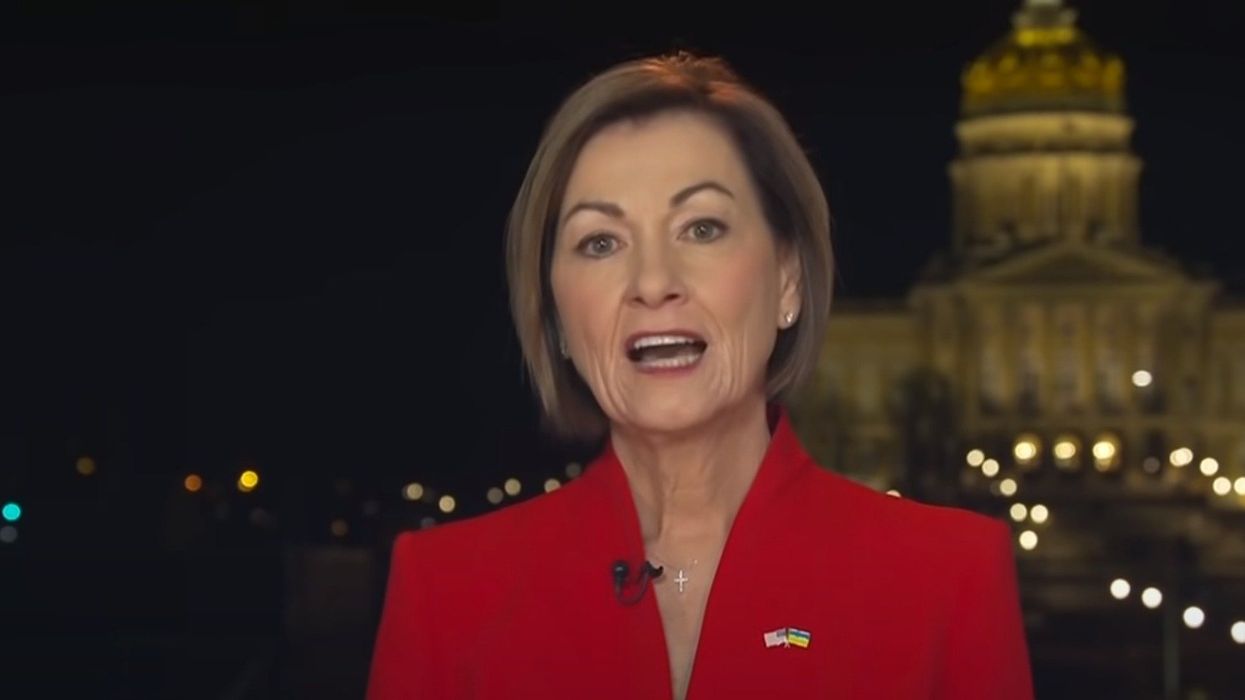 Iowa Republican Gov. Kim Reynolds signed a bill at the end of May that rolled back the state's child labor laws by extending the hours that teenagers can legally work in the state and loosening restrictions on the types of businesses they can work in.
The new law, S.F. 542 , allows children as young as 14 to work up to six hours on a school day; 16- and 17-year-olds to work the same hours as an adult; and 16-year-olds to serve alcohol as part of their jobs.
Iowa is one of several states with Republican-controlled legislatures that have passed similar legislation that weakens labor protections for minors in recent months.
The move drew sharp criticism from labor advocates. The Economic Policy Institute, a left-leaning labor think tank, called the bill "one of the most dangerous rollbacks of child labor laws in the country" and asserted that much of the law violates federal labor law.
Over the past two years, lawmakers in at least 10 states — most recently in Wisconsin , Ohio , and Missouri — have passed or introduced legislation to weaken child labor protections.
In March, Arkansas Gov. Sarah Huckabee Sanders signed a bill that, among other provisions, eliminated child work permits, effectively treating kids as young as 14 entering the workforce the same as adults.
The effort to remove child labor protections is mostly taking place in states with GOP-controlled legislatures and, according to a recent investigation by the Washington Post , is spearheaded by the Foundation for Government Accountability. FGA is a Florida-based right wing lobbying group that describes itself as a "powerhouse for policy wins in the areas of welfare, unemployment, workforce, election integrity, and health care" and claims to help "free individuals from the trap of government dependence and to let them experience the power of work."
According to the Post 's reporting, the FGA coordinated with lawmakers to draft and revise model legislation that weakens labor protections for children, which the lawmakers could then introduce in their states.
It's not uncommon for policy organizations like the FGA to provide lawmakers with draft language for bills designed to push a specific agenda. Arkansas GOP state Rep. Rebecca Burkes, a co-sponsor of the legislation, said the bill Sanders signed "came to me from the Foundation [for] Government Accountability," according to the Post .
"There is a focus for them right now, particularly on the state level, on policies that erode investments in public education, increase the desperation of the poorest families by restricting access to Medicaid or food assistance, while also, of course, taking down guardrails on excessive hours or hazardous work for children," said Jennifer Sherer, the senior state policy coordinator at the Economic Policy Institute.
Sherer added that she thinks groups like the FGA have a high level of influence in state legislatures, especially in red states, and are seeing that influence as a moment of opportunity to push their agenda into policy. At the same time, Sherer said, industry lobbying groups like the National Restaurant Association and the National Federation of Independent Business have a "clear industry interest in expanding their access to as large a possible pool of low-wage labor" and help advocate for legislation that weakens child labor laws. "So there's a clear financial industry interest converging with a handful of billionaires who have a pretty deep ideological commitment and deep pockets to back up that part of the agenda," Sherer said.
The FGA belongs to the State Policy Network, a vast network of right-wing nonprofits and think tanks throughout the United States and the United Kingdom. The SPN and its affiliates claim to be independent and nonpartisan , but a 2013 investigation by the Center for Media and Democracy uncovered the group's right-wing ties and how they coordinate with Republican politicians to push GOP policy goals into state legislatures. Specifically, many of the affiliate organizations within the SPN are also members of the American Legislative Exchange Council, a controversial right-wing network of conservative state politicians and corporate lobbyists who work together to write model legislation that benefits some of the country's biggest corporations.
Staff members of the FGA have served on ALEC's Tax and Fiscal Policy Task Force , and the FGA has promoted ALEC resources , including examples of model legislation, on its website. At ALEC's 2020 annual meeting, the FGA's chief operating officer and general counsel Jonathan Bechtle celebrated successful efforts to block Medicaid expansion in 13 states and accused expansion supporters of "depending on ignorance, really, to win the day."
The FGA's website doesn't disclose its funding sources and political connections, but an investigation by the American Independent Foundation reveals that a sizable chunk of its funding comes from powerful conservative donors and dark money groups that are covertly supporting its mission to weaken child labor laws.
These groups have ties to three of the most influential donors in conservative politics: Leonard Leo, the Koch brothers, and Richard Uihlein.
Leonard Leo
Leo is a co-chairman of the board of the right-wing legal think tank the Federalist Society and has become something of a power broker in helping to elect conservative judges in states across the country. The FGA's annual revenue tripled from 2016 to 2021, from $4.5 million to $13 million, and a large chunk of that revenue — $2 million — came from the 85 Fund. The 85 Fund is a dark money group connected to Leo that is used to fund conservative policy and political causes, such as in the months before the 2020 election, when it spent $250,000 advocating against voting by mail. The group also spent millions of dollars in support of former President Donald Trump's three Supreme Court nominees.
The Koch Brothers
Between 2014 and 2019, the FGA received more than $7 million from DonorsTrust, another dark money group with ties to businessman Charles Koch. DonorsTrust describes itself as a "donor-advised fund provider." As a 501(c)(3) nonprofit organization, it doesn't have to disclose its donors, and it often functions as an intermediary: Donors give to DonorsTrust, and the organization donates to political groups, effectively making the original donor untraceable. In 2011, Charles Koch and his brother David, who died in 2019, were the top contributors to DonorsTrust, according to an analysis by the Columbia Journalism Review .
The Koch brothers have a long history of using their vast fortune to roll back child labor laws: When David ran for vice president on the Libertarian Party ticket in 1980, he pledged to repeal them . The Koch-founded Cato Institute has also advocated against child labor protection laws, arguing that they hinder economic growth.
Richard Uihlein
The FGA received nearly $18 million in donations from the Ed Uihlein Family Foundation between 2014 and 2021. Richard Uihlein, the billionaire owner of the Uline shipping and business supply company, uses the foundation to make charitable donations. Uihlein is one of the biggest donors to conservative causes, and his money has funded anti-abortion efforts , attacks on the LGBTQ community , and efforts to overturn the results of the 2020 presidential election .
Since its founding in 2006, the foundation, named after Richard's father, has contributed millions of dollars to far-right causes, including union-busting groups like the Illinois Policy Institute.
Reprinted with permission from American Independent .