Nunes Using Campaign Funds For Anti-Science Podcast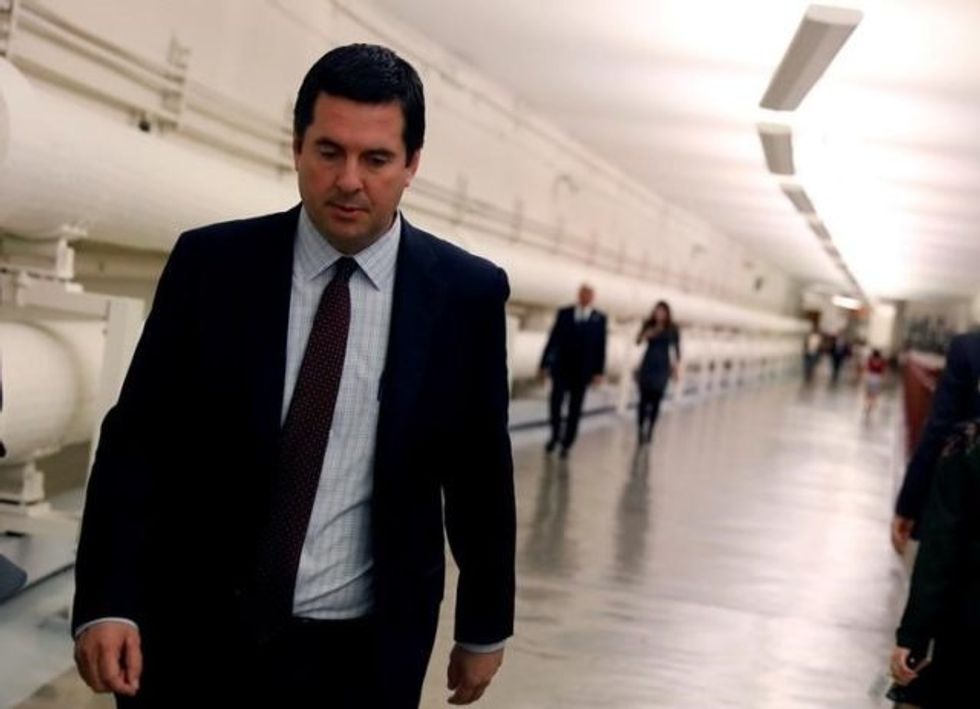 Reprinted with permission from Shareblue.
Voters in Republican Rep. Devin Nunes' California district haven't seen much of their congressman lately. He's been keeping a low profile, dodging scandals and anger from his constituents that he's more focused on protecting Trump than addressing their needs.
Plus he's been recording an "official podcast," funded by his campaign. And he is using that platform to promote an anti-science, climate change-denying historian to explain the causes of the California wildfires.
On his latest episode, Nunes asks Dr. Bruce Thorton, introduced as a "classicist historian," if it is global warming or something else that is causing the problems with so many fires in California.
Thorton replies that he isn't sure global warming even exists. He then blames "the environmental movement, Earth Day, federal laws, species protection, etcetera" for changes in forest management, which led to the massive wildfires.
Thorton goes on to mock "the hysteria over this imagined two degrees centigrade warming that is going to make the oceans rise," noting that humans always adapt. At several times during the discussion, Thorton mocks environmentalists as Nunes laughs along.
Nunes has a long history of being rigidly anti-science. "Global warming is nonsense," he said in 2014.
He has a lifetime three percent rating from the League of Conservation Voters, and was described by Pacific Standard magazine as one of the biggest climate skeptics in Congress.
Nunes frequently praises Thorton throughout the podcast, at one point calling him "one of the great classicist historians."
Nunes, Thorton, and folks like Trump are determined to blame any cause other than climate change for the fires. Trump spewed wild theories about the causes, and his administration even blamed "environmental terrorists" for the fires.
Yet actual scientists disagree with Nunes (co-owner of a vineyard), Thorton, (historian), and Trump (former gameshow host and failed casino owner) as to the role of climate change in these fires.
"Climate change is worsening long-term drought conditions, adding dry vegetation to fuel the fires and increasing the temperatures and extreme weather that accelerate their spread and intensity," says hydroclimatologist Peter Gleick. "A century of forest fire suppression and inappropriate expansion of communities into high-risk fire areas have also contributed to the rising human and economic costs of wildland fires."
"We're not saying that climate change is literally causing the events to occur," says atmospheric science professor Michael Mann. "What we can conclude with a great deal of confidence now is that climate change is making these events more extreme." He adds, "And its not rocket science."
It's just plain science.
In cases like the California wildfires, ABC News Senior Meteorologist Rob Marciano says, "there's an undeniable link to climate change."
Yet anti-science Republicans like Nunes and Trump desperately search for another reason. What could compel someone like Nunes to deny climate science?
Perhaps he is influenced by close to $400,000 he received from the oil and gas industry over the course of his career, according to the Center for Responsive Politics.
Whatever his motivation, Nunes is using his campaign funded podcast to promote anti-science views. Maybe the next episode will feature an expert on the fake moon landing.