Oath Keepers Chief: We'll 'Scare The Shit' Out Of Congress And Block Biden On January 6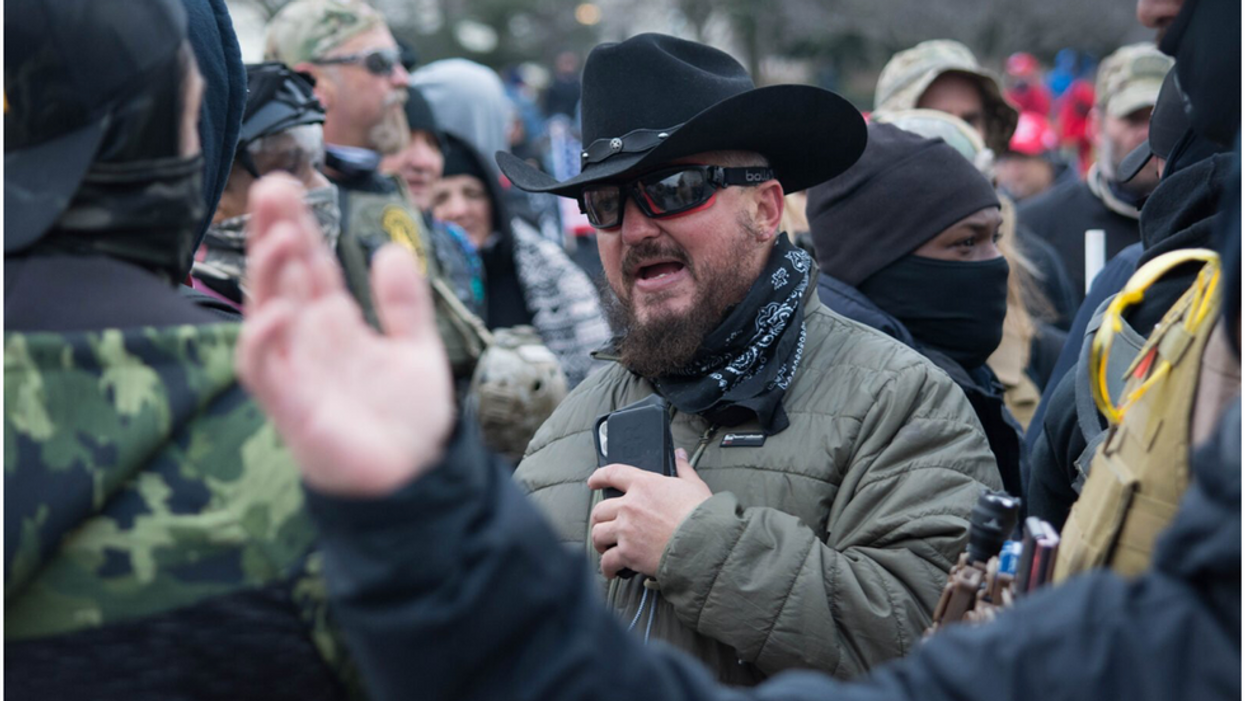 Image via Alternet
The U.S. Department of Justice (DOJ) is working to detain Oath Keepers founder Stewart Rhodes following the release of text messages he allegedly sent that detailed his intentions for January 6.
As Rhodes prepares for trial in connection with the sedition conspiracy case alleging that he and members of the far-right extremist organization conspired to halt the certification of President Joe Biden's victory. On Thursday, January 20, lawyers for the federal government released a memo in district court with details about the evidence in the case and Rhodes alleged involvement."The weight of the evidence of Rhodes's dangerousness is immense," the lawyers said in their memo. Text messages Rhodes sent are at the center of the investigation.
According to Rolling Stone, Rhodes "'spearheaded' the conspiracy to block the peaceful transfer of power." The government also wrote that Rhodes needs to be detained to 'protect the community, ensure his return to court, and safeguard the integrity of evidence and the proceedings.'"
"The filing offers choice new details, including a text Rhodes allegedly sent a co-conspirator on Christmas Day 2020, discussing their plan to intimidate Congress on Trump's behalf during the proceedings on Jan. 6: 'The only chance we/he has is if we scare the shit out of them," Rhodes wrote, "and convince them it will be torches and pitchforks time if they don't do the right thing.'"
Lawyers also highlighted messages that detailed Rhodes' promotion of violence. "From November 2020 through January 2021," it states, "Rhodes regularly used the terms 'civil war' and 'revolution' to describe the necessary path forward."
The latest report follows the Justice Department's press release on January 13 detailing the charges being brought against the Oath Keepers. According to court documents, Rhodes, a resident of Grandbury, Texas, and Edward Vallejo, of Phoenix, Ariz., are facing charges in connection with the events leading up to the Capitol insurrection.
In addition to Rhodes and Vallejo, the nine other members of the far-right group include: "Thomas Caldwell, 67, of Berryville, Virginia; Joseph Hackett, 51, of Sarasota, Florida; Kenneth Harrelson, 41, of Titusville, Florida; Joshua James, 34, of Arab, Alabama; Kelly Meggs, 52, of Dunnellon, Florida; Roberto Minuta, 37, of Prosper, Texas ; David Moerschel, 44, of Punta Gorda, Florida; Brian Ulrich, 44, of Guyton, Georgia, and Jessica Watkins, 39, of Woodstock, Ohio. In addition to the earlier charges filed against them, they now face additional counts for seditious conspiracy and other offenses."

Reprinted with permission from Alternet