Obama Asks Employers, Congress To Help Long-Term Jobless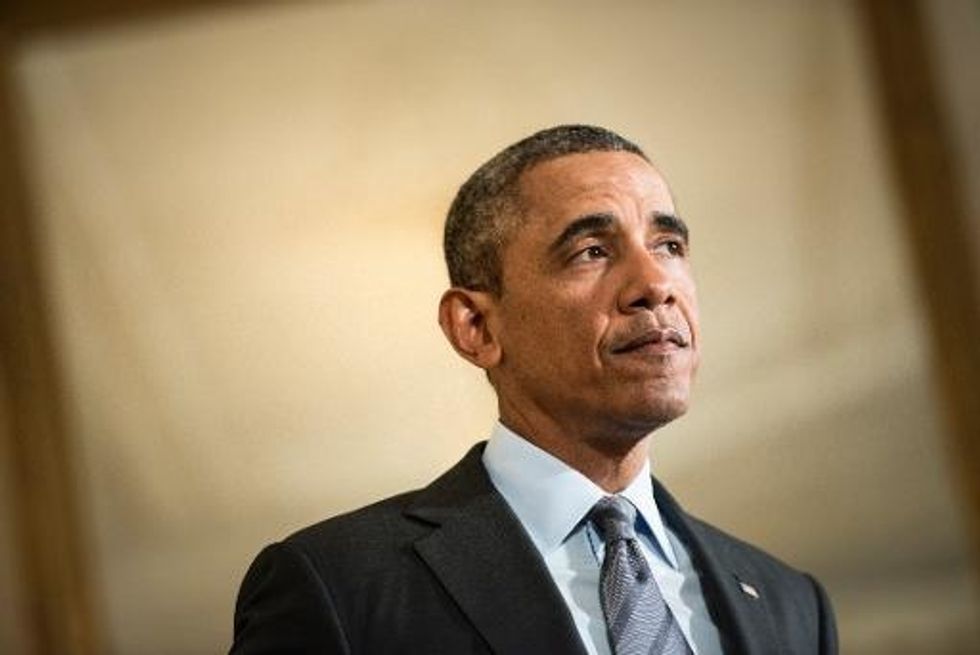 WASHINGTON — Tapping the bully pulpit, President Barack Obama used the White House backdrop Friday to urge American companies — and Congress — to help the nearly 4 million long-term unemployed.
In a White House ceremony, Obama brought out workers who have been jobless for more than half a year to insert real people into a bitter bipartisan debate over the expiration of benefits for the long-term unemployed.
"Folks who have been unemployed the longest often have the toughest time getting back to work," the president said, highlighting Misty Demars, a mother of two boys who'd never before depended on government benefits. "It's a cruel Catch-22: The longer you're unemployed, the more unemployable you may seem."
According to one study Obama cited, those who've been out of work eight months are likely to get called back for interviews only about half as often as those who've been out of work one month, even with identical resumes.
"Statistically, the long-term unemployed are oftentimes slightly better educated, in some cases better qualified, than folks who just lost their job," the president said. "Just because you have been out of work for a while does not mean that you are not a hard worker. Just means you had bad luck or you were in the wrong industry or you lived in a region of the country that's catching up a little slower than others in the recovery."
Earlier Friday, the chairman of the White House Council of Economic Advisers, Jason Furman, met with reporters at a breakfast held by The Christian Science Monitor and stressed that there isn't any one thing that stands out about these long-term jobless workers other than their duration of unemployment.
"To a first approximation, the long-term unemployed look an awful lot like the labor force as a whole," Furman said. "This is not some especially disadvantaged or less-skilled group."
Obama spoke in the East Room of the White House, alongside Vice President Joe Biden, after he met with the CEOs of some of the nation's largest public and private businesses.
He continued to urge Congress to pass benefits for more than 1 million of the nation's unemployed. Roughly 3 million long-term unemployed still qualify for benefits.
"Last month Congress made that harder by letting unemployment insurance expire for more than a million people," the president said, adding that 72,000 people a week are now losing their "economic lifeline."
Obama also announced a $150 million grant competition through the Department of Labor to support public-private partnerships geared toward helping to prepare and place the long-term unemployed in open positions. Applications will be available in February and awards will be made in mid-2014.
More than 300 companies, including 80 of the nation's largest businesses, have agreed to a new policy spelling out ways they'll try to recruit and hire the long-term unemployed, the president said. They'll ensure that advertising doesn't discourage or discriminate against the unemployed, and they'll review recruiting procedures, encourage all qualified candidates to apply and share information about hiring the long-term unemployed within their companies and across their supply chains and the business community.
Obama signed a presidential memorandum to ensure that government adopts the same practices.
"The federal government is America's largest employer. While seeking to employ a talented and productive workforce, it has a responsibility to lead by example," the memorandum said, spelling out new guidelines for hiring.
In another step to help workers, Furman said, Obama's fiscal 2015 budget plan will propose expanding the Earned Income Tax Credit, now available for lower-income workers with children, to include lower-income workers without them.
"That is very much a work-oriented approach. It's very much about increasing the reward for work, and we expect it to have many of the same benefits in terms of participation and (economic) mobility," Furman said. "That's what he is going to be out there proposing."
Companies and organizations that committed to expand efforts to recruit or hire the long-term unemployed include LinkedIn, Skills for America's Future, National Fund for Workforce Solutions, Skills for Chicagoland's Future, Per Scholas, Goodwill Industries, JPMorgan Chase, AARP Foundation, Platform to Employment and Pacific Gas & Electric.
AFP Photo/Brendan Smialowski