Obama: It's Been The 'Privilege Of My Life' To Serve As Commander In Chief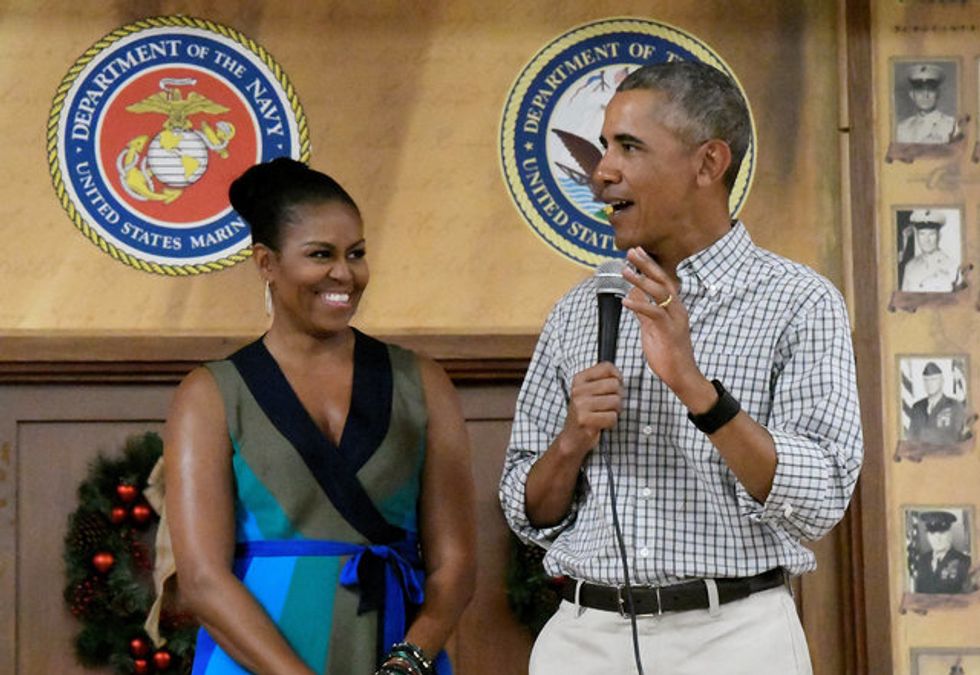 KANEOHE BAY, HAWAII (Reuters) – President Barack Obama said on Sunday it had been the "privilege of my life" to serve as U.S. commander in chief and promised his continued gratitude and commitment to service members and their families during a Christmas Day visit to Marine Corps Base Hawaii.
"Although this will be my last time addressing you as president, I want you to know that as a citizen, my gratitude will remain, and our commitment to standing by you every step of the way, that won't stop," Obama told several hundred people gathered in a mess hall decorated with Christmas trees and wreaths.
Obama said greeting service members and their families, some of whom held up cell phones for photos as he spoke, was one of his favorite traditions. He said that the day before, he called people deployed overseas, telling them Americans back at home understood they were fighting for freedom.
Obama, standing beside first lady Michelle Obama on a small platform, said when he leaves office in January, he will not be a stranger to those stationed in Hawaii, where he was born and still often spends vacations.
"We look forward to seeing you for many years to come, because I understand that I still have a little bit of rank as ex-president," Obama said to laughs. "So I still get to use the gym on base and, of course, the golf course."
(Reporting by Emily Stephenson; Editing by Nick Macfie)