Obama, India's Prime Minister Face Cold, Rain In Effort To Warm Relations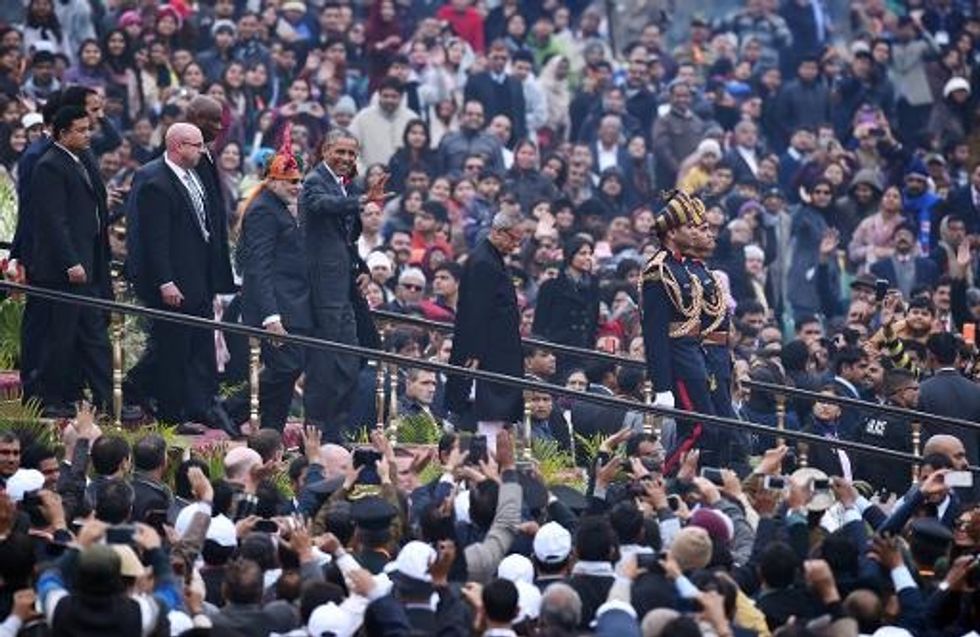 By Christi Parsons and Shashank Bengali, Los Angeles Times (TNS)
NEW DEHLI — President Obama joined Indian Prime Minister Narendra Modi for a lengthy celebration of India's Republic Day on Monday in a symbolic series of events summarized by a long parade in cold rain.
Shielded partly by an umbrella, Obama sat attentively for more than two hours by Modi's side, watching camels and dancers parade down Rajpath, a grand ceremonial boulevard in central New Delhi.
He listened as Modi explained the floats from each of the Indian states, nodding enthusiastically at the one from the prime minister's home state of Gujarat.
The display of respect is the purpose of Obama's trip. After years of rocky relations between their two countries, the White House is hoping that the growing personal warmth between the president and prime minister will turn into a more cooperative relationship between their governments.
But the Soviet-style military parade today also illustrated the awkwardness that remains, with Obama watching an abundance of Russian-made hardware filing past.
Even as Modi tries to edge closer to the U.S., India's traditional orientation remains strong. During a side-by-side news conference over the weekend, Obama criticized Russia and Russian President Vladimir Putin while Modi, who has defended Russia's actions in Ukraine, stood there silently.
Aides to the president say the conversations between Obama and Modi are going well. After their closed door sessions on Sunday, the two men announced a minor meeting of the minds on a few matters, including a civil nuclear deal that could clear the way for multi-national corporations to build nuclear power plants here.
The White House characterized the accords as breakthroughs, in the sense that they cleared hurdles that have stood in the way of bigger deals on global climate talks and greater access to Indian markets for American companies.
Far and away, though, advisors to Obama say he made the unusual one-country trip to India in an attempt to pay respects and warm relations.
Monday was devoted to that purpose, as the president and First Lady Michelle Obama braved the weather to watch the entire parade – with TV cameras trained on them for reactions in live broadcasts on several India television channels.
Obama sat by Modi, who wore a turban with a bright red fan, watching several Indian military regiments – including one riding on camels draped in bright poms and tiny mirrors.
As the floats from the states rolled by, though, he tilted his head close to Modi and asked questions. Modi smiled and pointed at the Gujarat float, featuring his pet project back home, the Statue of Unity.
He watched without saying much as several armored trucks and tanks rolled by, along with soldiers cradling assault weapons in their arms.
Much of the procession of Indian military hardware comes from Russia. A succession of Russian-made T-90 and T-72 battle tanks rumbled down the boulevard, followed by a flyover by three Russian Mi-35 helicopters in formation.
But at the end of the parade, India displayed some newer hardware from the United States, which has surpassed Russia to become India's main arms supplier. India bought $1.9 billion in U.S. weaponry in 2013, according to IHS Jane's, a security analysis group, including advanced aircraft that Indian officials say will be the cornerstone of the country's air force.
American-made C-17 and C-130J planes along with the Boeing-built Poseidon aircraft participated in a flyover, although they were escorted by Russian fighter planes, a sign of India trying to strike a balance between an old friend and a new one.
"Even though the U.S. has lost opportunities to sell to India over the years, it has regained the initiative and the parade demonstrated that," said Sameer Patil, a defense analyst at Gateway House, a Mumbai think tank. "It took Russia 50 years to build the defense partnership with India but the U.S. has overtaken them in the last 10 years."
U.S. and Indian officials on Sunday announced expanded defense cooperation and plans to jointly produce four relatively basic military projects, including the unarmed Raven drone aircraft, manufactured by Monrovia, Calif.-based AeroVironment Inc.
"The preference of both sides is to work on simpler systems and see results, and then move on to more complicated stuff," Patil said.
AFP Photo/Roberto Schmidt