Obama Seeks To Reassure European Allies Amid Ukraine Crisis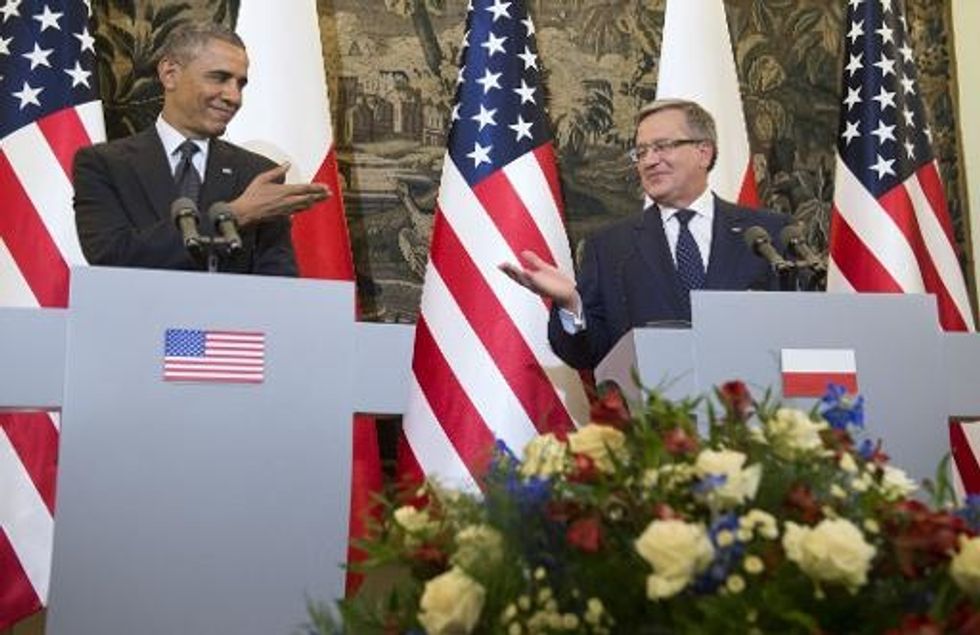 By Kathleen Hennessey, Tribune Washington Bureau
WARSAW — Amid worries about a rise of Russian aggression, President Barack Obama landed in Eastern Europe Tuesday offering new reassurances and a show of military muscle aimed at keeping Moscow in check.
Under drizzling morning rain, Obama was greeted at the airport by Polish President Bronislaw Komorowski on the first stop of a four-day European trip — a visit likely to be dominated by talk of Russia's moves in Ukraine and the future of European security. The two leaders wasted little time declaring their alliance.
Speaking to reporters in a hanger at the airport, Obama declared European security the "cornerstone of our own security and it is sacrosanct … It is a commitment that is particularly important at this point in time."
The leaders spoke in front of four U.S. F-16 fighter jets — with U.S and Polish flags hanging overhead.
The scene was a not-so subtle reminder of the U.S. commitment to protect its NATO allies, a pledge some in Europe have worried had taken a backseat to other U.S. priorities in Asia and the Middle East.
U.S. officials have been under pressure to demonstrate a new commitment to Europe. In the wake of the Russia's incursion into Ukraine, NATO added new air training missions in Poland, a NATO member since 1999.
As Obama landed, he announced another attempt to calm a region on edge. The president called on Congress to support a European Reassurance Initiative, a fund of up to $1 billion that would be used to increase a U.S.-led military presence in Central and Eastern Europe.
Obama said the initiative, which requires support from Congress, would bolster NATO readiness, particularly in NATO's eastern flank. The proposal would increase training and exercises in the newest NATO allies. U.S. Naval forces would increase deployments to the Black and Baltic seas. And allies would increase partnerships with non-NATO members, including Georgia, Moldova and Ukraine, to improve their defenses, according to a White House fact sheet on the plan.
Obama was expected to outline the plan at private meetings Tuesday with Komorowski, as well as during a separate conference with NATO nations in the region, including leaders from Czech Republic, Hungary, Lithuania, Latvia, Estonia and others.
The president's visit to Poland comes as the former Communist nation is celebrating its 25th anniversary since its first free elections. Obama held up Poland's struggle for a Western-style democracy as a model for the fledgling government in Ukraine and a lesson.
"Poles know better than most how precious freedom is," Obama said, issuing a warning of additional economic sanctions and political isolation for Russian President Vladimir Putin if he does not respect Ukraine's sovereignty and new government. "Further provocation will be met by further cost for Russia."
Obama is due to meet with Ukraine's President-elect Petro Poroshenko in Warsaw on Wednesday. He's also likely to see Putin later in the trip, at a memorial honoring the 70th anniversary of the D-Day landing at Normandy. No formal meeting is scheduled for the two leaders, but Obama acknowledged Tuesday that he would likely see Putin.
It's "fair to say" that the rebuilding of trust between the U.S. and Russia will "take quite some time," Obama said, but he thinks it's possible to try. He and Putin have always had a "business-like relationship," he added.
Putin "has a choice" about whether to pursue what the U.S. and Europe consider to be responsible behavior, he said, including getting Russian separatist elements to "stand down" as Russia appears to be pulling back from the Ukrainian border.
AFP Photo/Saul Loeb