Obama Tells Israel Gaza Truce Needed As Conflict Rages
@AFP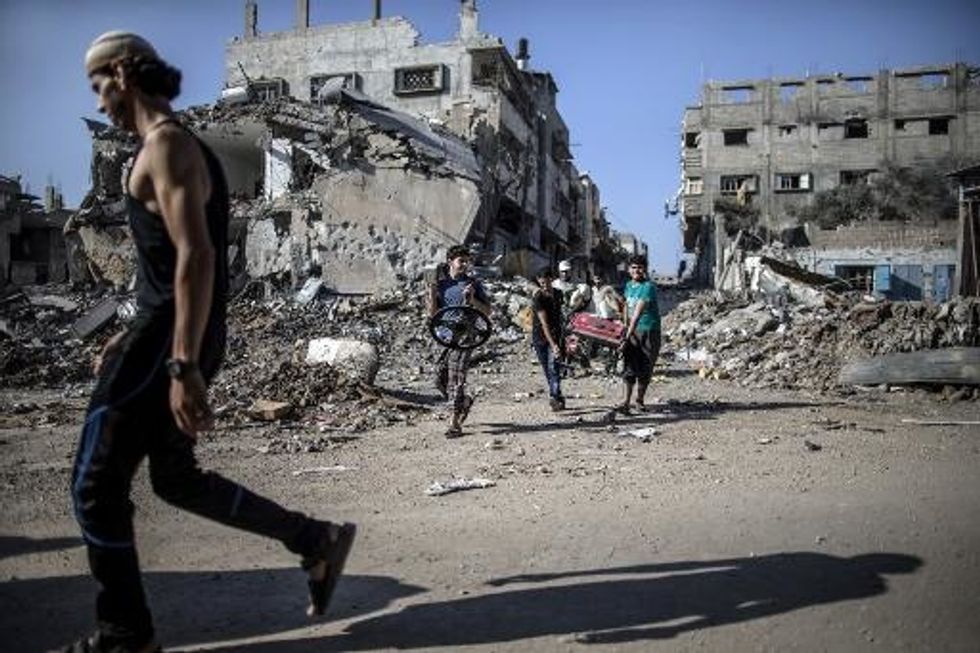 Gaza City (Palestinian Territories) (AFP) – U.S. President Barack Obama on Sunday spoke with Israeli Prime Minister Benjamin Netanyahu, and stressed the need for an immediate and sustainable ceasefire in the raging Gaza conflict.
Both the Israelis and Hamas exchanged strike and counter-strike on day 20 of the war, as world leaders pushed for an elusive ceasefire.
In a statement, the White House said Obama "made clear the strategic imperative of instituting an immediate, unconditional humanitarian ceasefire that ends hostilities now and leads to a permanent cessation of hostilities based on the November 2012 ceasefire agreement" brokered by Egypt.
Obama "reaffirmed Israel's right to defend itself" and stressed the need to "ensure the disarmament of terrorist groups and the demilitarization of Gaza," while reiterating "serious and growing concern about the rising number of Palestinian civilian deaths and the loss of Israeli lives," the statement read.
Israeli media meanwhile said Prime Minister Benjamin Netanyahu's security cabinet was holding a meeting extending from Sunday evening into the early hours of Monday to discuss the next steps in Gaza.
Earlier, fighting renewed apace, as Israel pounded Gaza with aerial, naval and artillery bombardments after a night of rocket fire from Hamas.
The two sides had observed a 12-hour humanitarian pause on Saturday, giving Gaza medics a chance to pull bodies from rubble they had not been able to reach under fire.
But Hamas rocket fire prompted Israel to abandon an extension of that truce Sunday, and subsequent Hamas calls for another ceasefire were ignored by both sides, as world leaders pushed for a permanent cessation of hostilities.
Neither side has agreed to the truce demands of the other, in a conflict that has killed more than 1,030 Palestinians, 43 Israeli soldiers and three civilians inside Israel.
A controversial incident on Thursday when a UN school acting as a shelter was shelled, killing 15 people, drew fierce condemnation from Palestinian refugee agency UNRWA.
The Israeli army confirmed on Sunday it had hit the school, but said it was a "single errant mortar" round, denying that people were killed "as a result of (army) operational activity".
Iran's Foreign Minister Mohammad Javad Zarif engaged in a round of telephone diplomacy late Sunday to rally support and humanitarian aid for Palestinians in Gaza.
He spoke with UN Secretary General Ban Ki-moon, EU foreign policy chief Catherine Ashton and regional leaders, stressing that the priority was to get food and medical aid into areas worst hit by Israel's military offensive, Iran's official IRNA news agency said.
Meanwhile Obama's Secretary of State John Kerry was still working for Israel and Hamas to agree to further halts in the bloodshed ahead of hoped for Egypt-led peace talks, a U.S. official said.
Israel rejected a Kerry-proposed ceasefire earlier in the week, and Hamas has resisted truce efforts by Cairo, which has made an enemy of the Palestinian Islamist group that is allied to the Muslim Brotherhood that Egypt has designated a "terrorist" organization.
Israel insists that it will continue its mission to destroy Hamas tunnels used to launch attacks on the Jewish state, and Hamas wants a lifting of the crippling Gaza blockade that has been in place for eight years.
Although Hamas said its militants would halt their fire from 1100 GMT Sunday in response to a request from the United Nations, there was no response from Israel.
At least 22 rockets from Gaza hit Israel after the reported truce went into effect, an army spokeswoman told AFP.
"They are violating their own ceasefire," Netanyahu told the CNN news network.
In a separate interview with CBS, he said Israel would not allow "a ruthless terror organisation… to decide when it's convenient for them to stop for a moment, rearm, and continue firing".
New Israeli attacks on Sunday killed 11 people across the territory, including an elderly Christian woman, medics said, raising the Palestinian toll on day 20 of Israel's devastating military campaign to 1,031.
The violence looked set to continue ahead of the Muslim Eid festival starting on Monday, ending the month-long fast of Ramadan.
UN chief Ban urged, "in the strongest terms, both the Israelis and Palestinians to extend, for an additional 24 hours, the humanitarian ceasefire that was in effect and mostly observed until early this morning (Sunday)," a statement from his office said.
In Rome, Pope Francis pleaded for an end to the bloodshed which has killed mostly civilians, around a quarter of them children.
"Stop, please stop! I beg you with all my heart," he said in the weekly Angelus prayer.
Exiled Hamas leader Khaled Meshaal said his group could not coexist with Israel as long as it occupied Palestinian land.
"We are not actually fighting the Jews because they are Jews," he said in remarks broadcast Sunday. "We fight the occupiers."
"I'm ready to coexist with the Jews, with the Christians and the Arabs and non-Arabs," he said. "However, I do not coexist with the occupiers."
Rights groups say the vast majority, some 80 percent of Palestinians killed, have been civilians.
AFP Photo/Marco Longari