Obama Vows No Bad Deal With Iran: 'This Deal Will Have My Name On It'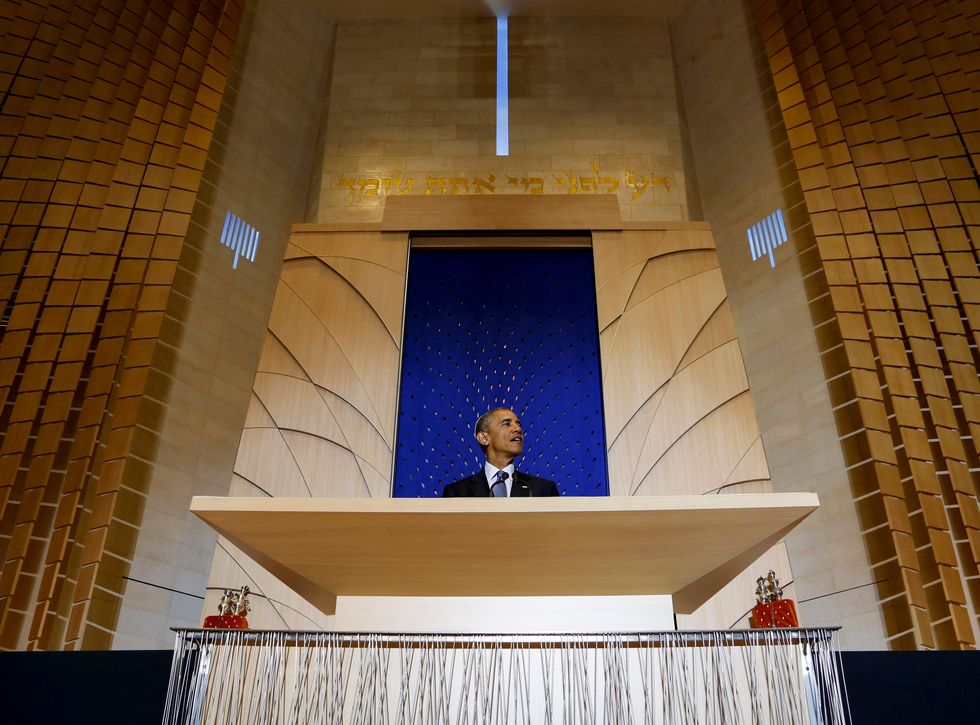 By Christi Parsons, Tribune Washington Bureau (TNS)
WASHINGTON — President Barack Obama took his case for nuclear talks with Iran to a local synagogue Friday where he promised he would not make a bad deal with the Islamic Republic in part because he wouldn't want to bear the shame.
"This deal will have my name on it," Obama said, "so nobody has a bigger personal stake in making sure that it delivers on its promise.
"I want a good deal," he said, adding he will only agree to terms that would block all of Iran's paths to nuclear weapons capability and secure it with rigorous inspections revealing any violations of the agreement.
Despite his optimism over the prospects for talks, Obama said that he isn't guaranteeing a deal will be reached and that he keeps "all options" open for deterring Iran from building a nuclear weapon — a veiled reference to the possibility of airstrikes.
But whatever comes, Obama said, the enduring American friendship with the people of Israel "cannot be broken."
The remarks reflected Obama's need to build political support for any possible Iran deal he sends to Congress, an effort that will depend heavily on how the American Jewish community views it.
The visit to Adas Israel Congregation, one of the largest congregations in the area, coincided with an international "Solidarity Shabbat," in which elected officials in Europe and North America attend services to show opposition to anti-Semitism.
The display is especially important for Obama in a year when his decision to negotiate with Iran, a regime with leaders who periodically call for the destruction of Israel, has discomfited many Jewish leaders.
In an interview prior to the Friday visit, Obama talked at length with Atlantic magazine writer Jeffrey Goldberg about his deep personal attachments to Israel, his reverence for its founding values and his commitment to protecting Israel in any policy decisions he makes.
Republican critics voice skepticism about the outcome of the talks. As lawmakers passed a measure giving Congress the right to review and reject any deal with Iran, House Speaker John Boehner, R-Ohio, said the goal was to stop a bad agreement, especially if it could "strengthen and legitimize the government of Iran."
In his remarks Friday, Obama insisted that any success in the nuclear talks will not erase U.S. concerns about other Iranian activity, especially its support for terrorism, moves to destabilize the region and threats against Israel.
When people say that disagreements with Israeli leaders on policy reveal a lack of respect for Israel itself, Obama said, "I must object."
True friends don't "paper over" difficult issues, he said, pointing to the conflict between Israelis and Palestinians as an example.
He supports a two-state solution, for two people living side-by-side in peace and security, "precisely because I care so much about the state of Israel," he said.
(c)2015 Tribune Co. Distributed by Tribune Content Agency, LLC.
Photo: U.S. President Barack Obama delivers remarks at Adas Israel Congregation in celebration of Jewish American Heritage Month, on Friday May 22, 2015, in Washington, D.C. (Aude Guerrucci/Sipa USA/TNS)