Obamacare — The Greatest Pro-Life Victory Ever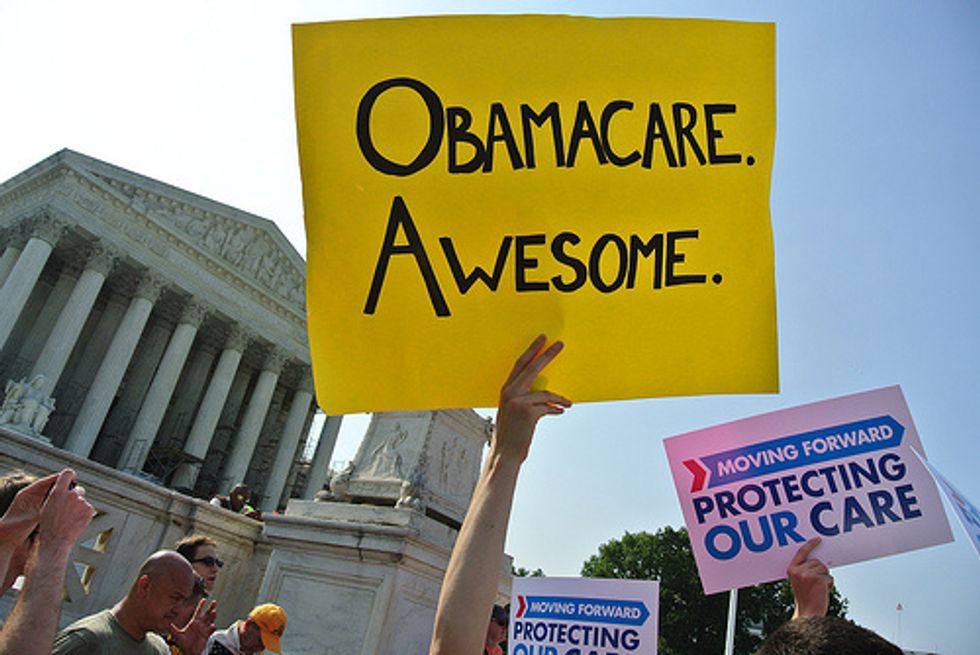 A new report finds that between 2008 and 2011, the abortion rate hit its lowest point since 1973, when Roe v. Wade declared access to the procedure a Constitutional right.
The rate fell 13 percent to 16.9 per 1,000 women in 2011, down from its peak of 29.3 per 1,000 in 1981.
While conservatives want to claim credit for the decline with onerous restrictions on a woman's right to choose, the availability of contraception and family planning deserve most of the credit, according to the Guttmacher Institute's Rachel Jones, the lead author of the study.
"The decline in abortions coincided with a steep national drop in overall pregnancy and birth rates," she said in a statement. "Contraceptive use improved during this period, as more women and couples were using highly effective, long-acting reversible contraceptive methods, such as the IUD. Moreover, the recent recession led many women and couples to want to avoid or delay pregnancy and childbearing."
Use of contraceptives has become near-universal and more common among married women than single.
Obamacare's birth control mandate obligates all insurers to cover contraception without a co-pay, as it does all preventive care. Before the law 28 states already had such mandates in place and 85 percent of large firms offered coverage as part of their plans. Since August 1 of last year, that coverage is now standard for women no matter where they live or how they acquire health insurance.
A Washington University study released last year showed that providing birth control at no cost reduced the rate of abortions by 62 to 78 percent compared to the national rate. Meanwhile, the right's strategy of reducing abortions by requiring sonograms has had no effect on a large majority of women, according to a new study in Obstetrics and Gynecology.
Instead of encouraging the pro-life benefits of Obamacare, conservatives continue to try to minimize them. Republicans want to give employers the ability to opt out of the mandate, asserting falsely that some of the birth control options available induce abortion.
By opposing the mandate, the right reveals that its goal has always been to reduce women's options, not unintended pregnancies. Obamacare will reduce thousands — if not hundreds of thousands — of abortions and could reduce even more if the Republican-led states that rejected Medicaid expansion would agree to provide subsidized care to approximately 4 million Americans.
Instead, so-called "pro-lifers" enable politicians who deny health insurance to those who need it most, threatening the lives of thousands. If only they were as pro-life as Obamacare is.
Photo: Will O'Neill via Flickr