Obsession With Guns Now Infects College Campuses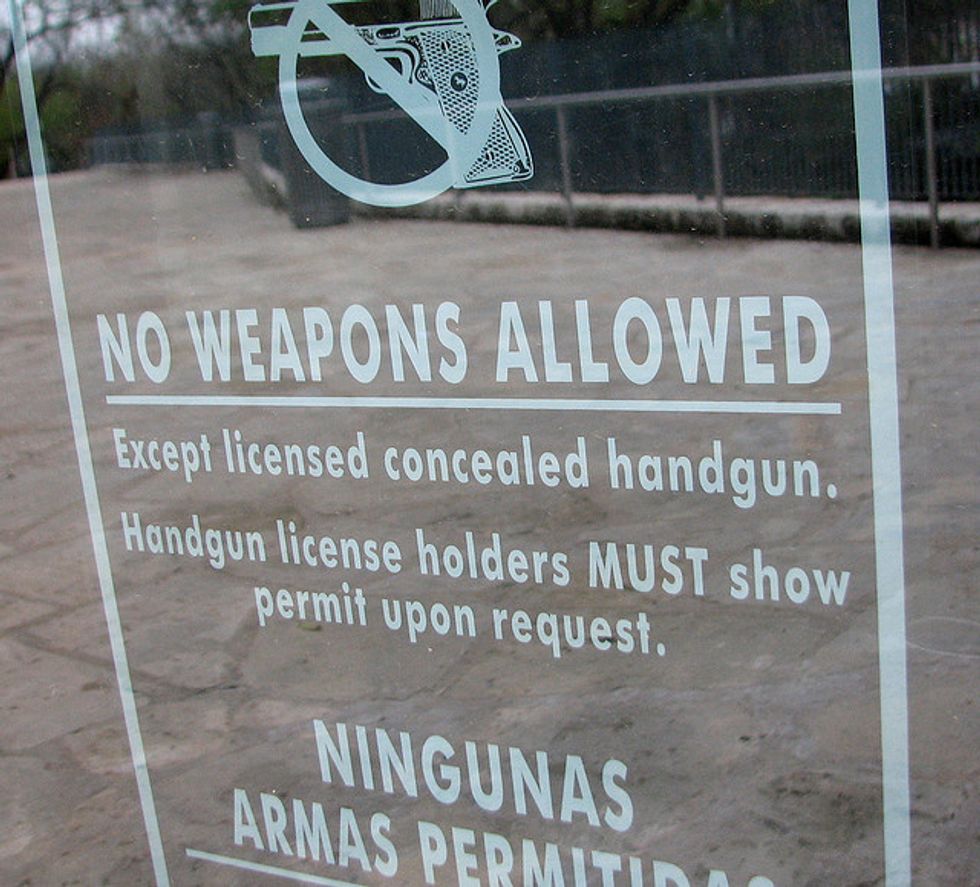 The Texas Legislature has just passed its version of campus-carry — a bill that allows students, teachers, janitors, administrators, and anyone else with a firearms permit to carry concealed handguns on college campuses throughout the state. That means students sitting in a library or classroom or strolling through a classic tree-lined quadrangle may be armed.
College campuses don't have enough problems with student misbehavior? Administrators aren't frazzled enough coping with rapes, binge drinking, and routine infractions such as cheating? The Legislature had to add concealed weapons to the mix?
The illogic is hard to overstate. This is what one proponent of the measure, GOP state Rep. Jonathan Stickland, had to say: "An armed society is a safe society, so any time you have gun control, there is far more opportunity to become victims."
Ah, where to begin?
It should be clear from the recent spate of police shootings that even those who are highly trained make mistakes with their weapons. They fire too quickly, killing the unarmed. They shoot bystanders. They miss altogether. What makes the gun lobby think that civilians would handle their firearms with more precision and control?
One Texan who is intimately familiar with firearms tried to persuade the Legislature not to pass campus-carry. Adm. William McRaven, who is now the chancellor of the University of Texas System, said, "I'm a guy that loves my guns. I have all sorts of guns. I just don't think bringing guns on campus is going to make us any safer."
The man is a former Navy Seal. He commanded the U.S. Special Operations forces who killed Osama bin Laden. But the GOP-dominated Legislature ignored him.
Clearly, we're in the grip of a kind of madness, an irrational, fevered obsession with firearms. Sometime in the not-too-distant (I hope) future, historians and anthropologists will study our society's gun sickness to try to figure out how we became so warped by firearms ownership. They'll ponder this cultural weirdness just as we look back at the Salem witch trials and the classification of homosexuality as a mental illness.
To be sure, the vast majority of Americans are not persuaded that more guns are tantamount to more safety. They know better. Polls show that we support additional gun safety laws, including a ban on large-capacity magazines and broadening background checks to make it more difficult for criminals and the deranged to get guns.
But we don't care enough. We haven't gone about the business of isolating this madness, quarantining the fevered, protecting ourselves from the spread. We've allowed this infection to embed itself in the bloodstream of civil society.
Currently, according to the website of the National Conference of State Legislatures, 19 states prohibit concealed weapons on college campuses. Twenty-three others allow college presidents or regents to make the decision. But it seems inevitable that campus-carry laws will spread.
The gun lobby has more energy, more focus, more intensity. Its minions take their odd enthusiasm to state legislatures, to city councils, and to court, where they seek to overturn even modest gun safety laws. They target politicians who dare suggest that not every private citizen needs to own a shoulder-fired rocket launcher.
When Gov. Greg Abbott signs the bill, as expected, Texas will become the ninth state to allow campus-carry, and proponents will continue to push in gun-crazed states with Republican-dominated legislatures. Look for some to emulate Utah, which has the broadest (and nuttiest) law, outdoing Texas. Its statute specifically bans any college campus from prohibiting concealed weapons. In Texas, at least, private colleges may opt out.
There is a very real danger that some student will kill another on campus. Or kill a teacher with whom he or she has a disagreement. Or go on a rage-fueled spree and kill several people.
Texas, especially, ought to know better. It was the scene of one of the nation's earliest spree shootings, in 1966, when former Marine Charles Whitman fired from the clock tower on the campus of the University of Texas in Austin.
Unfortunately, the Texas Legislature has trampled the memory of the dead.
(Cynthia Tucker won a Pulitzer Prize for commentary in 2007. She can be reached at cynthia@cynthiatucker.com.)
Photo: Roo Reynolds via Flickr