Ohio Rematch: O'Connor Far Outpaces Balderson In Dollar Race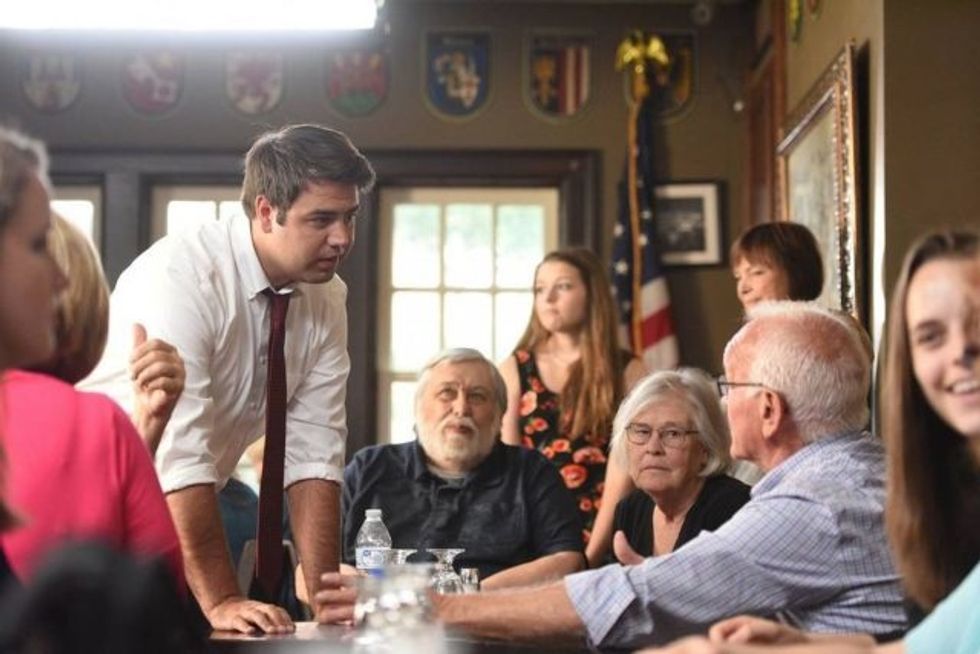 Reprinted with permission from Shareblue.
Democrats are raising a staggering amount of campaign funds throughout the country, but a district in the Columbus, Ohio, suburbs is the epicenter of a massive "green wave" of campaign cash.
Danny O'Connor, the Franklin County recorder, raised an astounding $6 million in the past three months. That's more than any other House candidate running in a competitive race in the country, according to data collected by the Daily Kos Elections team.
O'Connor is facing Rep. Troy Balderson (R-OH) in a rematch of their August special election race where Balderson narrowly won despite running in a district Trump carried by 11 points. The special election was merely to finish the term of retiring Rep. Pat Tiberi; the Nov. 6 election is for a full term in Congress.
While much of the money raised by O'Connor came before the special election, he raised $1.3 million from Aug. 28 through Sept. 30.
On the Republican side, Balderson only managed to raise $358,000 in the same amount of time — just about a quarter of what O'Connor raised.
"Fundraising is an outgrowth of intensity," Ken Spain, the National Republican Congressional Committee's communications director in 2010, said in April.
"The GOP is now facing a green wave," wrote Corry Bliss, who leads a Republican dark money super PAC, according to the Associated Press. "Democratic candidates are outspending Republican candidates in key races by $50 million."
During the special election, Balderson's campaign was helped by massive amounts of money from Republican outside groups. But according to the Columbus Dispatch, Balderson is receiving much less help this time around.
And the help he is getting is relying on smears in misleading ads. One Republican-aligned group is spreading misinformation about O'Connor's position on immigration issues in order to rile up anti-immigrant sentiment to support Balderson.
There's a good reason groups would rather lie about O'Connor than run on Balderson's brief record in Congress. When there, Balderson voted to increase the deficit by trillions of dollars in order to lavish the richest 1 percent with even more tax breaks.
He voted to add $3.8 trillion to the deficit, and he has only been a member of Congress since early September.
The normally conservative-leaning Columbus Dispatch has repeatedly endorsed O'Connor for the position. And if campaign donations are truly an outgrowth of intensity, Balderson may soon find himself out of a job.
Header image: Courtesy of the Danny O'Connor campaign