Oklahoma Needs Help, Not Ideology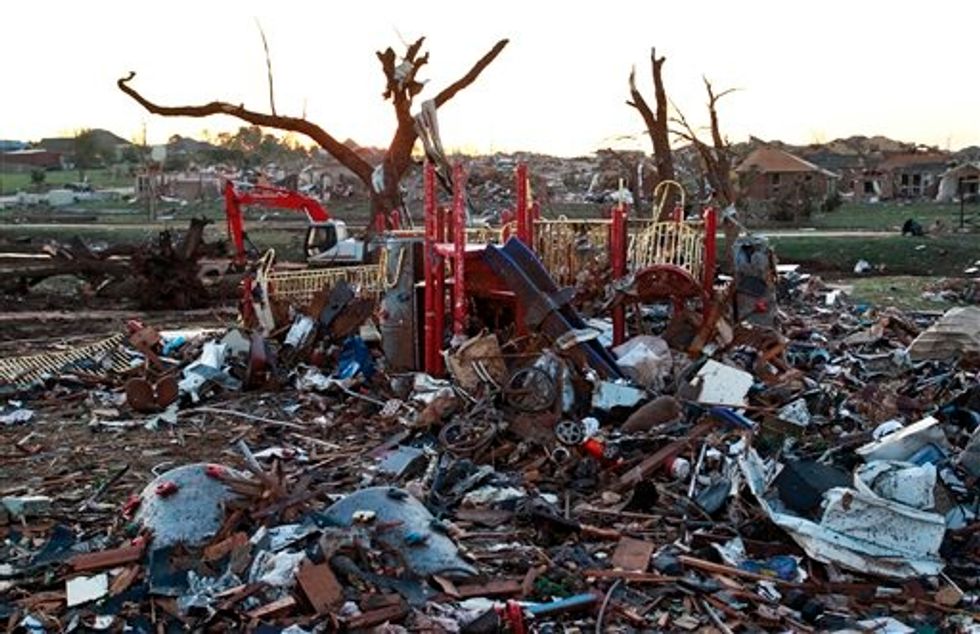 WASHINGTON — While listening to an NPR report out of Moore, OK, this week, I was genuinely shocked. Not by the scale of the devastation or the tenacity of people who have grown stoically accustomed to the damage tornadoes can do, but by a political sentiment that, in almost any other era, would not have been surprising at all.
Rep. Tom Cole, a Republican who lives in the very neighborhood that was overwhelmed, was talking about a call he received from President Obama. Hearing Cole, I realized how strange it is these days for politicians to speak in human terms about someone in the other political party — especially if that someone is named Barack Obama. "He was very kind," Cole said.
The president, Cole added, "ticked off very quickly that the assets were available … and said, 'You know, you're going to have everything you need and if something — you have a problem, just call me directly at the White House.' It was an exceptionally kind, thoughtful and gracious call."
Imagine: a solid conservative Republican declaring that Obama did something "kind, thoughtful and gracious." This takes courage in the GOP these days. New Jersey Gov. Chris Christie learned as much last fall. He was ostracized by large parts of the right (and pronounced unwelcome at March's Conservative Political Action Conference) because he praised Obama's response to Hurricane Sandy.
I hope Cole escapes this fate. A 64-year-old with a Ph.D. in history from the University of Oklahoma, he spent years in loyal service to the Republican Party, including a stint as state party chair in the 1980s. Back then, he was a straight-talking source for many journalists around the country (including me). He was never anything but a conservative.
And except for one moment in our past, there has never been anything un-conservative or controversial about helping the victims of disasters. In fact, federal disaster relief is as old as our republic, as Brian Balogh, a University of Virginia historian, noted in his seminal book, A Government Out of Sight.
The practice goes back to the 1780s, he writes, and "by the mid-1820s, general relief bills were directed at entire classes of victims." The sensible justification "was the victims' inability to foresee or predict these sudden events, and the recipients' innocence of any responsibility for them."
It was only between 1840 and 1860 that disaster relief from Washington became contentious as a particularly extreme brand of states' rights politics reared its head. Southerners, Balogh notes, began fearing that "extending federal power" in this way "might establish a precedent for national intervention in the slavery question."
Although we resolved the slavery debate, our nation seems in many ways to be regressing back to the politics of that era. Disaster relief is not a slam dunk anymore because an issue of basic decency has become entangled with a renewed assault on federal power and a belief that cutting the budget is the nation's single highest priority.
Sen. Tom Coburn (R-OK) is so philosophically consistent that his office let it be known that he believed even assistance to those suffering in his home state should be offset by budget cuts. He later said he would not get in the way of relief, but it's astonishing that emergency spending on behalf of innocent people would be used as a vehicle for more austerity.
Cole, in a very different way, is also consistent when it comes to disaster relief. He was one of just 49 House Republicans who voted in January for a $50 billion Hurricane Sandy aid package; 179 voted no. "There's clearly a federal responsibility to act in this case," Cole said in a speech on the House floor. "We've always acted after disasters."
And then he offered this piece of prophesy:
"It's pretty unusual in my state to go through a year without a tornado disaster, and it's pretty unusual to go through a year without a drought disaster. Each time, we've come and asked for help from the federal government; each time, we received that help. Undoubtedly, we'll be doing that again in the near future. It would be hypocritical, in my view, to fail to do for people in the affected region what I and, I know, many others have routinely asked for our own regions."
Empathy, honesty and common sense: We could use more of all three. May the people of Oklahoma get the help they need. Rigid ideology is no substitute for generosity of spirit.
E.J. Dionne's email address is ejdionne@washpost.com.
AP Photo /Brennan Linsley