Has The Old Trump Magic Lost Its Spell?
@FromaHarrop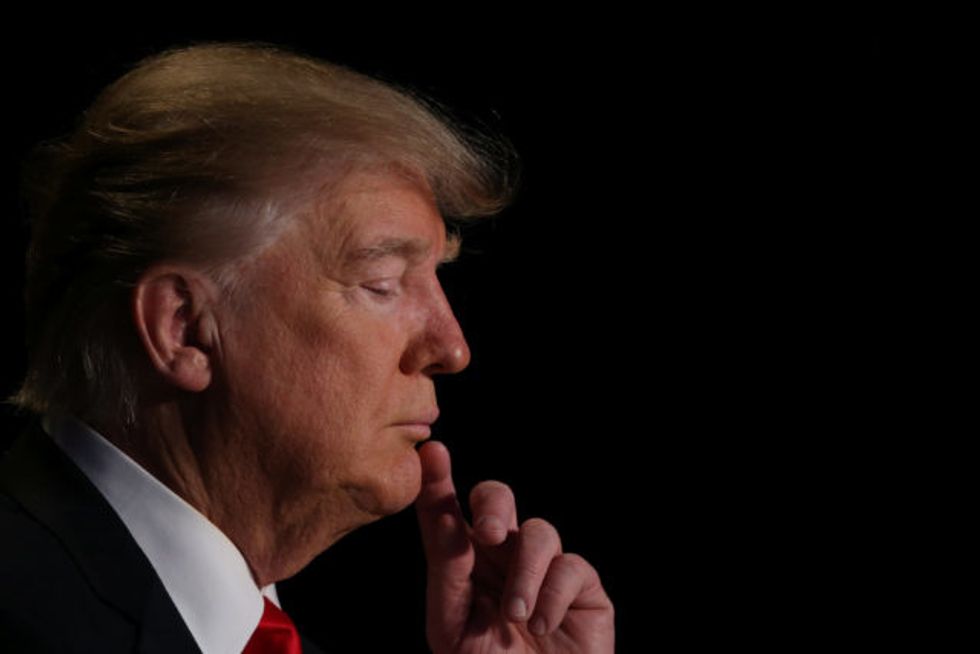 Reprinted with permission from Creators.
There was a time when a phrase typed by the mighty fingers of Donald Trump would shock world leaders, swing markets and send public opinion into convulsions. But those awesome powers have shrunk considerably since Election Day. Responses that once quaked with "What does this mean for the planet?" have relaxed into "Oh, it's him again."
Trump just opined the government needs a "good" shutdown in September to "fix mess." What would have been an extraordinary thing for a president to say, lawmakers treated like a car alarm that will eventually get turned off. As for Trump's call to ditch the Senate's filibuster rules so that bills could pass with no Democratic support, Senate Majority Leader Mitch McConnell simply drawled, "That will not happen."
Not long ago, presidential tweets about curbing drug prices — or not curbing them — would send drug company stocks swooning or soaring. Today they'd be shrugged off as curiosities.
When Trump told Bloomberg News that he may break up the big banks, their stock prices slipped briefly but then ended up for the day. Traders closed their ears.
"Stop," Josh Brown, CEO of Ritholtz Wealth Management, urged viewers on CNBC. "Please don't make changes to your portfolio based on things that get blurted out."
Some recent tweets seem desperation moves to hold on to waning attention and to seem tough. With his own party giving him a hard time on his plans to basically kill Obamacare, Trump's ability to threaten his way to victory has been greatly compromised.
His habit of reversing his most incendiary declarations, sometimes in a matter of hours, has also taken the fizz out of them. Trump called for the government shutdown out of anger at Democrats' rejoicing over the temporary spending bill. He praised the bill the same day: "This is what winning looks like."
Presidents don't have so much control over the economy as legend has it, and reality is sorely testing Trump's claims he could single-handedly turn America into a jobs machine. Job growth flattened in March, and the better numbers in January and February were probably because of warm weather.
Just in: Auto sales are down for the fourth month in a row, and General Motors says it plans to lay off thousands of workers. "We are very focused on acting like we're in a downturn," a top GM executive told investors.
Growth in the gross domestic product fell to 0.7 percent in the first three months of 2017. That's down sharply from the 2.5 percent growth rate seen in the last quarter of 2016, when Barack Obama was still president.
There remain bubbles of optimism in the stock market, but economists warn that the "Trump bump" may turn into a slump. The administration's plans to add big spending to big tax cuts are already setting off a revolt among fiscal conservatives. Tax cuts may stimulate the economy, but the added growth does not necessarily make up for the loss in revenues. Ronald Reagan's famous tax reforms exploded deficits so fast that Reagan, to his credit, followed them with 11 tax increases. The public tends to forget that.
A shrunken Trump, however, is a Trump that could still cause trouble. He's been turning his considerable executive authority to sabotaging Obamacare by cutting the funds that pay for it. And there's always the danger that the mercurial showman may try to distract attention with a reckless but flashy military action.
As faith in Trump's powers of persuasion takes hits almost daily, lawmakers are quietly devising workarounds. Let the man on the horse set off verbal firecrackers. The noises are mattering less and less.
Follow Froma Harrop on Twitter @FromaHarrop. She can be reached at fharrop@gmail.com. To find out more about Froma Harrop and read features by other Creators writers and cartoonists, visit the Creators webpage at www.creators.com.