Olympic Games Off To Rough Start
@reuters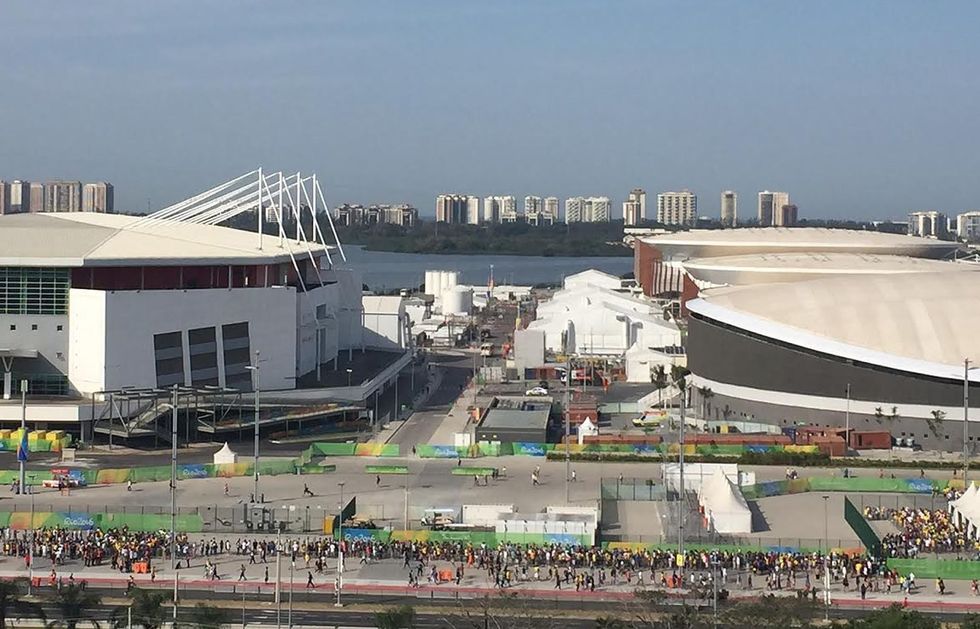 RIO DE JANEIRO (Reuters) – The Rio de Janeiro Olympics got off to a shambolic start on Saturday with fans queuing for hours to enter the stadium and some missing their events as many athletes competed in front of eerily empty stands.
Games organizers apologized for dropping the ball on the first day of full competition, the morning after a dazzling opening ceremony, as iconic venues such as beach volleyball on the famed Copacabana beach saw only a few hundred spectators.
Outside, lines stretched for several blocks as angry fans stood in the scorching sun, waiting as security staff struggled.
"Indeed we have problems in some (security checkpoints) in the Olympic Park and we apologize for everybody standing in line outside the venues," Games spokesman Mario Andrada told reporters.
"We need to upgrade that part of the Games. We moved people from Rio 2016 (organization) to speed up the mag and bag (security checks) and within the next hours we will be in much better shape."
He said he hoped no fan had missed competitions they had bought tickets for, but many Brazilians were left fuming.
"I don't believe it. It's absurd, ridiculous," said Rio resident Natalia Carvalho, 28, who had wanted to see Brazilian gymnast and medal hopeful Arthur Zanetti compete.
Instead she entered the stadium only after he had finished his rings presentation with thousands more waiting to enter the Olympic park, site of several venues.
"I always said that what I most wanted to see was Zanetti in the rings. It's a lack of respect for the fan that bought tickets. It's a shame," she said.
Games organizers blamed the snafu on a lack of coordination between various groups of security personnel, including the police, Games staff and private security firms.
What should have been a celebration of the start of South America's first Olympics instead turned into a damage-control operation, with Andrada vowing an immediate improvement.
"It is the first morning of the Olympic crowd and some of the systems did not talk to each other. It was a problem of coordination. We need to explain to the public. We owe them an explanation and we owe them an excuse."
Only a few hundred spectators made it into the gymnastics arena, which can seat 13,500 people. The boxing venue also had many empty seats on Saturday morning as the first professionals in Olympics history entered the ring.
Handball matches also saw far from full stands as did the hockey tournament.
"We hope to clear the lines in the Olympic park," Andrada said, admitting some people had waited as long as 90 minutes.
"We feel sorry for the people who are there. Some time in line is acceptable but there needs to be a balance."
(Additional reporting Pritha Sarkar, Liana Baker, Caroline Stauffer and Pedro Fonseca; Editing by Mark Bendeich)
Photo: 2016 Rio Olympics – Olympic Park – Rio de Janeiro, Brazil – 06/08/2016. Ticket holders line up to enter the Olympic Park at the Rio 2016 Olympic Games. REUTERS/Laura Saravia