On Insurrection's Anniversary, True Accountability Remains To Be  Achieved
@Brandi_Buchman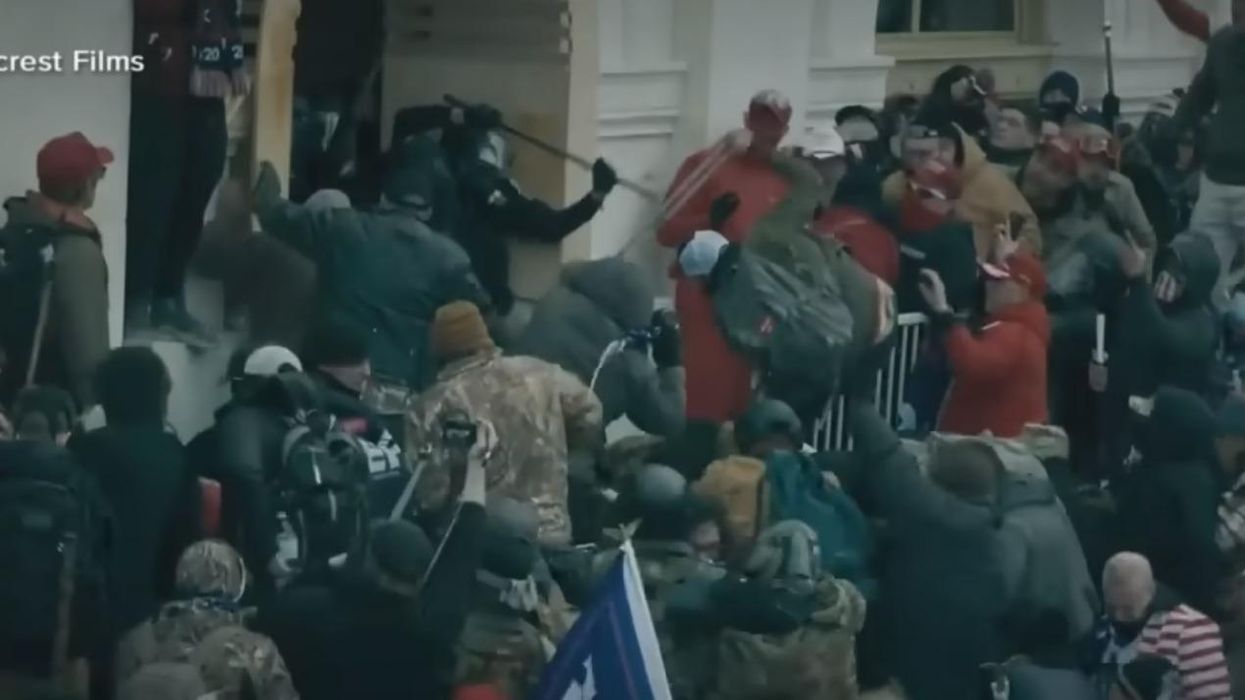 The insurrection at the U.S. Capitol incited by former President Donald Trump marks its second anniversary on Friday and this year, the occasion arrives amid a far different and far more informed backdrop than the one that couched the nation's very first commemoration of January 6.

For 18 months, the House Select Committee to Investigate the January 6 Attack on the U.S. Capitol convened to untangle the web that the former president and his coterie of confidantes and less-than-constitutionally-minded attorneys wove to keep Trump in power despite his defeat at the polls and among the Electoral College...The release of the committee's final report—all 845 pages of it plus hundreds of transcripts and supporting materials—was the panel's grand finale after more than a thousand witness interviews and a series of dramatic public hearings. The reams of records congressional investigators obtained ultimately pieced together an important tapestry of one American president's unprecedented dereliction and disregard for concepts like law and order or duty and honor.
Yet, even with all of this important work completed, hugely significant and necessary questions about the attack, and accountability for the attack, linger.
Former President Donald Trump has not yet been indicted for crimes related to January 6. Much conversation and reporting has already been devoted to a "will they, won't they" discourse surrounding the Justice Department. This dialogue has only ramped up in recent weeks as the select committee finished its business.
During its very last meeting, the committee queued up its swansong with criminal referrals to the Justice Department for Trump and his alleged election subversion cohort, John Eastman. Those referrals were only symbolic practically speaking. But there was no other symbol the congressional committee could offer. It was their final statement. We have done our part. Now, we leave it to the Justice Department to decide what's next.
For many Americans paying attention to the January 6 investigation, patience for the Justice Department is thin. Frustration is palpable. It is also understandable.
Trump's name is not and has rarely, if ever, been synonymous with accountability of any sort. Adding to that, there is the simple competing reality: for the very rich and very powerful in the United States, justice is frequently deferred and often indefinitely.
In the nation's entire history, a former president has never faced indictment for criminal activity and it is not because there is some law on the books barring it. Presidents of the past, like Richard Nixon or Bill Clinton, avoided indictment after leaving office despite their respective nation-rocking scandals. Nixon's successor, Gerald Ford, took Nixon's words of contrition over the Watergate Scandal as sufficient and pardoned him before he could be indicted. In 2004, during an interview with journalist Bob Woodward, Ford elaborated: "I had no hesitancy about granting the pardon because I felt that we had this relationship and that I didn't want to see my real friend have the stigma."
Clinton was contrite too. He struck a bargain to avoid indictment for making misleading or false statements to Congress about his affair with then-intern Monica Lewinsky. Once the deal was reached, Robert Ray, then the head of the Office of Independent Counsel told reporters at The Washington Post: "I think it's a collateral benefit to the country that the new president be given a fresh start if that can be achieved. The best interests of the country would be achieved by letting the past be the past."
But with Trump, the past never stays buried long and it is usually he who carries the shovel.
In the aftermath of Jan. 6—two full years later—Trump still vocally maintains the lie that he won the 2020 election. He continues to champion the same debunked conspiracy theories about rampant election fraud that brought throngs of his armed supporters to the Capitol. He continues to casually attack the same private citizens he tormented in the run-up to January 6. He appears to be, as ever, unwilling to stop fomenting real world chaos or violence with his self-serving digital screeds or meandering political rallies.
At this late stage, contrition genuine or otherwise, is unlikely to come from Trump and is certainly not expected. Besides his own long public track record of ruthlessness, consider the evidence the committee unearthed: Multiple witnesses, including Trump's own staff and family members, testified that the former president was immovable for three hours during the attack. Video footage documenting outtakes from Trump's speech that would be delivered after the attack, show him unwilling to say that the election was over.
Unedited footage of Trump the day after Jan. 6 shows then-president resistant to condemn riotersyoutu.be

The committee found that Trump was informed at 1:21 p.m. that the Capitol had come under siege. It was not until after 4 p.m. when he finally issued a video message on Twitter expressly asking his followers to go home. In the hours between, as people lay dying, including some of his own supporters, Trump drank a Diet Coke in the White House dining room and watched the rioting on television.
Cell phone records as well as records from the White House call logs secured by the committee over the last two years have shown that Trump made multiple calls to his personal lawyer Rudy Giuliani during the attack. He reached out to lawmakers, like Republican Senator Mike Lee though it was a misdial. He meant to reach Republican Senator Tommy Tuberville. Mid-riot Tuberville told Trump that then-Vice President Mike Pence had been moved for safety and he couldn't remain on the phone. With lawmakers sheltering in place and the vice president in hiding, Trump went to Twitter and attacked Pence, saying he didn't have "the courage to do what should have been done." Trump's next step was to call House GOP leader Kevin McCarthy.
Sarah Matthews, the former deputy press secretary for the White House, told investigators if Trump wanted to appear on camera and make a definitive call for the mob to disperse, he could have done so in the White House briefing room within 60 seconds.
Records obtained in the 18-month investigation of the attack show Trump made no calls for assistance for 187 minutes.
As for the possibility that presidential friendships may preclude justice from being served, it is worth noting that where there was amity among Ford and Nixon, the dynamic is quite different among Trump and Biden. How Biden may treat Trump in the event that he is indicted of course remains to be seen. But to the current president's credit, for the last two years he has at least made transparency over the Capitol attack a priority: Biden routinely declined to assert executive privilege over Trump White House records when Trump attempted to block their release in a failed fight at the U.S. Supreme Court.
Even if Trump invoked a vow of silence over all things Jan. 6 today, he is unable to stop the reverberations triggered two years ago. He is unable to erase the no less than seven people, including five police officers, who died as a result of the violence at the Capitol. He cannot unwind injuries to more than 150 officers. There is no undoing for police officers who were forced into early retirement because of those injuries. And police are not alone: there is no way to go back and stop the flow of trauma that was spread generously on January 6 among legislators, Capitol staff and members of the media alike.
Thirteen months after the insurrection, the Republican National Committee described January 6 as 'legitimate political discourse" albeit unfortunate. That "discourse" for U.S. Capitol Police Officer Caroline Edwards—believed to be the very first officer injured on Jan. 6—featured her slipping around in so much blood and vomit as she tried to defend the Capitol that she could barely stand. She told investigators it was members of the neofascist Proud Boys who tried to push a bike rack against her before she was struck over the top of the head. As she was pushed backwards, she testified, she fell and smacked her head on concrete stairs. When she came to, she ran to the Capitol's west front where some of the worst violence ultimately erupted.
It was a "war scene," "carnage," and "chaos," Edwards testified publicly in June.
"Never in my wildest dreams did I think that as a police officer I would find myself in the middle of a battle," she said, her voice quaking more than a year after the assault. "I'm trained to detain a couple of subjects and handle a crowd, but I'm not combat trained."
As of this week, the Justice Department announced that it has made over 950 arrests related to Jan. 6. There have been 484 people who have pleaded guilty to federal charges and face prison time. One of the steepest charges to emerge—seditious conspiracy—was successfully prosecuted for the first time in more than a decade.
Oath Keeper founder Elmer Stewart Rhodes was found guilty of seditiously conspiring to stop the transfer of power as well as a number of other felony charges. His associate, Kelly Meggs, was found guilty of seditious conspiracy, too. The charge carries a maximum 20 year sentence. The trial, which featured multiple counts against multiple Oath Keeper defendants, proved to be a mixed bag of verdicts but the toughest charges for the senior-most leaders held.
A second group of Oath Keepers charged with seditious conspiracy are in the midst of their own trial now. On Thursday, The Washington Post reported that one Oath Keeper who already pleaded guilty to seditious conspiracy, Caleb Berry, appeared in court on behalf of the government and testified that instructions from Meggs were explicit on January 6.
When Meggs and other Oath Keepers gathered just outside of the Capitol on January 6 Berry said Meggs lamented that the election was "illegitimate" and that they "were going to try and stop the vote count."
The leader of the Proud Boys, Henry "Enrique" Tarrio, and four members of that extremist group, are finally on trial now after months of delays. Like Rhodes, Tarrio faces multiple charges including seditious conspiracy. Jurors are still being selected as Tarrio and his co-defendants insist that finding an impartial jury in the nation's Capitol is impossible. More than 30 jurors have so far made it into jury pool before lawyers for the Justice Department and Proud Boys begin to negotiate over final selections. Opening statements are expected next week.
As for Trump, the threat of major legal peril is very real, even if final outcomes are in question.
Special Counsel Jack Smith was appointed by Attorney General Merrick Garland in November to oversee criminal probes of Trump's conduct related to Jan. 6 as well as Trump's retention of classified documents at his Florida property Mar-a-Lago. Probes had already been underway for months when Smith came aboard.
Smith made quick work of his role and issued a tranche of subpoenas to key figures tied to the Trump White House and to individuals who participated in the former president's bid to submit phony electoral slates to Congress.
In the last year, former White House attorneys like Pat Cipollone and Eric Herschmann have been hauled before a special grand jury as were a litany of other relevant officials and witnesses.
Just a day before the second anniversary of the insurrection, Bloomberg reported that officials from battleground states in the 2020 election have complied with subpoenas from the Justice Department. Those subpoenas sought their relevant emails, letters and other records central to the fake elector bid, a key feature in Trump's push to stop the certification.
Though citing sources anonymously, Bloomberg reported that Smith is "set to make critical decisions about whether to bring charges, possibly in a matter of weeks."
In the wake of the select committee's probe, the territory the nation finally finds itself in, is in many ways uncharted. The committee's investigation and its final report are like a map to this new world. The criminal referrals are flags the panel has staked on this pioneer front. Prosecutors can follow them for additional clues as they navigate a possible path to indicting a former president. But it bears repeating: the Justice Department did not begin investigations last month.
The path has been tread by federal prosecutors since at least July 2022 when reporting emerged for the first time that the Justice Department was eyeing Trump himself and not just rioters who breached the Capitol.
Discussion of an indictment of Trump for charges related to the insurrection rarely goes without questions raised over whether such a course of action would spark civil unrest from his supporters. In a September radio interview with Hugh Hewitt, Trump remarked that if he was indicted, "you would have problems in this country the likes of which perhaps we've never seen before."
"I don't think the people of the United States will stand for it," he said.
This language may be typical of the former president but it shouldn't prompt eyes to glaze over. Though polling by the Pew Research Center indicated ahead of last year's midterms that Trump's popularity has waned among Republicans, the fact remains: Trump only requires a mouthpiece (he bought one with TruthSocial) and the fealty of just enough people to make deadly trouble.
Trump's messaging has always benefitted from the cognitive dissonance of his supporters. This will not change unless he changes or unless they change. Heading off an indictment of a former president over fear of retribution from that president's supporters will not alter these potentialities and Attorney General Merrick Garland would seem smart enough to know this.
Dakota Adams, the estranged son of Oath Keeper founder Elmer Stewart Rhodes, escaped his father's militia and has spent a large portion of his young life dedicated to advancing principles of fairness, equality and justice. He is interested in deprogramming extremist ideology, not advancing it.
During an interview with Daily Kos this week, Adams said he thinks violence and protest and demonstrations are inevitable if Trump is indicted. He does not advocate for violence but he's well versed in the world of those who use it as a carrot or a stick.
"It's going to happen regardless and it's going to have to be gotten out of the way," he said, before carefully measuring his next words.
"Don't take this the wrong way," he said, "but the more Trump supporters that wig out and try to shoot at federal buildings or riot or burn stuff, the better. It will demonstrate the reality of the situation where a lot of people have been able to safely ignore that all of these guys are in a sort of circle amping each other up towards acts of violence and normalizing violent rhetoric."
Acts of domestic extremism and terrorism increased last year. Though there hasn't been a repeat of January 6 in two years, Adams noted the spike of attacks by far right and Christian extremists on the LGBTQ community.
A lot of people, he said, don't pay attention to these threats or perhaps, don't take them as seriously as they would if there were "a bunch of people in red hats flipping cars and starting fires downtown."
"That's hard to ignore and if that's going to happen at some point, it's best if it happens while Republicans do not have a trifecta [of majority power] in government," he said.
The mythology around Jan. 6 that has been sustained by Republican lawmakers, the right wing media sphere and extremists alike needs dismantling.
Adams noted how so much of it simply doesn't make much sense. Some people think January 6 was real but staged. They think it was a trap. But they also think it was a false flag.
"It's an incredibly mixed bag. There are a lot of people waiting for a revolution or the Q-Anon signal that will herald the 30 days of darkness and their pseudo-biblical apocalypse. People are waiting on that and there are a lot of people who are very much aware that another January 6 would set off a Republican riot and hurt their case," Adams said. "But there are also people who are totally prepared to believe it was faked or [done by] secret antifa actors. Even now, there are lot of people who post about January 6 being started by antifa but also say it was only doddering old people who got into the building. There are people simultaneously promoting that Ashli Babbitt was a martyr and a federal plant. The cognitive dissonance, as it becomes more sophisticated is dangerous."
He continued: "If there are not consequences and everyone tries to pretend like everything was normal and we continue on, many Americans who need to hear about this will not because many Americans were not there and effectively live in a news desert. In the absence of consequences, I think the current American system will continue on sheer momentum for awhile just because legitimacy is derived from people's collective delusion of legitimacy. But over time, these same bad actors who are complicit or affiliated with January 6 perpetrators are going to be taking the system away piece by piece."
Look to the rise of theocratic legislation, he said, pointing to restrictions on abortion and contraception and and even a recent law passed in Louisiana that requires people to verify their identity in order to watch pornography online.
And wthout consequence for Jan. 6, he is concerned that the Supreme Court will continue to "go off the rails."
"The system that we all take for granted will be dismantled and slip away a little bit a time," he said. "We'll see more militarized police cracking down on all protesters except for violent white supremacists. We'll see more lone wolf terrorist attacks, more attacks on the power grid, Everything can fall apart as the same collection of bad actors grab more and more power for themselves," he said.
it wouldn't surprise him either if on the "bad path" of no accountability, paramilitaries in the U.S. increasingly turned to organized, militant violence to meet their ends. This would likely prompt more left-wing organized militant responses in reaction, he opined. And that could be used to justify harsher security measures.
Without accountability for the egregiousness of Jan. 6, Adams thinks the U.S. will "fall further faster" but he doesn't think the model is something like The Handmaid's Tale.
"I think the model is present day Hungary where we still technically have elections but it will be mathematically impossible for anyone but the Republican party to win," he said.
As bleak as that seems, Adams said he doesn't believe in the concept of "too far gone."
His life experiences, including those with his recently-convicted father, shaped those views.
"This might make my opinions biased but as a personal decision, so I can continue to function in day to day life and not collapse into depression—but also recognizing my childhood programming that the end of the world is always 14 months away—I've made myself disregard any sentence that starts with 'we're too far gone.' And i just refuse to entertain the thought. If I entertain 'its already too late,' or 'we're too far gone,' it's going to dominate my thinking. Even if it is the more likely outcome, I'm just not going to engage with it," he said.
Plus, life can surprise you.
After the raid of Mar-a-Lago, Adams said a "bunch of my god old boy associates in my rural small town" were of the opinion that if Trump did something "criminal and stupid," then he should go to prison.
When Trump is held to account, Adams said, it can and does hurt Trump's power over his base.
On Friday, as the nation marks the second anniversary of the insurrection, President Joe Biden will honor a dozen people with the Presidential Citizens Medal for their "exemplary contributions to our democracy."
It is one of the highest civilian honors that can be bestowed by the White House.
Recipients will include: the late Brian Sicknick, a Capitol Police officer who died 24 hours after the being badly injured during the attack; U.S. Capitol Police officer Harry Dunn, who defended the building valiantly against rioters as he endured racial slurs and other abuse; Capitol Police Sergeant Aquilino Gonell who was so badly beaten he was forced into early retirement; Michael Fanone, the D.C. Metropolitan police officer who was dragged from the Capitol and beaten horrifically on the steps; Daniel Hodges, a D.C. police officer who was crushed by rioters in the tunnel on the Capitol's west side; Jocelyn Benson, the former Michigan Secretary of State who resisted pressure to overturn the election results even as she faced threats from armed rioters who gathered around her home; Russell Bowers, the former Arizona House speaker who rejected attempts to overturn the 2020 election; Al Schmidt, the city commissioner who made sure to keep counting votes in Philadelphia even as Trump allies leaned on him to overturn valid results; and finally, Ruby Freeman and Wandrea ArShaye Moss, a mother and daughter from Georgia who were wrongfully and publicly accused by Trump of election fraud, sparking death threats and large scale intimidation.
In an interview with Daily Kos, Dunn, who has been a vocal proponent of transparency and accountability around the events of January 6, said receiving the award humbled him.
"This award is for me as an American citizen, not as a police officer… It's for everything afterward. I was doing my job that day. But this is for everything that came after and its beyond humbling," he said.
Dunn has faith that the Justice Department will get accountability from the leaders of the insurrection, Trump included. And while much of the nation may have lost patience, Dunn's resolve is unwavering.
'If I was the attorney general, I would have brought charges on Jan. 7. But that's not my job. I take him at his word when he says no one is above the law. I don't have a choice but to wait until it happens. Even if this goes into another administration, or another year or another couple of years, you don't just stop and say, 'Well, that's it,'" Dunn said. "I'm not a quitter and I always believe in standing up for what's right."
Extremism is already here, embedded deeply into our culture and our society, he said. The difficult thing is now identifying who the extremists are and responding accordingly.
"People are allowed to have their opinions, even if they are extreme. But let's not confuse extremism with violence. People can think the earth is flat — that's extreme to me. Or Covid is a hoax. That's extreme for me. They can have those views. However, once you start threatening people and making people feel unsafe, when it reaches that level, it becomes a problem."
But people must be willing to admit there's a problem, he added.
People must get to a point where they can, at the minimum, acknowledge that they have been misled. Indictments for leaders of the insurrection, including Trump, may be one of the most critical ways to garner that acknowledgment and in the process, tamp down extremism.
Adams believes if there is no large scale accountability for the insurrectionists and ringleaders, then what becomes very important is the "local fight."
All votes count when elections can be swayed by a single one and participation on school boards is also important, he said.
Whether fascist and militia demonstrators feel welcome in your community matters hugely, Adams added.
"The number of frustrated tears shed on the right over the counterprotesers at the drag shows in Texas was beautiful. It added years back to my life that the stress and everything else had taken away," he said.
Large crowds of "unarmed but fiesty looking demonstrators" can discourage attacks. Right now, people should host drag shows in their communities and get as many friends to show up as they can, he said.
"Demonstrate [to extremists] that they will not be allowed to influence how society works and who will be out in the open," he said.
Today, Adams worries about extremist groups like Patriot Front.
They are being "badly underestimated," he said.
"There's a market gap, particularly in the white supremacist sphere that is being exploited where the popular image of racist groups—outside of edgy losers hanging out at black metal shows—is that they're all out of shape, washed up alcoholics who play around in the woods," Adams reflected.
The same connotation is often lent to paramilitary and militia people, he said.
"In the case of militias, [that perception] serves as a smokescreen to keep the public from taking the threat seriously and it helps law enforcement to want to emotionally dismiss them, especially if they have sympathetic politics. For white supremacists, [this perception] hurts their cause because teenage skinheads looking for a group to join want a group that is edgy and dangerous. That's where Patriot Front is going: They put, front and center, fit young men who do martial arts and lift weights in all of their recruitment videos. They make themselves look aggressive, militant and scary."
In their training videos, Adams said he notices that firearms are deliberately missing.
"That would garner a higher level of federal law enforcement attention and if they had brought guns to the pride event in Cour d'Alene, that would have been federal charges instead of state level misdemeanor charges, which is what they got off with," he said.
Adams also suspects that members of these groups likely have overlapping memberships with small unofficial or undocumented militias where they do training with firearms.
"This allows them to associate with violent felons without it being an issue because they arent a gun centered group," he said.
"Something a lot of people miss when studying this group and others: they are training for riot control. They' are training to fight left wing and antiracist and social justice protesters in front of cameras for a PR move and to generate fight videos on LiveLeak that will serve as a recruiting tool," he said. "They are training to back up a regime in the event of mass civil unrest. They are training to turn out as the back up sheriff's posse."
The committee's final report is not the end of the story behind the insurrection or its causes.
Rather, it is the end of a chapter in time. The report deserves praise but it also deserves intense scrutiny and criticism where it made glaring omissions.
It did not meaningfully and credibly address the failures of intelligence or law enforcement agencies to prepare for the attack. Though the report heartily acknowledged the role that extremist groups like the Proud Boys and Oath Keepers played in Jan. 6, the final analysis bizarrely suggests that there simply wasn't enough time for officials to make all of the necessary warnings, batten down the Capitol, and prepare police for a protest that the former president had advertised from his bully pulpit for weeks.
At its base, the committee conceded there were warnings of violence littering the public domain before Jan. 6. The FBI even flagged intelligence reports from around the United States about the possible threats and filed them under a single category it dubbed CERTUNREST2
But it wasn't until 24 hours before the attack that the FBI finally began to aggregate all of those warnings and submit them to the officials on the last lines of defense.
U.S. Capitol Police, for example, did not receive a warning from the FBI that Trump supporters had formed an armed "quick reaction force" in nearby Virginia and were ready to "respond to calls for help in the event that protesters believed the police were not doing their job."
And a report from the FBI's Norfolk, Virginia field office was as blatant as could be:
"An online thread discussed specific calls for violence to include stating 'Be ready to fight. Congress needs to hear glass breaking, doors being kicked in, and blood from their BLM and antifa slave soldiers being spilled. Get violent. Stop calling this a march, or rally, or a protest. Go there ready for war. We get our President or we die. NOTHING else will achieve this goal," the bulletin stated. [Emphasis original]
Capitol Police did not receive either of those warnings until after the attack.
Steven Sund, the former chief of Capitol Police who resigned days after the insurrection as calls for him to step down mounted, has laid blame at the feet of the Department of Homeland Security as well as senior officials on the Capitol Police force.
Other officials, like Julie Farnam, the assistant director of the Capitol Police's intelligence unit, have rejected Sund's premise. Farnam, as the final report noted, warned in advance that Congress itself could be a "target" on January 6.
While the committee, as promised, delivered a series of recommendations to accompany its final analysis, many recommendations lacked heft. In response to rising extremism in particular, the committee only generically recommended that there be a forward-march on "whole-of-government strategies to combat the threat of violent activity posed by all extremist groups."
This bureaucratic word salad has been uttered in some variation at congressional hearings on domestic extremism for the last six years, at least.
One of the committee's foremost recommendations, fortunately—reform of the Electoral Count Act—was meted out when an omnibus spending package was passed in December. The legislation made the long-ambiguous law more clear: the powers a vice president has during the certification ceremony are ministerial only. It was ambiguity around the original law from 1887 that Trump exploited. The reformed law also raises the bar for objections to the count.
Before the committee published its final report in December, there was widespread reporting citing anonymous sources that the panel's vicechair, Liz Cheney, wanted to keep the thrust of the final report's attention focused on Trump while keeping criticism against law enforcement failures to a minimum.
Trump's role was outsized in the attack and the focus on him was more than warranted, one of her aides said in a statement after those media reports first surfaced last year.
In two years, Cheney's commitment to the Jan. 6 probe torpedoed her leadership role in the Republican conference and she lost her reelection bid to a Trump-backed candidate during the midterms. Since that defeat, she's formed a PAC dubbed The Great Task. That PAC may furnish a run for the White House in 2024 though Cheney hasn't been explicit about her plans of late.
"I believe that Donald Trump continues to pose a very grave threat and risk to our republic. And I think that defeating him is going to require a broad and united front of Republicans, Democrats and independents, and that's what I intend to be a part of," Cheney said in August during an appearance on NBC's Today show.
A group of investigative analysts who worked for the committee, Dean Jackson, Megan Conroy and Alex Newhouse, released an essay in conjunction with Just Security on Thursday about the role social media played in enabling the attack. Since much of the panel's final report focused on Trump's "legal chicanery and outright violence" specifically, the analysts wrote, much additional context was left on the cutting room floor.
"While Trump played an instrumental role in driving the attack, right-wing networks—comprised of everyone from mainstream talking heads to extremist armed groups—drove the mass spread of conspiracy theories and far-right content on social media. That spread could not have occurred without corporate policies of social media platforms and other enterprises that allowed dangerous rhetoric to proliferate online and ultimately contribute to violence in the real world," Jackson, Conroy and Newhouse wrote.
There's no quick legislative fix that will divorce social media from rising extremism, they said.
"Instead we must pursue a host of pro-democracy and counter-extremism reforms both on and offline. As a starting point, a recent paper by Rachel Kleinfeld offers "Five Strategies to Support US Democracy" that government, civil society, and politicians can take to reduce demand for anti-democratic action, reinforce democratic norms and institutions, and rebuild public trust."
Reprinted with permission from Daily Kos