On TV, George Conway Calls Out Trump's 'Delusional' Claims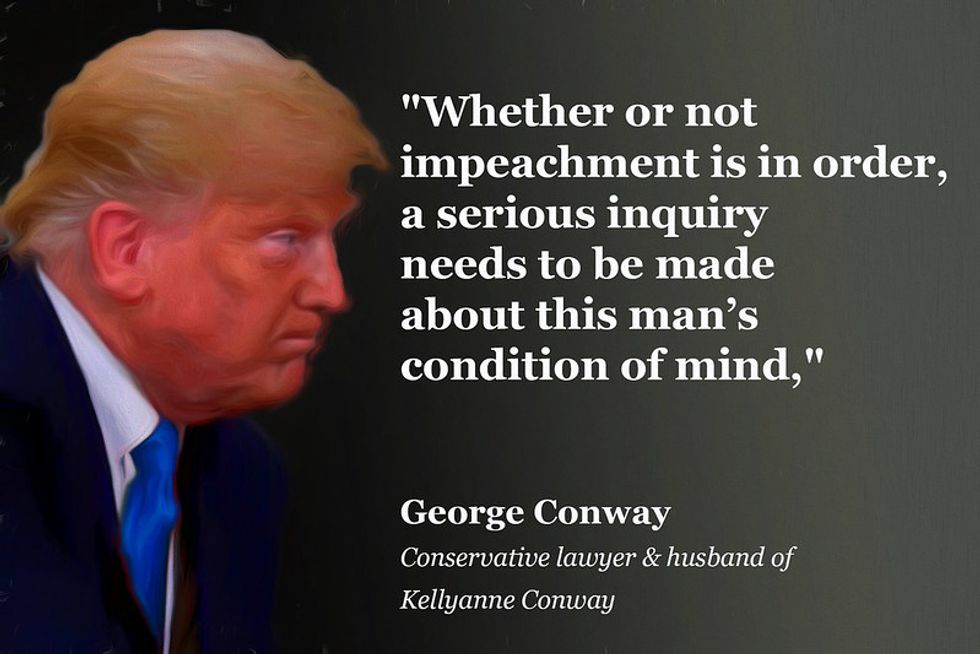 Reprinted with permission from Alternet
George Conway argued Wednesday on MSNBC's "Deadline: White House" that President Donald Trump himself is undercutting his allies' ability to defend him in the impeachment inquiry.
A conservative lawyer and husband to White House counselor Kellyanne Conway, he said Trump's claims that his call with Ukraine President Volodymyr Zelensky — which helped launch the impeachment inquiry — was perfect are "delusional" and "debilitating."
"It's delusional to say that the whistleblower was wrong in any significant respect," he continued. "It's delusional to say that the [intelligence community inspector general] said anything that was incorrect or acted anything but responsibly. And because it's so delusional, the Republicans can't wage any coherent defense."
He said the best political defense Republicans could put forward would be to say that while Trump's conduct was bad, it doesn't warrant impeachment.
"But he won't let them do that," Conway said. "He won't let anybody wage a coherent defense on his behalf. Sometimes when you're defending people, you have to admit there was something that was not quite right. And that preserves some credibility. The Republicans are just shooting away their credibility — they have none now!"
Watch the clip below:
"What we just heard the president say is delusional, and it's debilitating. It's delusional to say the call was perfect… Because it's so delusional, the Republicans can't wage any coherent defense." – @gtconway3d w/ @NicolleDWallace pic.twitter.com/laLDP82VWh

— Deadline White House (@DeadlineWH) November 13, 2019