Only Black GOP Senator Slaps Conservatives Over Racist Nominee
@FAWFULFAN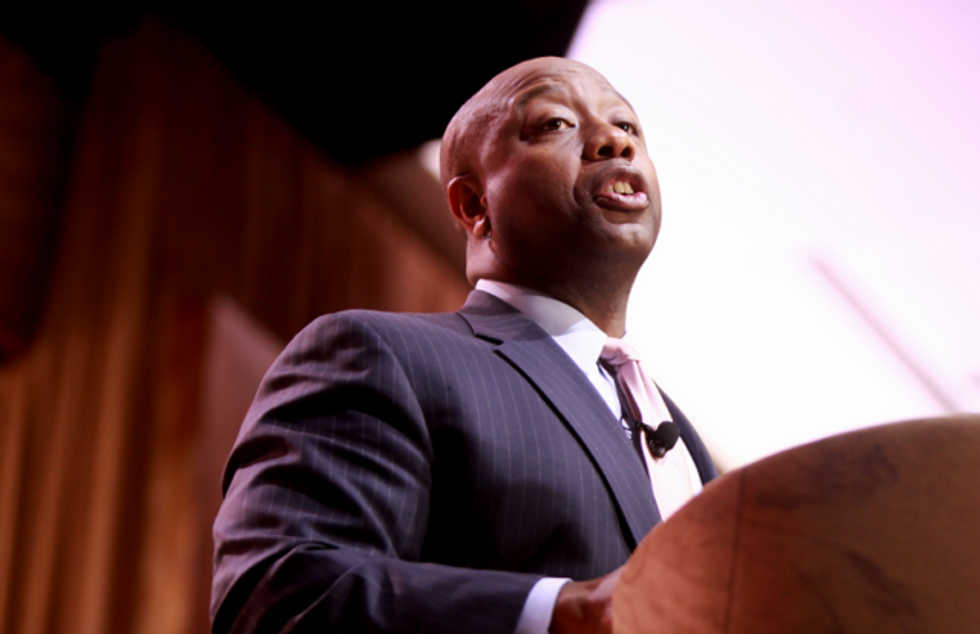 Reprinted with permission from AlterNet.
Last year, one of President Donald Trump's most controversial judicial nominees, North Carolina attorney Thomas Farr, was unexpectedly blocked by one of the president's usually loyal allies: Sen. Tim Scott (R-SC), the Senate's only African-American Republican.
For that, Scott has been heavily criticized by his right-wing colleagues, including in a letter signed by 31 conservative officials and activists. "Joining with those who taunt every political opponent a 'racist' as a partisan political tactic to destroy their reputations is not helpful to the cause of reconciliation," read the letter, urging him not to join in with the "unprincipled left-wing activists who hate Tom."
Scott, however, is not backing down. And in a message to McClatchy after taking a second meeting with Farr on Capitol Hill, Scott maintained that he has no regrets about rejecting him — and scorched his critics for insinuating that he didn't think critically about the issue.
"For some reason the authors of this letter choose to ignore … facts, and instead implicate that I have been co-opted by the left and am incapable of my own decision making," said Scott.
"Why they have chosen to expend so much energy on this particular nomination I do not know, but what I do know is they have not spent anywhere near as much time on true racial reconciliation efforts, decrying comments by those like Steve King, or working to move our party together towards a stronger, more unified future," he added, referring to the Iowa GOP congressman who recently came under fire for suggesting there wasn't anything offensive about white supremacy.
Scott has criticized his party on racial issues before, but his words now are more cutting than ever. He is effectively saying that his party cares more about getting a racist judge nominated than they do about actually confronting the racism in their midst.
Farr, a North Carolina attorney, has been exceptionally hostile to black voting rights throughout his career. He has repeatedly defended the GOP's voter suppression and racial gerrymandering schemes in federal court. The worst blemish on his record, and the reason Scott cites for opposing him, is his involvement in the 1990 re-election campaign of the notoriously racist Sen. Jesse Helms, during which the campaign sent intimidating postcards to black North Carolinians suggesting they could be arrested for voting. Farr denied knowledge of that tactic under oath to the Senate Judiciary Committee, but evidence suggests he did indeed know it was going on at the time. All of this was exceptionally problematic given that the judgeship for which Trump nominated him, the Eastern District of North Carolina, has roughly a quarter black population, and that Senate Republicans twice blocked former President Barack Obama from naming a woman of color to this seat.
Farr's nomination officially lapsed at the end of last year, but Trump could theoretically nominate him again, and if he does, it is unclear Scott would be able to block him this time. Another Republican senator who joined with him to block the nomination, Sen. Jeff Flake (R-AZ), is no longer in office, and Republicans now hold a net two more seats in the Senate than they did last year. Other Republican senators say they are open to the idea, but no one seems to have decided yet.