Oscar Producers Suit Up For The Big Game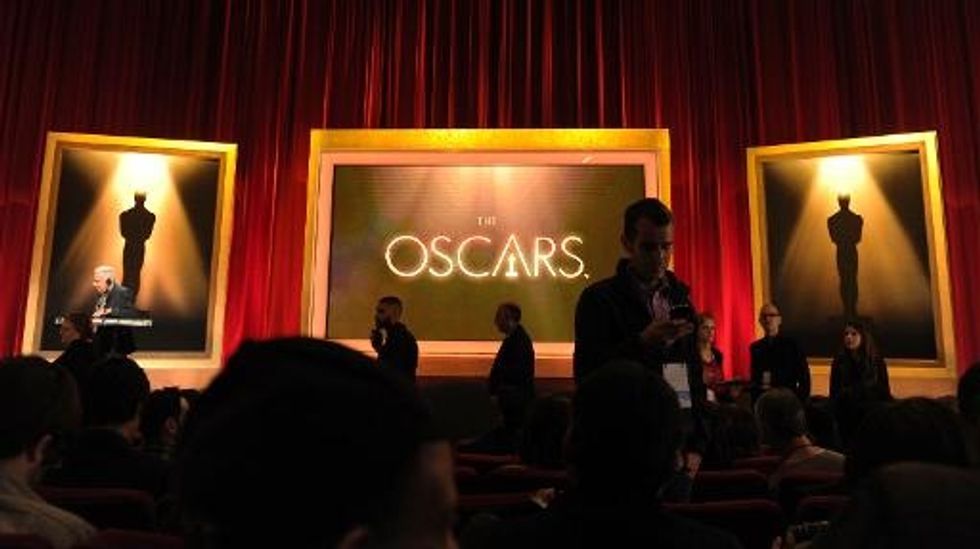 By Rebecca Keegan, Los Angeles Times
LOS ANGELES — For some it's the Super Bowl, for others Olympic ice hockey — but for many, Oscar producer Neil Meron believes, the season's big game takes place in black-tie.
"The Oscars is a sport," Meron said in an interview Thursday from a small office backstage at Hollywood's Dolby Theatre, where a skeleton crew had assembled to start preparing for the Academy Awards on March 2. "There's the excitement of watching something live, as it happens."
Meron and his partner, Craig Zadan, are returning to produce the Oscars for a second year, this time bringing on Ellen DeGeneres as host for a second time and focusing the show on the theme of movie heroes, from Atticus Finch to Batman. DeGeneres' affable style is a stark contrast to last year's host, Seth MacFarlane, enlisted for his barbed, off-color humor and fan base among younger viewers.
"We want to have something for everybody in the audience to identify with," Meron said of this year's show. "We want to provide the broadest possible entertainment we possibly can."
The duo are counting on DeGeneres' wide appeal and a demographically generous smattering of performers to help lure a TV audience from all quadrants. Second only to the Super Bowl among live TV events, last year's Oscars, which 40.3 million viewers tuned into on ABC, were the highest rated since 2010, and ratings were up 11 percent among those ages 18 to 49.
"The tone is Ellen," Meron said. "Ellen is a brilliant comedian, she is warm, she takes jabs but in a very supportive sort of way. This show will be reflective of how Ellen is."
DeGeneres, who emceed the Oscars once before in 2007, will be responsible not only for setting the show's mood, Meron said, but also for the delicate task of balancing the home audience's attention spans and the Dolby audience's egos.
"Never neglecting the audience in the theater, you want to put on a good show for the people at home," Meron said. "The people in the Dolby are nervous, and as the evening goes on there are more and more losers, and you want to give them a good time and keep things well paced. But you also have to hand out 24 awards."
Not since Gil Cates — who produced the telecast a record 14 times between 1980 and 2008 — has a producing team returned to the Oscars.
According to Meron, the academy would like to return to stability in the Oscar telecast.
"(The academy) felt one of the things the Oscars have been missing has been some sort of continuity," Meron said. "Every year they hire new producers it's a learning curve all over again."
Meron said he and Zadan looked at last year's telecast and thought about what they should tweak. But they stand by what was perhaps the show's most controversial facet, MacFarlane.
Though ratings for last year's Oscars were up a dramatic 19 percent over 2012, MacFarlane's ribald humor, including a song called "We Saw Your Boobs," drew mixed reviews from critics, some of whom found it edgy while others saw it as vulgar.
"We love Seth," Meron said. "It's a very tough job to host a show and a very tough job to produce a show and you're in a no-win position. We can walk away happy, happy that we chose Seth, happy with the show. … Going into the job before we even took it last year we asked ourselves if we were prepared to be attacked. And we said, 'Yeah, sure.'"
Meron and Zadan have produced the movie musicals "Chicago" (the 2002 best picture winner) and "Hairspray" and the NBC telecast of "The Sound of Music Live!," which attracted an impressive 18.6 million viewers. They will next turn to a film adaptation of the 1970s' pop musical, "Pippin."
Their musical-producing DNA surfaced in last year's show theme — movie musicals — and will get considerable air time this year with live performances of all four nominated original songs, with Pharrell Williams performing "Happy" from "Despicable Me 2," Idina Menzel singing "Let It Go" from "Frozen," Karen O performing "The Moon Song" from "Her" and U2 playing "Ordinary Love" from "Mandela: Long Walk to Freedom."
It's the producers' prerogative whether to include performances of the original songs in the telecast, and Meron said he and Zadan considered this year's lineup a no-brainer, both in terms of talent and scope.
"Each song kind of hits a different tone for the audience," Meron said. "It's something for everyone."
"Alone Yet Not Alone," the original song that had its nomination revoked by the academy, will not be addressed in the telecast, Meron said.
"We get handed the nominees and then we do what we do with them," he said. "The show deals with the nominees."
Bette Midler will also perform for the first time at the Oscars — Meron declined to reveal the song she'll sing, but given the show's theme of movie heroes, "Wind Beneath My Wings" seems like a reasonable bet.
Reflecting on favorite moments from Oscars past, Meron cited ones over which producers largely had no control — Louise Fletcher accepting her Oscar for "One Flew Over the Cuckoo's Nest" by thanking her deaf parents in sign language and the streaker who ran across the stage of the Dorothy Chandler Pavilion in 1974.
"And last year we had Jennifer Lawrence tripping up the steps," Meron said with a sigh. "You can't plan on that."
AFP Photo/Robyn Beck