#EndorseThis: The Other Colbert Returns To Defend Trump Budget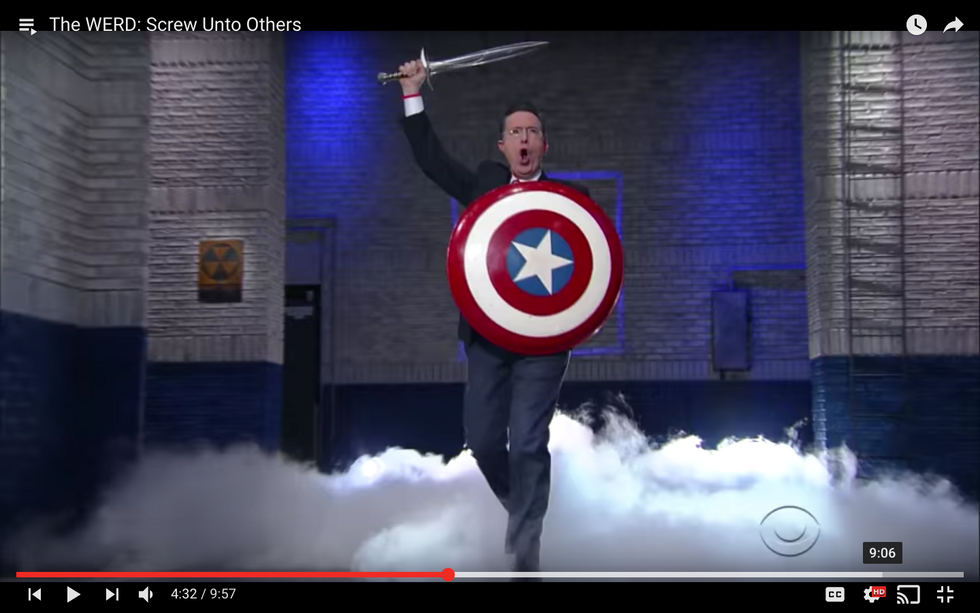 How cruel and twisted is that Trump budget proposal? So cruel and twisted that Stephen Colbert — not the current Late Show host, but his retired right-wing alter ego — has returned to endorse it on television. The old Colbert elbowed the new one off the stage, sweeping in gloriously with a sword and Captain America shield.
Yes, that Colbert understands why Steve Bannon might want to eliminate funding to clear the Great Lakes of sea lampreys, those blood-sucking, ocean-going horrors that have clearly served as an inspiration to him. And that Colbert can explain why cutting Meals on Wheels funding for services to elderly, shut-in seniors is actually "the most compassionate thing we can do," as Trump budget director Mick Mulvaney insisted.
Why feed poor, hungry children in school, if you can't show that the food is improving their reading scores yet? And why waste money on "food-addicted seniors" who aren't fighting the Islamic State, when the government could spend those funds on still more weapons systems?
You get the idea.