Our Joe Conason Talks Shutdown On MSNBC's <i>Politics Nation</i>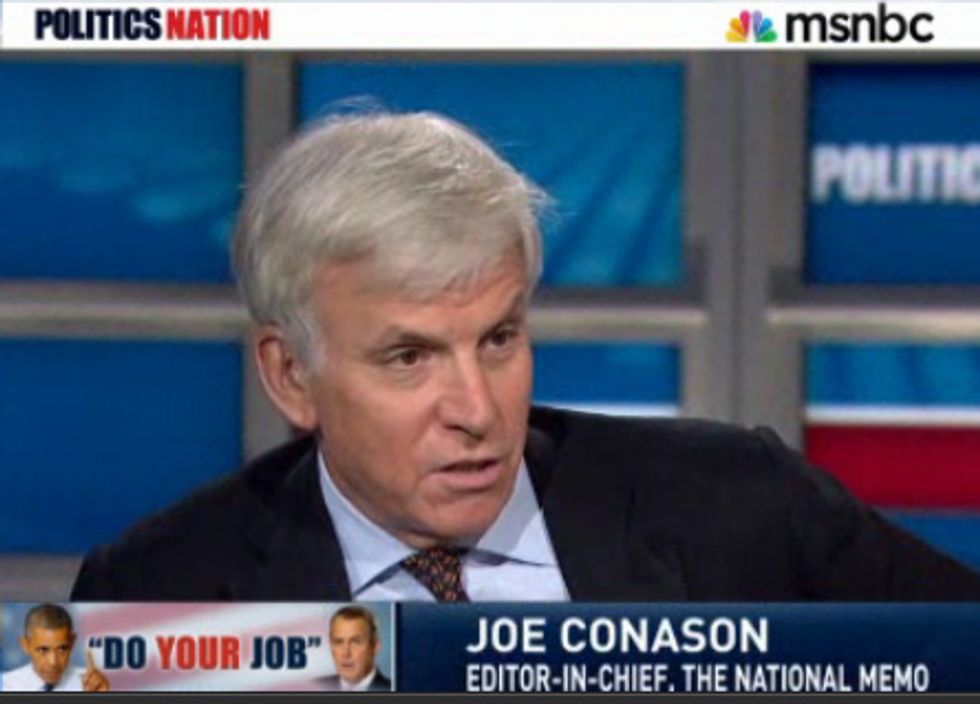 Joe Conason, Editor-in-Chief of The National Memo, appeared on MSNBC's Politics Nation to discuss the current situation in Congress with Rev. Al Sharpton. Conason spoke about the need for Democrats and the president to make it clear to the American people about who is responsible for the consequences of the impending government shutdown and debt default, and how this fight is not only political to Republicans, but personal.
"They've ginned up an image of the president as a demonic figure among their base. There are people in the Tea Party base who believe all kinds of crazy stuff about President Obama and it does become personal that way," he said. "And after a while the president has to take the hint and say 'Yes, they're trying to mess with me,' which he said today, and I think that was right."
Conason also reminded Republicans about the serious repercussions of letting (unwarranted) personal animus influence decisions about the nation's financial security. "What they're doing is not about policy, it's not about what's good for the country, because they know what happened the last time," he warned. "All they have to do is look at…what happened to employment and growth the last time they played this game. If they looked at that, they'd know they must not do this."
Watch the discussion below, courtesy of MSNBC.
Visit NBCNews.com for breaking news, world news, and news about the economy