Oz Bashes Migrants, But Family Firm Paid Huge Fine For Hiring Undocumented
@TUSK81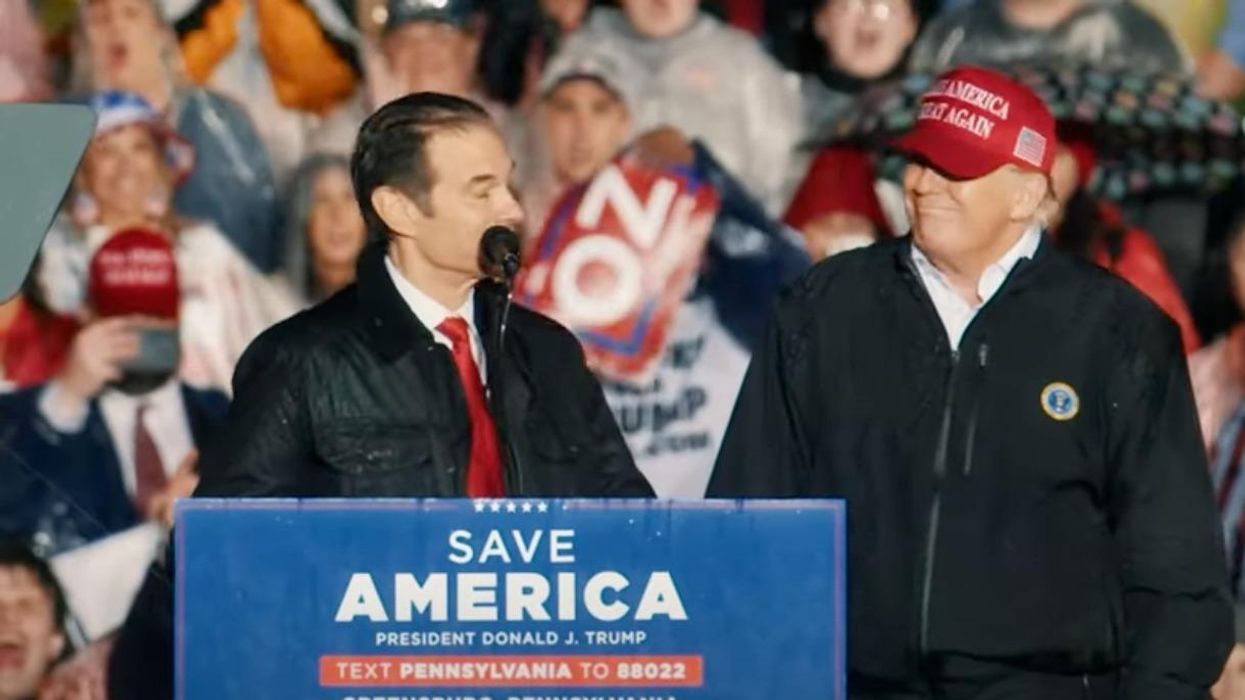 Youtube Screenshot
Publicly, longtime New Jersey resident and Pennsylvania U.S. Senate nominee Mehmet Oz is running an anti-immigrant campaign, tweeting that should he win his seat, he "will fight to end illegal immigration and soft-on-crime policies that release dangerous, undocumented criminals into sanctuary cities." Lies: "many studies have found that crime actually decreases in cities with large immigrant populations," National Immigrant Justice Center said in 2020.
But behind the scenes, the huckster is yet another anti-immigrant Republican millionaire who actually profits off the labor of undocumented workers. Insider reports that Oz is a shareholder in his family-owned tree-pruning business that has exploited undocumented labor. In fact, the fine levied against Asplundh Tree Experts Co. was touted by Immigration and Customs Enforcement (ICE) as the largest ever.
"The company, the former CEO of which has donated $12,000 to Oz's Senate campaign, was sentenced to pay forfeiture in the amount of $80 million and an additional $15 million 'to satisfy civil claims arising out of their failure to comply with immigration law,' an amount that represented the largest payment ever levied in an immigration case, according to the press release," Insider reported.
ICE said in 2017 that "Asplundh management remained willfully blind while lower level managers hired and rehired employees they knew to be ineligible to work in the United States," noting hiring "was by word of mouth referrals rather than through any systematic application process." The statement does not say how many undocumented workers were exploited by the company. "Oz's campaign didn't respond to a request for comment from Insider," the report said.
"We've seen this movie before," commented Frank Sharry, executive director of immigrant rights advocacy group America's Voice. "A rich blowhard from New Jersey who profits off the work of undocumented immigrants finds it politically profitable to bash them at the same time."
Sharry is referring to the insurrectionist former president, who has exploited undocumented labor going back all the way to the construction of Trump Tower in 1980, when hundreds of Polish workers cleared the site for building. Nicknamed the "Polish Brigade," these workers toiled in dangerous conditions, "without gloves, hard hats or masks," for as little as $4 an hour throughout 12-hour days, The New York Timesreported in 2017. Documents reveal the racist "quietly" settled with the workers for more than $1 million.
This exploitation continued on into his presidential run, when Victorina Morales bravely stepped forward to share her story, as an undocumented worker at his New Jersey golf course. "We are tired of the abuse, the insults, the way he talks about us when he knows that we are here helping him make money," she told The New York Times in 2018. "We sweat it out to attend to his every need and have to put up with his humiliation." The Washington Postat one point described a "pipeline" of undocumented workers to Bedminster. His Virginia winery has also exploited undocumented workers.
But we know that Republicans are hypocrites. We know their voters look the other way at this exploitation while pointing the finger at Democrats for what they perceive to be immigration "problems." But the problem isn't immigration, because immigration is vital to our nation. The problem it that most undocumented immigrants don't have a way to live their lives here permanently and securely, which works only to the benefit of con men like Mehmet Oz and his insurrectionist president.
"The American economy is reliant on immigrant labor—both undocumented and documented," Sharry continued. "Yet the relentless Republican effort to shrink channels for legal immigration and block needed immigration reforms needlessly dampens our country's economic potential. It tells immigrants who are Americans in all but paperwork that they don't belong in the nation they keep fed and safe."
Reprinted with permission from Daily Kos.