Panel At LBJ Library Discusses Civil Rights Act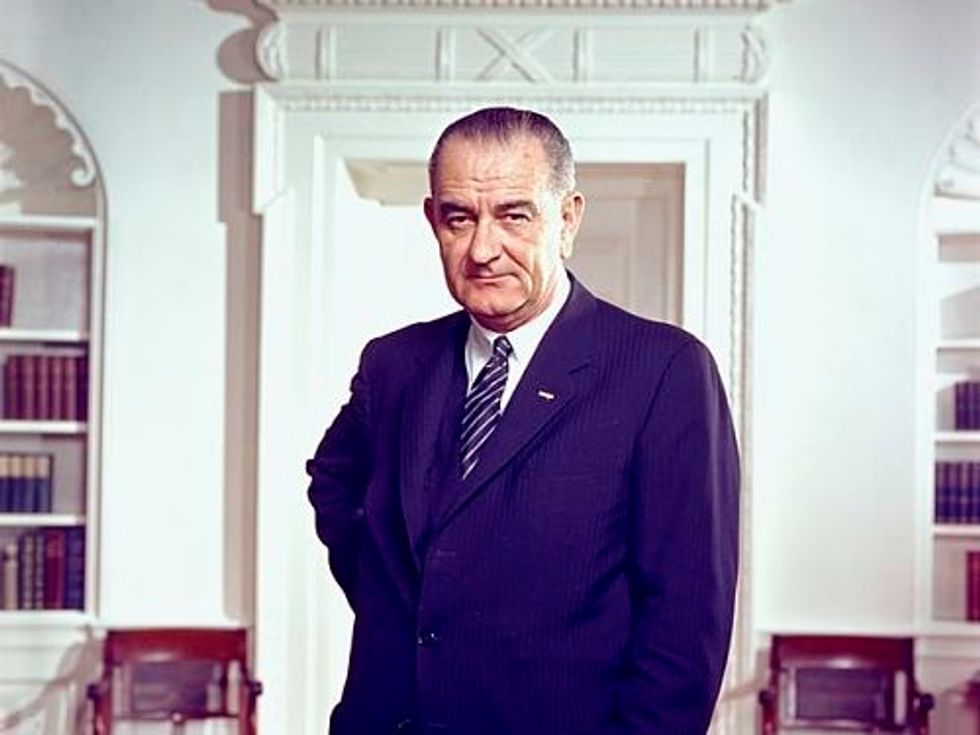 By Patrick Beach, Austin American-Statesman
AUSTIN, Texas — Day two of a three-day summit at the LBJ Presidential Library to commemorate the anniversary of Lyndon B. Johnson's 1964 Civil Rights Act brought more spirited discussions and a gathering of political and intellectual firepower Wednesday, capped by a keynote address from former President Bill Clinton, as polarizing a figure in his era as was Johnson three decades before.
Panels focused on sports and race, the civil rights movement, and the complicated relationship between Johnson and Martin Luther King Jr. The summit wraps up Thursday with a keynote by President Barack Obama and a pre-dinner speech by former President George W. Bush.
On Wednesday, Johnson's former special assistant, Joseph Califano Jr., bluntly unpacked the fundamental problem that has frustrated those hoping for an America that progresses more rapidly toward its promise of equality for all: prejudice.
The question — put to Califano, historians Taylor Branch and Doris Kearns-Goodwin and former United Nations ambassador and Atlanta Mayor Andrew Young — was whether Obama has a harder time advancing his agenda than Johnson did.
"Obama, I think a lot of the problems he has is because he's black," Califano said to applause.
The discussion highlighted Johnson's efforts on civil rights and voting rights. Organizers are hoping the conference will refocus those successes when historians assess Johnson's legacy, which for decades has been weighed down by the Vietnam War. Johnson agonized over that legacy after he left office, and he likely would have been pleased with the praise — qualified as ever — he's receiving at the Civil Rights Summit.
Moderator Todd Purdum, author of "An Idea Whose Time Has Come," about the passage of the landmark legislation that paved the way for Johnson's Great Society reforms, got things going by asking about the relationship between Johnson and King, "colossal and complicated" figures. Young, a friend and supporter of King's, said the relationship was "very warm and personal," even after King had become more vocal in his opposition to the war.

"Dr. King saw himself as having to keep the pressure on," said Young, who later added that even days before Johnson decided not to seek a second term, "I heard them talking like brothers, like a pastor and a member."
Once again, the great debate was over whether the breakthrough legislation was rooted in Johnson's political opportunism or a sincere belief in the sentiment expressed in the title of Purdum's book. Branch said Johnson was nothing if not pragmatic. But he said the tapes of Johnson's White House recordings prove the president honestly wanted to do something for minorities and the poor, and if those tapes didn't exist, "people would be pursuing a consensus that Johnson's heart wasn't in these things." He also speculated that Johnson's racial views might have been formed when he taught poor Mexican-American children in South Texas as a young man.
Kearns-Goodwin, who worked for Johnson late in his presidency, was adamant that Johnson "was prouder of civil rights than anything he'd ever done."
Young said closer ties between Johnson and King were thwarted by a pair of insurmountable forces: FBI head J. Edgar Hoover and what he called "the Harvard mafia," an apparent reference to the Kennedys and others from the Ivy League school they brought into government circles.
"I still don't know what Hoover's motivation was," Young said. "He had a sick envy, a hatred of Martin Luther King."
As Johnson predicted, passage of the civil rights package turned politics upside-down virtually overnight, but Young sounded hopeful that progress, incremental as ever, has been and is being made.
"We haven't lost the South," he said, noting that there have been several Southern presidents, including two Democrats, since Johnson. "And the South is going to rise again."
"President Johnson saw that when you sign the law, it's not the end," Califano said. "It's the beginning."
Photo via Wikimedia Commons