Judge Puts Screaming 'Sovereign' Jan. 6 Defendant Behind Bars
@alexvhenderson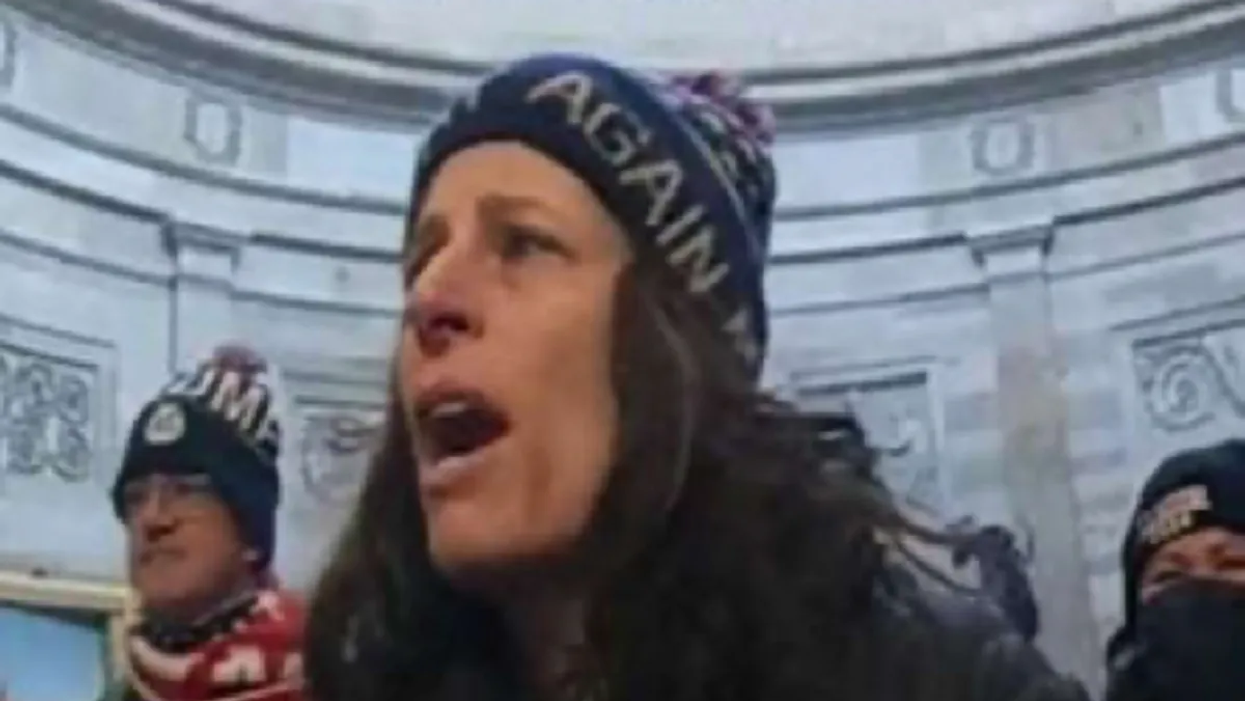 Screenshot from justice.gov
Reprinted with permission from Alternet
Pennsylvania resident and pizzeria owner Pauline Bauer, one of the many far-right Donald Trump supporters facing charges in connection with the January 6 insurrection, has been resorting to over-the-top antics ever since her arrest. And this week, journalist Scott MacFarlane reports in a Twitter thread, a judge became fed up with Bauer and "ordered U.S. Marshals" to take her "into custody."
Bauer, who was arrested by the FBI in rural Kane, Pennsylvania on May 19, is facing charges that include violent entry, disruptive conduct and obstruction of Congress. Prosecutors, journalist Kelly Weill reported in the Daily Beast on July 11, allege that when Bauer broke into the U.S. Capitol Building on January 6, she threatened violence against House Speaker Nancy Pelosi and said, "Bring Nancy Pelosi out here now…. We want to hang that fucking bitch."
Nonetheless, Bauer has stayed out of jail — until now. This week, MacFarlane reports, Bauer was "screaming" when the frustrated judge ordered that she be taken into custody. The judge said, "The problem is she's not going to do what I direct her to do…. Ms. Bauer is now going to be incarcerated."
In the courtroom, MacFarlane notes, Bauer refused to surrender her U.S. passport while awaiting trial. The pizzeria owner told the judge, "I have (a) right to my self-determination" and insisted that she was not subject to the court's supervision.
!! ALERT - Judge has ordered US Marshals to take Pauline Bauer into custody. \n\nBauer is screaming as this happens... \n\n She's going to jail

— Scott MacFarlane (@Scott MacFarlane) 1631891054
According to MacFarlane, Bauer told the judge, "(The) FBI has been watching me ever since Day One.... They know where I'm at 24 hours a day.... I'm not a danger to society.... I am an asset to my community."
Bauer, MacFarlane explained, will be jailed in Washington, D.C. And because she will be behind bars, she will not be unable to attend the "Justice for January 6" demonstration that is scheduled to take place in D.C. this weekend. Organizers of the demonstration are claiming that the January 6 insurrectionists did nothing wrong when they stormed the U.S. Capitol Building in a failed attempt to prevent Congress from certifying now-President Joe Biden's victory over Trump in the 2020 election.
Bauer has insisted on representing herself in court and refused to work with an attorney. During a June 11 proceeding held online via Zoom, she told the court, "I do not stand under the law. Under Genesis 1, God gave man dominion over the law."
McFarlane said that Bauer had previously claimed to be a "sovereign citizen," part of an ideological movement of people who believe they are not subject to U.S. laws. But on Friday, he reported, she claimed to have never said she was a sovereign citizen.