Pelosi: Trump Could Be Impeached For 'Obstructing Justice' And 'Cover-Up'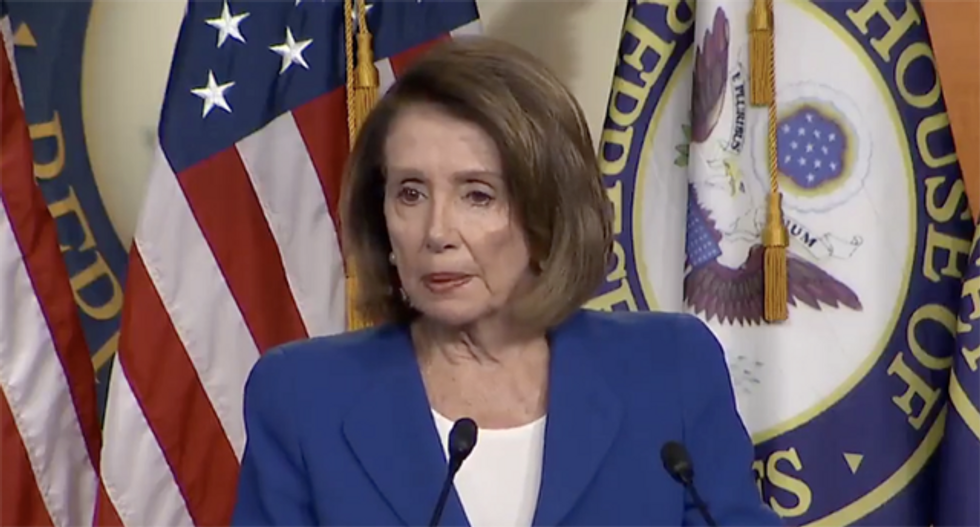 At an event hosted by the Center for American Progress on Wednesday, Pelosi said that Tump is "obstructing justice and is engaged in a cover-up, and that could be an impeachable offense."
Refusing to comply with congressional subpoenas, as Trump has ordered his administration to do, was one of the articles of impeachment of President Nixon, Pelosi noted.
"So it's not just the substance that we're after, that we want to have to give the truth to the American people," she continued, "but in striving to get that, the intervention, the obstruction that the administration is engaged in is, as they say, the cover-up is frequently worse than the crime."
Pelosi's comments echo a growing number of Democratic lawmakers who say that Trump's attempts to stonewall congressional investigations are leaving them no choice but to launch an impeachment inquiry in order to get the information they are seeking and perform their constitutional duty of oversight of the executive branch.
So far, at least 34 members of the House and Senate have called for an impeachment inquiry to begin. And five of those lawmakers have gone as far as saying Trump should be impeached.
Pelosi's "cover-up" comments and Democrats' calls for an impeachment inquiry have gotten under Trump's skin.
Earlier on Wednesday, Trump held an impromptu news conference in the White House Rose Garden in which he threw a temper tantrum and vowed not to work with Democrats on legislation to help the American people unless they stop investigating him.
Prior to his outburst, Trump reportedly stormed out of a planned meeting with Democratic leaders — who had traveled to the White House to discuss infrastructure — claiming the Democratic-led oversight investigations were unfair to him.
His complaints are not likely to stop those investigations, but as Pelosi and other Democrats have suggested, his refusal to cooperate only increases the likelihood that impeachment proceedings will begin.
Published with permission of The American Independent.