Pentagon Seething As White House Defends Attempt To Hide USS McCain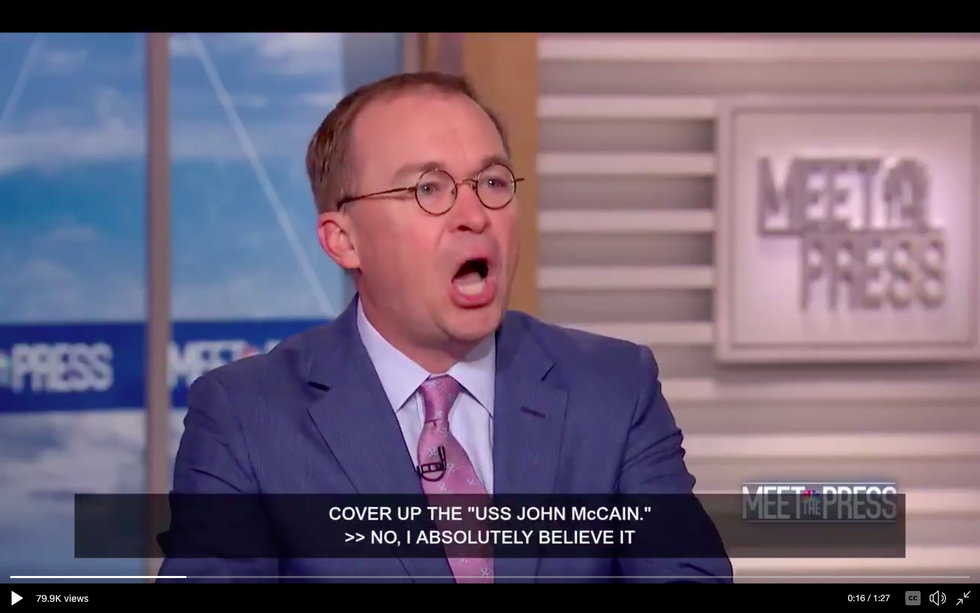 Reprinted with permission from Alternet.
Office of Management and Budget Director Mick Mulvaney on Sunday defended an effort by White House staff to ask the Navy to move the USS John S. McCain out of sight during President Donald Trump's recent visit to Japan.
The move comes after chief of Navy information Rear Adm. Charlie Brown last week confirmed "a request was made to the U.S. Navy to minimize the visibility of USS John S. McCain."
Speaking on NBC's Meet the Press, Mulvaney argued it's "not an unreasonable thing" to ask about hiding the ship given "the president's feelings towards the former senator."
"The fact some 23- or 24-year-old person went to that site and said, 'Oh my goodness, there's the John McCain, we all know how the president feels about the former senator, that's not the best backdrop, can somebody look into moving it?'" Mulvaney told host Chuck Todd. "That's not an unreasonable thing to ask."
WATCH: Acting White House Chief of Staff Mick Mulvaney tells Chuck Todd that moving a Navy ship out of sight from the president was "not an unreasonable thing to do." #MTP#IfItsSunday

Mulvaney: "The president's feelings towards the former senator are well known." pic.twitter.com/kohFeQflaU

— Meet the Press (@MeetThePress) June 2, 2019
The White House official also said it would be "silly" for someone to lose their job over the incident.
Mulvaney's attempt to downplay the controversy comes as the Pentagon told the White House to stop politicizing the military. As Time reports, Acting Secretary of Defense Patrick Shanahan asked his chief of staff to speak with the White House military office "and reaffirm his mandate that the department of defense will not be politicized," spokesman Lt. Col. Joseph Buccino said.
The acting defense secretary said that his senior staff members were unaware of White House officials' request to obscure McCain's name during the president's visit, but told reporters he does not plan on ordering a Pentagon inspector general's investigation "because there was nothing carried out."
For his part, Trump called the request "well meaning."
IMAGE: Acting White House chief of staff Mick Mulvaney on NBC's Meet the Press, Sunday, June 2, 2019 via screenshot.