PETA Drops Vegan Eatery Proposal For Dahmer Home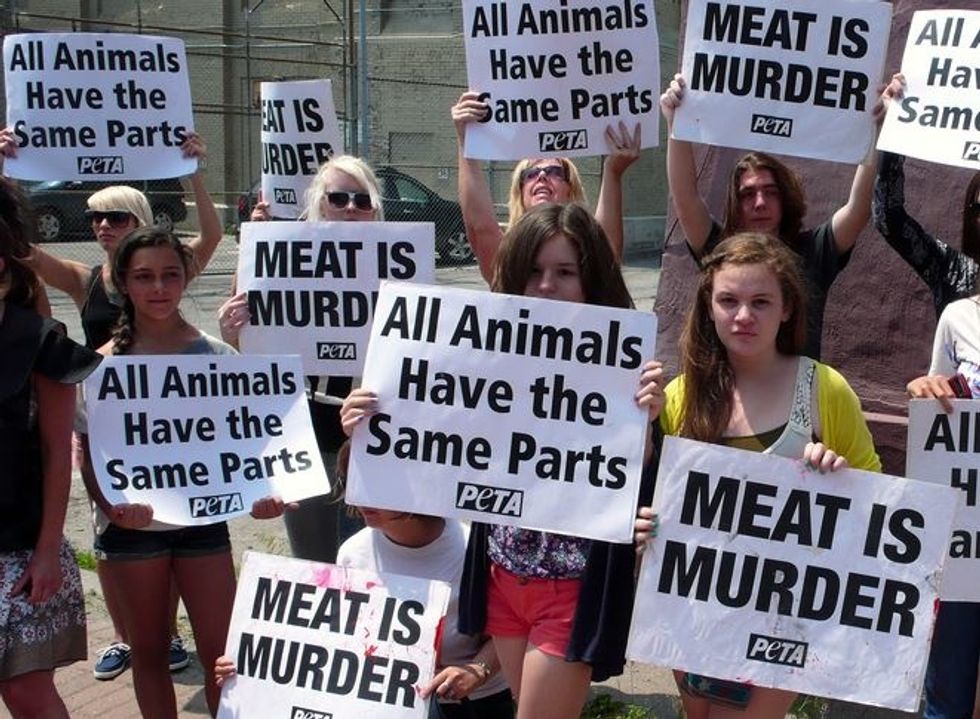 By Katie Byard, Akron Beacon Journal
AKRON, Ohio — National animal welfare group PETA is abandoning its idea to turn serial killer Jeffrey Dahmer's childhood home in Bath Township, Ohio, into a vegan restaurant.
"We regret that we won't be able to move forward with this project, even though it was met with some enthusiasm as well as some derisive comments," said Moira Colley, media officer with People for the Ethical Treatment of Animals, in an email Tuesday.
Last week, the organization proposed that the home be turned into a vegan restaurant called Eat For Life: Home Cooking. Ingrid E. Newkirk, PETA's president, sent a letter dated Friday to the real estate agent who has listed the Bath Township house for sale.
In the letter, she asked about the listing and proposed making the house a vegan restaurant "to respond to the past with something positive."
The real estate agent, Richard Lubinski of Stouffer Realty, said Tuesday that he was not surprised that PETA dropped the proposal.
"I had to take it seriously," he said, out of "fiduciary duty to my client." But he said, "with PETA's history of these stunts … it doesn't take a rocket scientist to put two-and-two together" to determine the suggestion was a publicity stunt.
Lubinski noted that in 2012, PETA said it wanted to turn the Florida home of O.J. Simpson into a "Meat is Murder Museum." The home was in foreclosure, and PETA asked the bank if it would donate or sell the home to the group. Simpson was acquitted in 1995 on murder charges in the killing of his ex-wife and her friend.
This was not even the first time that PETA, headquartered in Norfolk, Va., had invoked Dahmer's notoriety in its animal-rights advocacy. In 1991, the organization received a lot of publicity when it created a newspaper advertisement comparing meatpacking operations to Dahmer's mutilation killings.
The ad ran in apparently just one paper, the Des Moines Register, according to 1991 media reports. But USA Today noted in a story that same year that PETA had tracked coverage resulting from the ad and it had generated coverage about the group from 62 media outlets in 21 states.
In the 1991 USA Today article about PETA's shock-value tactics, Newkirk said, "Probably everything we do is a publicity stunt. … We're not here to shock and horrify, but sometimes you have to grab people's attention."
Concerning the Dahmer home, PETA media officer Colley said in her email Tuesday that "Although some people thought the home's out-of-the-way location was a deal breaker, that was not our opinion. … However, getting zoning for a restaurant on this site is apparently impossible, in part because of issues with the plumbing and waste systems."
Bill Funk, the township's zoning inspector and administrator, told the Akron Beacon Journal on Friday that it's unlikely Bath Township would change the zoning to allow a business such as a restaurant in a residential neighborhood.
The three-bedroom house at 4480 W. Bath Road is zoned for single-family residential use. Dahmer killed the first of his 17 victims there. In 1978, he killed and dismembered Coventry Township resident Steven M. Hicks in the house and scattered his remains on the 1.5-acre property.
The home has been on and off the market since 2012. The current owner, musician Chris Butler, has said he bought the house in 2005 to have a place to stay when he visited Akron, but he no longer has reason to spend much time in the area. The home is listed for $295,000.
Photo: ecoSANITY.org via Flickr