Peter Navarro Excoriates Top Trump Aides In Grievance-Laden Memoir
@next2godwin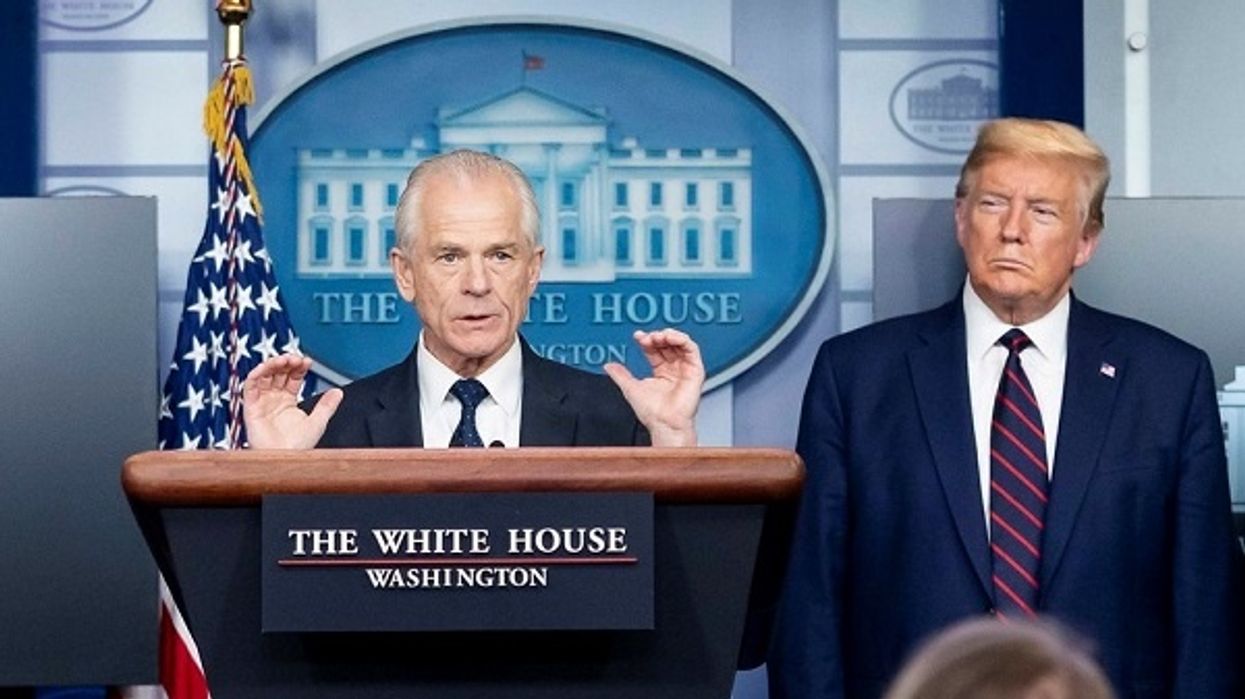 Peter Navarro — former President Trump's indicted ex-trade adviser — lambasts Trump's chiefs of staff, from his "Cabinet of Clowns" to his "Motley Crue of Chiefs," in his upcoming MAGA-themed book, titled Taking Back Trump's America, as The Daily Beast reported Tuesday.
Taking a cue from Trump himself, Navarro's laid into his former White House colleagues, including all four of Trump's former chiefs of staff, while remaining loyal to his ex-boss.
In an excerpt of the forthcoming insult-ridden book, obtained by the Beast, Navarro said three of Trump's choices for chief of staff — Mark Meadows, Mick Mulvaney, and John Kelly — were competing for the title of "worst chief of staff in history."
"You should normally expect a murderer's row of highly polished media killers in the cabinet secretary pool," Navarro wrote. "Regrettably, this was just not so in Trump Land."
Navarro's penchant for name-calling and right-wing conspiracy-peddling has held firm since his time in the White House, given that he is buddies with disgraced and thrice-indicted War Room podcast host Steve Bannon, who served as Trump's "chief strategist."
Like Bannon, Navarro couldn't resist defying a subpoena demanding his cooperation in the House Select Committee's January 6 investigation, which earned him a contempt of Congress criminal charge in March. Navarro was also sued by the government last month for refusing to hand over private emails he used to conduct public business during his time at the White House.
Navarro, the Justice Department said in its filing, "has refused to return any Presidential records that he retained absent a grant of immunity for the act of returning such documents," according to the Washington Post.
Despite mounting troubles with law enforcement, Navarro has found time to settle scores with his ex-colleagues with a litany of excoriating descriptions, which he had often done on Bannon's podcast, while seeking to turn a profit.
In his book, Navarro called former treasury secretary Steve Mnuchin a "media hound," who "spoke like a robot"—"often with an uncomfortable nervous tic around the corners of his mouth"— and "got the most airtime," per the Beast. Mnuchin, said Navarro, was an "uncomfortable cross between cringe-worthy and a Wall Street hack."
Navarro described Alex Azar, the former Health and Human Services Secretary, as "always punctilious" and slammed three former cabinet members — Steve Hahn, FDA Commissioner; Robert Redfield, Centers for Disease Control director; and Francis Collins, who headed the National Institutes of Health.
He wrote that Hahn, Redfield, and Collins would, if given a chance, "throw POTUS under the bus even faster than Azar—as would other key officials like the insufferably pompous [former assistant secretary of health] Brett Giroir and of course, the king of stepping on White House messaging, Saint Fauci," referring to Dr. Anthony Fauci, then director of the National Institute of Allergy and Infectious Diseases.
Bad as they all were, Navarro thought one White House figure deserved the "worst chief of staff" title. It was Meadows, he wrote, who had achieved that "distinction.'.
Yet Navarro wasn't done. He tagged Trump's first chief of staff, Reince Priebus, "the wrong, small, and inexperienced man for a very big job"; second chief of staff John Kelly, "a trucker" recruited "to drive a Formula One car"; and Mick Mulvaney, the ex-president's third chief of staff, a "smug" man with "an overabundance of both arrogance and hubris," whom Trump constantly trolled "so he never got comfortable in the job."
"The more Mick begged," Navarro jeered, "the more permanent his 'acting chief' status would become."
At Issue, Navarro indicated, was Mulvaney's failed attempt to dismiss questions about Trump's reported pressure campaign on Ukraine's President Volodymyr Zelensky in an October 2020 press conference. "Get over it," Mulvaney told reporters. "There's going to be political influence in foreign policy."
"That single press conference was the beginning of the end for Mulvaney even as it underscored yet again the inability of the White House to dominate the news cycle," Navarro said.
A representative for Trump stayed mum when asked for comment on Navarro's allegations, as did representatives of Mnuchin, Meadows, and Kelly. The Beast said it couldn't reach representatives of Azar and Priebus for comment. But Mulvaney fired back with a stinging reference to an "imaginary" friend that made an appearance in one of Navarro's old books.
"Peter Navarro used an imaginary friend to justify many of his economic hypotheses," Mulvaney told the Beast