Police: No Bomb Charges Against Muslim Boy Who Brought Homemade Clock To School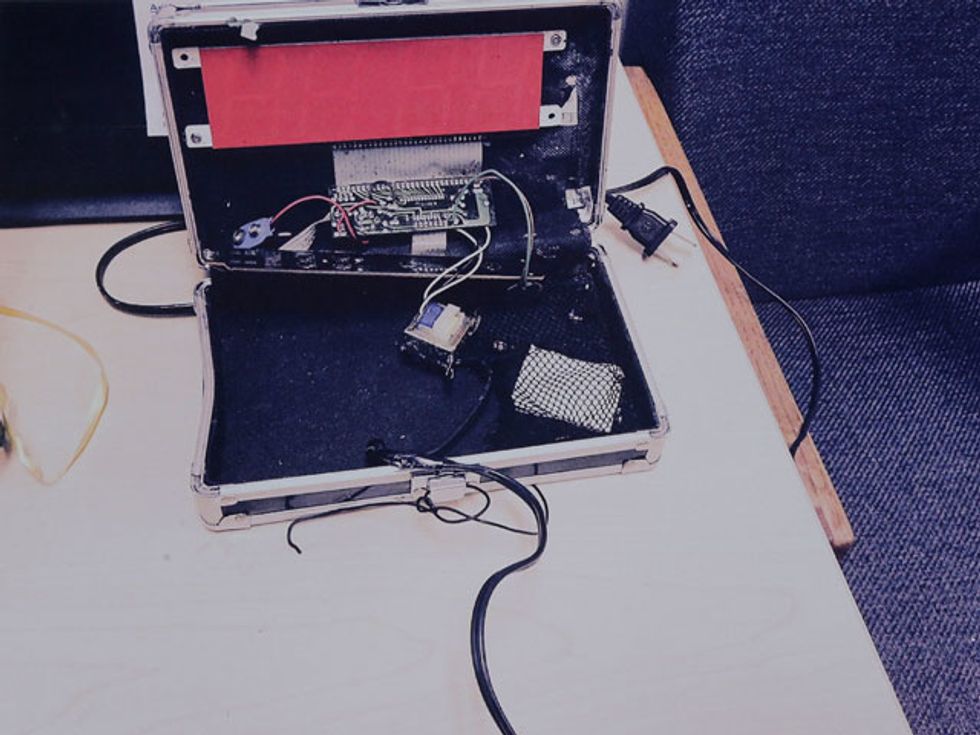 By Michael Muskal, Los Angeles Times (TNS)
No charges will be filed against a 14-year-old Muslim boy who was detained after he brought a homemade clock that a teacher thought looked like a bomb to his Texas high school, Irving police Chief Larry Boyd announced Wednesday morning.
Boyd said his department had investigated the incident, which has gone viral, and decided that Ahmed Mohamed should not be charged. The student faced a charge of bringing a hoax bomb to class.
"We consider the case closed," the chief said at a televised news conference, adding that he hoped the department and the community could work together to put the incident behind them.
The boy's case has sparked calls for an investigation by a leading Muslim civil rights group and has generated widespread outrage with trending hashtags on Twitter, including #IStandWithAhmed.
President Barack Obama threw his support to the boy as well. "Cool clock, Ahmed. Want to bring it to the White House? We should inspire more kids like you to like science. It's what makes America great," the president said in a tweet.
Hillary Clinton, the front-runner in the race for the Democratic presidential nomination, joined the Twitter support for the Irving, Texas, student: "Ahmed, stay curious and keep building."
"Thank you fellow supporters," Ahmed wrote in a tweet Wednesday morning. "We can ban (sic) together to stop this racial inequality and prevent this from happening again."
Ahmed told the Dallas Morning News that he enjoys tinkering, especially with electronics.
"He just wants to invent good things for mankind," said the boy's father, Mohamed Elhassan Mohamed, who emigrated from Sudan. "But because his name is Mohamed and because of Sept. 11, I think my son got mistreated."
In a video interview with the newspaper, Ahmed described how he built the clock to show his ingenuity to teachers at MacArthur High School. "Here in high school, none of the teachers know what I can do," the teen said.
The clock is basically a circuit board connected to a power supply and a digital display. Ahmed said he showed his creation to his engineering teacher, who was less than overwhelmed. "He was like, 'That's really nice,'" Ahmed told the newspaper. "'I would advise you not to show any other teachers.' "
So the boy said he kept the clock in his bag, but his English teacher complained when the alarm went off. Ahmed said he showed her his creation.
"She was like, 'It looks like a bomb,'" Ahmed said.
"I told her, 'It doesn't look like a bomb to me.' "
The teacher kept the clock.
Later, the boy was pulled out of class and sent to the principal's office, where four police officers were waiting. Mohamed said he felt suddenly conscious of his brown skin and his Muslim name.
"They (the police) were like, 'So you tried to make a bomb?'" Ahmed said.
"I told them no, I was trying to make a clock."
"He said, 'It looks like a movie bomb to me.'"
Police led the boy out of class about 3 p.m., his hands cuffed behind him and an officer on each arm. He was fingerprinted at a juvenile detention center and released to his parents.
"I am not a criminal," Ahmed insisted in the video interview posted by the newspaper. Mohamed said he was suspended for three days by the school.
In a letter to parents, MacArthur Principal Dan Cummings later said Irving police had "responded to a suspicious-looking item on campus" and had determined that "the item… did not pose a threat to your child's safety."
Ahmed's father has fought discrimination before. He debated a Florida pastor who had burned a Koran.
There also has been concern at the local chapter of the Council on American-Islamic Relations, which has been fighting what it says is a growing feeling against Muslims.
"This all raises a red flag for us: how Irving's government entities are operating in the current climate," Alia Salem, who directs the council's North Texas chapter, told the newspaper. She said she has spoken to lawyers about Ahmed's arrest.
"We're still investigating," she said, "but it seems pretty egregious."
Photo: Irving Police released a photo of the confiscated device at a press conference about the arrest of an Irving ninth grader who brought a homemade clock to school on Monday, Sept. 14, 2015. (Rodger Mallison/Fort Worth Star-Telegram/TNS)