Police In Ottawa Hunt For More Than One Gunman On Parliament Hill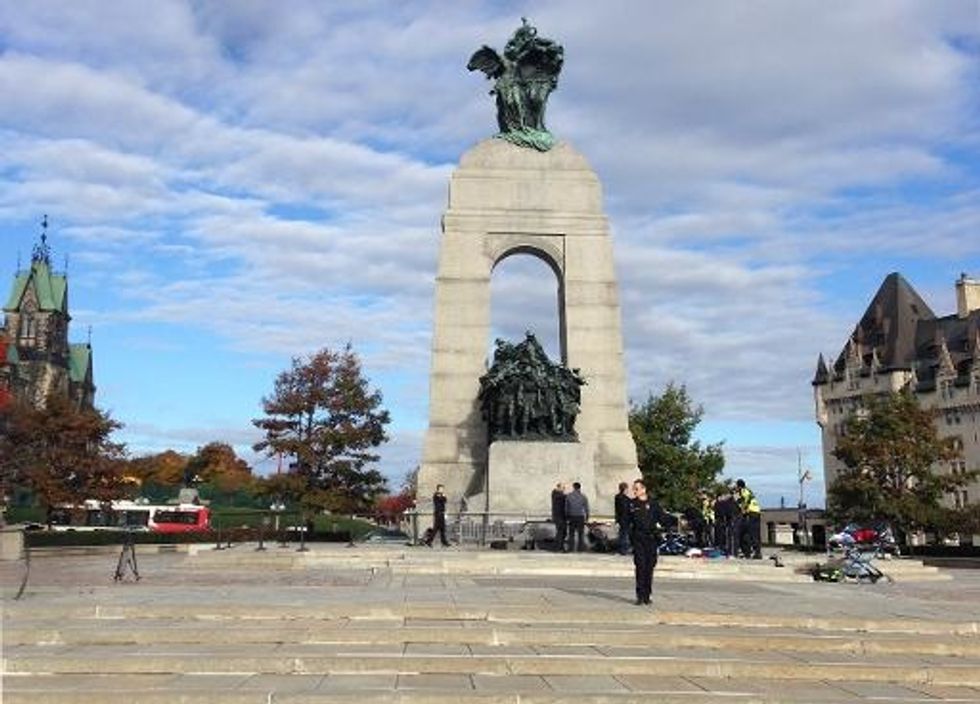 By Levon Sevunts, dpa
MONTREAL — Canadian police locked down the federal Parliament building in Ottawa on Wednesday as a search for as many as three gunmen was under way in and around the building.
The search began after Canadian soldier standing guard at a war memorial nearby was shot, news reports said.
The reports said one gunman has been killed, but others were still on the loose. Police cordoned off the area as they sent teams of fully armed officers into the complex of multiple buildings in the heart of the Canadian capital.
Prime Minister Stephen Harper was in the Parliament building at the time of the shooting but has been taken to safety, his office said. Several members of Parliament who are in the building have been ordered to stay inside.
Royal Canadian Mounted Police sent a tweet advising people to stay away from Parliament Hill due to ongoing police activity. People in the buildings were advised to stay away from windows and rooftops.
Witnesses interviewed by the Canadian Broadcast Corporation said the gunman ran toward the Parliament building after shooting the soldier at the war memorial.
The soldier was rushed to hospital after passers-by and paramedics tried to revive him, the CBC said. His condition was unknown.
The CBC said its reporters inside the Parliament buildings heard several gunshots at various locations in the area near the Parliament building.
The attack follows a suspected terrorist attack earlier this week in which two Canadian soldiers were run over by a young radicalized Muslim convert in a parking lot in a town southeast of Montreal. One of the soldiers later died, Quebec police said Tuesday.
The suspect in the case had been blocked from traveling to the Middle East to join jihadist groups, according to police.
Police arrested him in July as he tried to leave for Turkey, which is considered a transit point for people joining jihadist groups in Syria. Police did not have enough evidence to press charges.
The two attacks come after Canadian authorities raised the terror threat level on Friday.
In a statement released Tuesday Jason Tamming, a spokesman for Minister of Public Safety Steven Blaney, said the decision to raise the level was linked to an increase in "general chatter" from radical Islamist organizations like Islamic State, al-Qaida, the extremist group al-Shabaab and others who pose a threat to Canadians.
AFP Photo/Michel Comte
Want more world and political news? Sign up for our daily email newsletter.