Poll: 43% Of Republicans Favor Censorship Of 'Bad' News Outlets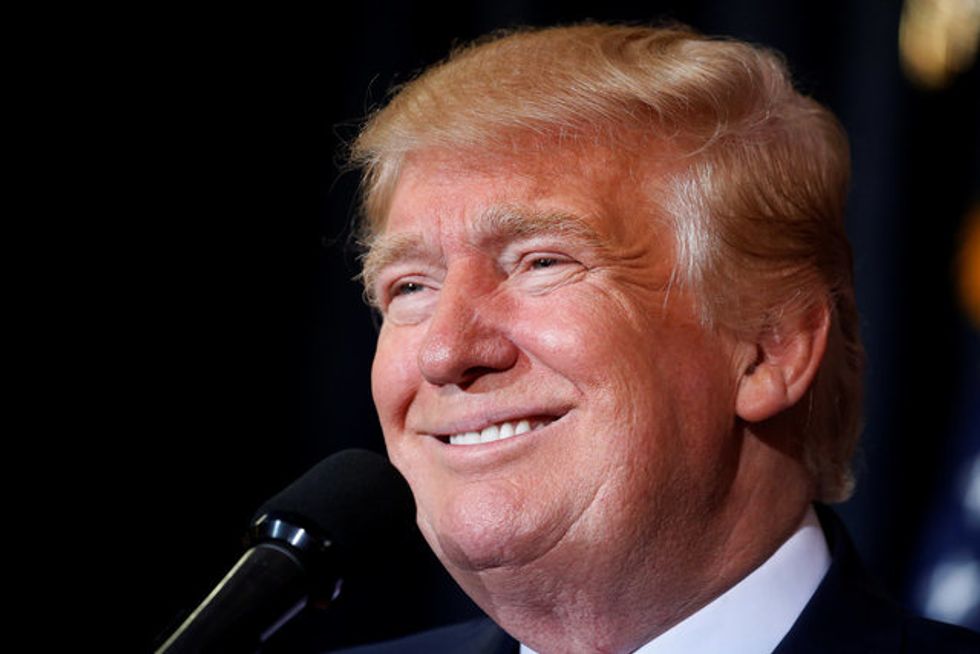 Reprinted with permission from Shareblue.
A plurality of Republican voters in a new poll said they think Trump "should have the authority to close news outlets engaged in bad behavior" — reflecting the startling degree to which Trump's assault on the free press is shaping views about the press among conservative Americans.
The Ipsos poll, released Tuesday, found that 43 percent of GOP voters agreed that Trump should have the power to shut down unfriendly news networks, compared to 36 percent who disagreed with the statement.
An even larger number of Republican voters in the survey, 48 percent, said they agreed that the news media is "the enemy of the American people" ― a phrase that Trump frequently uses, but that is more commonly associated with the rhetoric of brutal and oppressive dictators.
Meanwhile, eight in ten GOP voters said they believed "the mainstream media treats President Trump unfairly," and nearly a quarter (23 percent) said Trump "should close down mainstream news outlets, like CNN, the Washington Post and the New York Times."
Overall, Republican respondents showed increasing levels of distrust in the media ― and a corresponding increase in support for punishing the press for perceived transgressions, which Trump has repeatedly advocated.
On numerous occasions, Trump and other members of his administration have called for reporters to be fired or subject to other punitive actions for reporting on Trump in a negative manner, asking questions that Trump didn't like, or even just questioning him when he didn't want to be questioned.
Just last month, the White House actually banned CNN reporter Kaitlan Collins from a Rose Garden event for asking Trump a question he didn't approve of.
While negative views of the media weren't limited to Republican respondents, the numbers of Democratic and Independent voters expressing anti-press sentiment were far lower.
Twelve percent of Democrats and 21 percent of Independents in the survey agreed that Trump should be able to shut down media outlets for bad behavior, compared to 74 percent and 55 percent, respectively, who disagreed.
Those numbers were nearly identical for the question about the news media being the enemy of the people, with 12 percent of Democrats and 26 percent of Independents agreeing to the statement, and 74 percent and 50 percent, respectively, disagreeing.
Since the beginning of his presidential campaign and continuing through the second year of his presidency, Trump has used attacks on the press to galvanize his core voters and turn them against the institution most capable of holding him accountable.
In fact, Trump has previously admitted that his assault on the free press is a deliberate attempt to delegitimize the media so his supporters will not trust news outlets when they publish negative stories about him.
As the Russia probe has heated up and reached his inner circle, Trump has increased his anti-press rhetoric, and many of his top advisers are following suit.
And the new survey results show his attacks on the press are having an effect, at least among GOP voters.
Large majorities of respondents agreed with statements about the importance of having a free press. But Republicans appear to support this idea in theory, not in practice — at least given the startling number of GOP voters who believe the president should be given the authority to shut down news outlets.
Republicans' support for government censorship is particularly notable given that right-wing media figures spend so much time whining about what they call "censorship" when they are kicked off of prominent platforms. In reality, however, this is just the free market rejecting their hate speech and conspiracy theories.
Based on these findings, it seems many Republicans are actually totally on board with censorship ― as long as they're the ones who get to decide whose voices are silenced.
Published with permission of The American Independent.